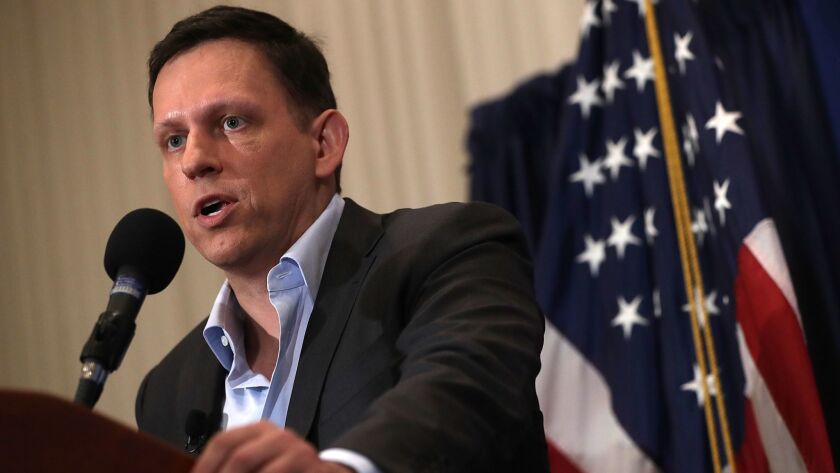 Palantir Technologies Inc., the secretive data-mining company, is considering an initial public offering that could value it at as much as $41 billion, the Wall Street Journal reported, citing people familiar with the matter.
The firm cofounded by investor Peter Thiel is discussing plans with Credit Suisse Group AG and Morgan Stanley to go public as soon as the second half of next year, the paper said. After Palantir shared some of its financials, Morgan Stanley estimated a public offering in 2020 in the range of $36 billion to $41 billion, the paper said. That range would be lower if the IPO proceeded earlier, the Journal reported, citing the people familiar with the matter.
Already one of the most richly valued start-ups in Silicon Valley, Palantir was last valued at about $20 billion in a 2015 fundraising round. The company expects to turn a profit this year.
With a slew of local, state and federal government contracts, Palantir mines, stores, and analyzes troves of information, helping government agencies monitor people. One of its clients is the U.S. Immigration and Customs Enforcement Agency, which awarded it a $41.6-million contract in 2014.
Palantir's relationship with the Los Angeles Police Department, which began in 2009, enables the department to use historical crime data and other information to predict where a crime might occur and who could potentially commit a crime, then distribute police resources accordingly. That approach has drawn the ire of local advocacy groups such as the Stop LAPD Spying Coalition.
American Civil Liberties Union and other organizations and activists have called for more transparency around Palantir's government contracts. An IPO, which comes with public disclosure requirements, could shed some light on the company's activities.
With an IPO next year, Palantir would potentially join other star-studded tech firms coming to market: Uber Technologies Inc. and Lyft Inc. are also solidifying plans for 2019 debuts. Morgan Stanley and Goldman Sachs Group Inc. have told Uber it could be valued at about $120 billion.
Morgan Stanley has earned about $60 million in fees arranging private funding for 14-year-old Palantir. That haul might double if Morgan Stanley handles its IPO.
Times staff writer Johana Bhuiyan contributed to this report.
---
UPDATES:
3:35 p.m.: This article was updated with additional details about Palantir's government contracts and perspectives of advocacy groups and activists.
This article was originally published at 7:15 p.m.
---