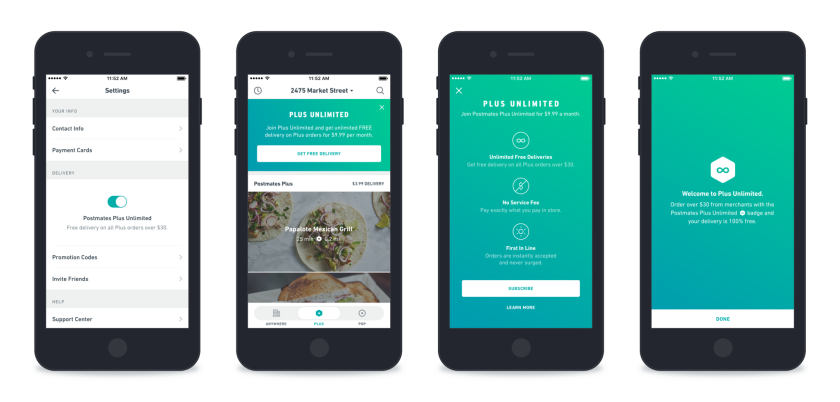 SAN FRANCISCO —
At a time when customer loyalty is often determined by how fast a mobile app loads, on-demand delivery start-up Postmates is launching a subscription service intended to reward — and retain — its most frequent users.
Available Thursday, Postmates Plus Unlimited will offer customers free delivery on orders exceeding $30 from merchants that have a partnership agreement with Postmates for a monthly fee of $9.99. It's like Amazon Prime, except instead of free two-day shipping, shoppers can order everything from burritos to clothing to toiletries and have it delivered within hours.
The subscription service also waives service fees on orders from partner vendors, called "Plus" merchants inside the app.
"In the past some people thought of Postmates as a luxury service, so we feel this enables them to see Postmates as a utility," said Kristin Schaefer, Postmates' vice president of growth and strategy. "Maybe they'll use it weekly, or for lunch orders. We think this price point opens up many more use cases."
Postmates isn't the first on-demand service to offer a subscription. Grocery delivery service Instacart has long given customers the option to pay an annual fee in exchange for faster and cheaper delivery. Google Express also offers paid membership that gives customers free delivery on purchases that meet a price minimum.
Where Postmates differs from its competitors is it offers delivery of anything from any store within a certain vicinity.
Los Angeles is currently Postmate's largest market.
Twitter: @traceylien
---