Proview calls for halt of iPad sales by Chinese retailers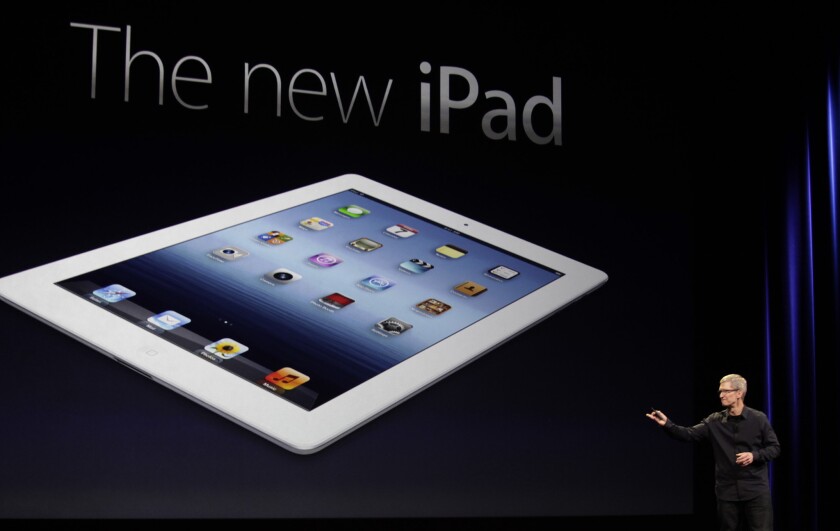 As Apple launched its third-generation iPad in San Francisco on Wednesday, Proview Technology issued a letter to iPad retailers in China that called for a sales freeze on both new and old versions of the hot-selling tablets.
Apple and Proview, as we've covered here on the Technology blog, are involved in multiple lawsuits across China and one in the United States over who owns the rights to the iPad name.
Proview's Taiwanese subsidiary Proview Electronics, known largely for making computer monitors, filed a complaint in Santa Clara County Superior Court on Feb. 17, accusing Apple of using a company called IP Application Development, allegedly started by a law firm it hired, to buy the trademark for the name "iPad" on its behalf.
Proview says it didn't know it was selling the iPad naming rights to Apple when it made a deal with IP Application Development in 2009. It has also argued in Chinese lawsuits that the naming rights sold cover every nation except China.
Apple, in its court filings, has said it bought the iPad global naming rights fair and square.
Apple and Proview officials were unavailable to comment on Proview's letter to retailers.
In the letter, which was previously reported on by the Wall Street Journal and the Associated Press, Proview says it plans to expand its fight with Apple by taking legal action against stores that sell the iPad in China.
"In accordance with the Trademark Law of the People's Republic of China, the use of a trademark that is identical with or similar to 'IPAD' on goods or packaging by any entity or individual without our authorization shall constitute an infringement of our exclusive rights," Proview said in the letter, which was translated from Chinese by the Wall Street Journal.
Despite Apple's legal appeals saying that it is the actual owner of the iPad name trademark, Proview said in the letter that it owns the rights to the name.
"Now we solemnly inform vendors and dealers (including e-distributorships) of Apple iPads (including the iPad 3) in China that they should immediately stop all infringing activities such as warehousing, transportation, mailing, concealing, etc.," Proview said in the letter. "Any above activities shall be deemed as a deliberate infringement, and we will, without prior notice, take the most severe measures possible to hold the infringers responsible for any legal liability, including but not limited to administrative, civil and criminal liabilities."
Proview ended the note by saying, "You are hereby informed!"
RELATED:
Apple denied ownership of iPad trademark in China
Apple iPad sales cleared in Shanghai amid trademark dispute
Proview sues Apple in U.S. for alleged fraud in iPad trademark riff
Follow Nathan Olivarez-Giles on Google+, Facebook and Twitter
---