Qualcomm prepares for a future beyond smartphones with $38-billion purchase of NXP Semiconductors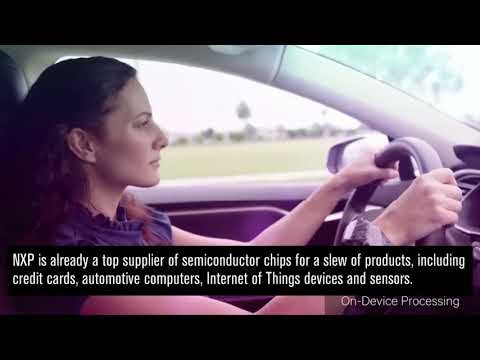 Qualcomm Inc, a smartphone chip maker announced its purchase of NXP Semiconductors on Oct. 27.
Qualcomm Inc. boomed in the last decade as its powerful chips helped make smartphones common across the globe. But smartphones have gotten a little too common, forcing the San Diego company to look for its next gold mine.
With a $38-billion acquisition of NXP Semiconductors — which would be the largest ever recorded in the industry, according to Dealogic — Qualcomm on Thursday placed a bet that its future will be in cars.
Qualcomm will pay $110 a share for NXP, an 11.5% premium over NXP's Wednesday closing price of $98.66. The deal would transform Qualcomm from a leader in semiconductors used in smartphones into a company that builds chips for many markets, especially bulking up its offerings for increasingly connected and autonomous vehicles.
Qualcomm Chief Executive Steve Mollenkopf said in a statement that the acquisition accelerates the company's strategy to "extend our leading technology into robust new opportunities."
"They obviously want to get ahead of that trend," said Vijay Rakesh, senior analyst at Mizuho Securities USA. "What they just did is bridge their way into the next decade."
For decades, the digital semiconductor market was driven by the computing and smartphone segments as the global demand for mobile phones grew rapidly. But over the last few years, that fervor has slowed.
In April, Apple Inc. reported a drop in iPhone sales, which contributed to the company's first decline in quarterly revenue in 13 years. A report released Wednesday from market research firm IDC showed that third-quarter shipments of Samsung smartphones were down 13.5% compared with the same time period last year.
Qualcomm is also seeing increased competition from other chip makers such as Intel Corp.
In July, Qualcomm said it shipped about 201 million mobile station modem smartphone chips in the third quarter, an 11% decrease from a year earlier.
"We won't see the types of growth we saw in the last 10 years over the next 10 years," said Richard Lane, senior vice president at Moody's, of the global smartphone demand.
In other words, there's still interest in smartphones, just not at the same pace as before.
Now, automobiles are probably the biggest growth segment within the semiconductor industry, said Tavis McCourt, senior equity research analyst at Raymond James.
Technology — such as sensors to detect low tire pressure or back-up cameras — are increasingly used in vehicles to add safety and convenience. And that's only expected to grow as automakers develop autonomous driving systems.
Qualcomm already commands a large share of the automotive connectivity market to provide long-distance wireless access in cars.
But with the addition of NXP, the company will be an "end-to-end supplier in the automotive market," with products including under-the-hood technology to in-vehicle networking capabilities, Rakesh said.
NXP, based in the Netherlands, makes sensors to detect temperature, pressure and speed, as well as processors for advanced driver assistance systems and chips for keyless entry and infotainment systems.
NXP also makes semiconductor chips for security, such as the technology that powers tap-to-pay features such as Apple Pay or credit card chips, as well as Internet-connected devices.
The company recently doubled down on its automotive specialty with the acquisition of Freescale Semiconductor Ltd., an Austin, Texas, firm that made chips for engine control and powertrains. The deal, which closed in December, was valued at about $12 billion.
Analysts said the automotive market for semiconductors is still in its infancy, though poised for future growth as more functionality, including self-driving capabilities, is added into cars. Carmakers are unlikely to handle the semiconductor work themselves, and these kinds of sensors and chips will soon be common in many vehicle parts.
"The road forward is with advanced driver assistance systems," Rakesh said.
The deal dwarfs Qualcomm's previous acquisitions of Atheros and CSR, which were in the $3-billion range.
The combined company is expected to have annual revenue of more than $30 billion. Last year, Intel's net revenue totaled $55 billion.
But there are risks, starting with the price. The deal would use all of the $30 billion in cash on Qualcomm's balance sheet — much of which is offshore. The company will have to take on additional debt to fund the transaction.
NXP also has 45,000 employees, significantly more than Qualcomm's roughly 30,000 workers. Many of the NXP workers are in Europe, where labor laws make it difficult to trim headcount.
Qualcomm said the move would grow its potential sales by 40% to $138 billion by 2020.
Shares of Qualcomm closed Thursday at $70.09, up 2.7%. NXP stock was up 0.4% to $99.08.
The deal is expected to close by the end of next year.
It's the second mega-deal of the week, after telecommunications giant AT&T acquired Time Warner Inc. for $85 billion in a bid to expand its core business beyond wireless and broadband.
Freeman writes for the San Diego Union-Tribune.
mike.freeman@sduniontribune.com
ALSO
Twitter cuts 9% of its workforce worldwide
The studio behind 'Hunger Games' wants to turn YouTube gurus into movie stars
Forget about Mars. Venture capitalists want space projects that can make money right now
---
UPDATES:
4:10 p.m.: This article has been updated to include additional analysis about the chip industry.
8:15 a.m.: This article was updated throughout with staff reporting.
6:40 a.m.: This article was updated with a comment from Qualcomm CEO Steve Mollenkopf and information about the combined company's expertise.
This article was originally published at 6:30 a.m.