The studio behind 'The Hunger Games' wants to turn YouTube gurus into movie stars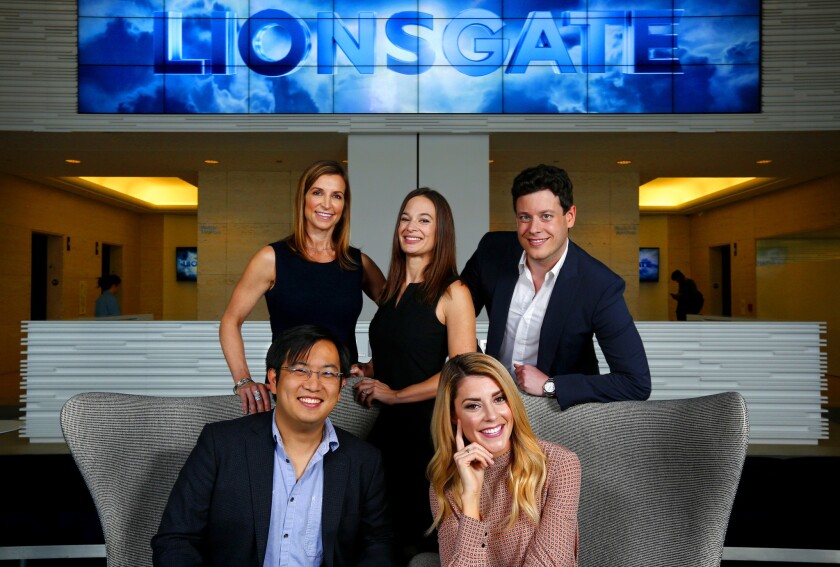 At the swanky Hollywood bar No Vacancy, movie studio Lionsgate held a tricked-out after party last month for the premiere of its new movie, complete with tightrope walker, a fire dancer and a man with frozen pizza rolls covering his body.
The splashy affair wasn't to honor a new Jennifer Lawrence or Mark Wahlberg movie. Instead, it was for "Dirty 30," a micro-budget comedy featuring YouTube stars Grace Helbig, Mamrie Hart and Hannah Hart.
The film, about a birthday party that spins out of control, was released online in September through iTunes and other Web video retailers, and got a limited theatrical run. But it's hardly a one-off for Lionsgate.
The Santa Monica studio, known for major franchises like "The Hunger Games" and "Saw," is increasingly turning its attention to influential online personalities, who have a massive sway with young viewers. The effort comes at the time when Lionsgate's movie business is facing challenges and Hollywood is struggling to reach younger audiences who are consuming entertainment in new ways.
"It's important as a creative company to be in business with a new generation of creators and people who are relevant to a younger audience," said Jordan Gilbert, Lionsgate's vice president of digital production, at the company's offices in Santa Monica.
Lionsgate is tapping popular YouTube talent to make eight to 10 feature-length movies a year, and three to five episodic shows. It has signed deals with Freddie Wong's production company RocketJump, "Dirty 30" producer Michael Goldfine and German DJ-comedian Flula Borg to ramp up the slate for its new digital studio initiative. Lionsgate is expected to invest up to $25 million a year in such projects.
The investment represents a substantial boost for digital "influencers" like Helbig, 31, whose YouTube channel has 3 million subscribers who watch her video tutorials like "Hangover Makeup" and "Scary Halloween DIYs." She first teamed with the studio after the online success of her previous movie, the 2014 video-on-demand release "Camp Takota."
"You get a lot of unspoken judgment about what you do, and only recently have people started to respect the craft of building a brand online," Helbig said.
Lionsgate is one of many traditional media companies trying to take advantage of the clout that YouTube power players wield with millennials. Warner Bros., Walt Disney Co., DreamWorks Animation and other studios have invested in YouTube networks. But, so far, no studio has yet cracked the code of how to turn YouTube icons into full-fledged film and television stars and producers.
"It could go either way," said B. Riley analyst Eric Wold, of the Lionsgate initiative. "You've got to look everywhere for new ideas and content."
A handful of directors, including Fede Alvarez of the recent Sony-Screen Gems horror hit "Don't Breathe," were discovered because an online video of theirs went viral. Warner Bros. found a diamond in the rough this summer with "Lights Out," a low-budget scary movie adapted from a short YouTube video.
But while there have been some breakout mainstream successes in horror cinema, other genres like comedy have proved more difficult to transition from the smartphone screen to the silver screen. Traditional TV has been a challenge for YouTubers as well. The cable network E! gave Helbig a talk show to host last year, but the program didn't gain much traction with audiences.
"It's still very early and people are still experimenting with these formats," said James Creech, chief executive of Paladin, a Los Angeles company that makes software for YouTube networks. "A lot of people are seeing that the franchises of the future are going to be built in digital."
Lionsgate is investing in YouTube stars as its stock is under pressure thanks to a perceived paucity of new franchises from its core movie business. The shares are down nearly 50% since in the last year, the result of a number of high-profile disappointments including "Gods of Egypt," "Allegiant" and "Blair Witch."
However, it had a recent No. 1 hit with Tyler Perry's "Boo! A Madea Halloween," and has some promising pictures on its slate like the acclaimed musical "La La Land" and Wahlberg's "Patriots Day." The company's earnings have been helped by a growing TV business that makes shows including "Casual" on Hulu and "Orange Is the New Black" on Netflix.
Executives in charge of the digital push said they want to be selective about what talent they work with, so there's a better chance of their projects reaching audiences outside the base of YouTube fans.
"There's a huge number of creators out there finding their voice and their audience online," said Laura Kennedy, a Lionsgate corporate development and television operations executive. "The question is how do we make sure we are building relationships with that world?"
Meghan Rienks, who uploads popular videos about beauty, fashion and desserts, is developing a drama film called "Honored" to be produced by Cinestar Pictures, the production company of "Star Trek" actress Zoe Saldana and her sisters Mariel and Cisely.
Lionsgate has also teamed with director-actor Brian Jordan Alvarez, behind the Web series "The Gay and Wondrous Life of Caleb Gallo," to create long-form programming.
Additionally, RocketJump and Lionsgate are making a sci-fi comedy series called "Dimension 404," set to hit Hulu early next year and starring talent such as comedian Patton Oswalt.
Compared with theatrical movies and TV, YouTube films are not yet a big business for Lionsgate. Each picture typically costs $1 million to $2 million to produce and market. However, they can generate a significant return on investment.
With their large followings, YouTube stars can give studios a big marketing advantage. For "Dirty 30," for example, a producer was tasked with capturing material every day for online promotions.
Talent agent and WME partner Chris Jacquemin, who works with online stars including Helbig, says the movies can generate revenue four to 10 times their production budgets.
"They're uniquely looking at the talent as artists that can have a real movie built around them," he said. "Lionsgate has planted a real flag in this area."
Movies featuring digital pioneers typically do most of their business through online portals including iTunes, Amazon, Google Play and standalone sites. If they get played in old-fashioned cinemas, it's often through specialized companies like Tugg Inc., a start-up movie distribution business that lets consumers select the movies they want to see at local theaters.
Lionsgate would not disclose financial results for its YouTube movies, but the studio hopes the investment will become profitable next year and eventually produce a project that is good enough for release in theaters.
"We think we could put something out into the world that's worthy of a wide release," said Jen Hollingsworth, an executive in charge of strategic planning and operations at Lionsgate's motion picture group. "We're taking enough shots that it could happen."
The Holy Grail would be to replicate the success of something like "Saw," which Lionsgate bought based on a short video before it ballooned into a seven-film franchise.
Much depends on what ideas the studio develops with personalities like Helbig, who is working with Gilbert and Lionsgate to develop more comedies.
Helbig got her start in 2007 uploading video diaries about her house-sitting experience in South Orange, New Jersey.
When Lionsgate released her movie "Dirty 30" in September, it reached No. 7 on the iTunes movie sales chart in the U.S. and made the top 20 in 10 other countries. It was released in 50 countries overall.
"When I posted YouTube videos for the first time, I had no idea it would lead to this," Helbig said. "Girls in Singapore are watching 'Dirty 30.' It blows my mind."
See the most-read stories in Entertainment this hour »
Follow Ryan Faughnder on Twitter for more entertainment business coverage: @rfaughnder
---
From the Emmys to the Oscars.
Get our revamped Envelope newsletter for exclusive awards season coverage, behind-the-scenes insights and columnist Glenn Whipp's commentary.
You may occasionally receive promotional content from the Los Angeles Times.