Riot Games workers walk out to protest forced arbitration of sex discrimination suits
More than 200 workers at Riot Games walked out of the video game developer's Los Angeles headquarters Monday to protest the company's handling of two sexual discrimination lawsuits.
This action, the first of its kind in the video game industry, comes amid a surge in tech worker activism and a growing interest in unionization among game developers.
Employees filed out into the parking lot, some holding signs reading "I reported and he got promoted" and "Forced is not a word women like."
At issue is what employees describe as a culture of sexism at the company, as well as Riot's move last month to force the plaintiffs in two sexual discrimination lawsuits into arbitration rather than trial.
"We stand with the current plaintiffs whose alleged abusers remain in leadership positions at Riot," said Riot writer and walkout organizer Dylan Buck.
As security guards watched from the doors, Riot employees — first walkout organizers, then any employee who raised a hand for a turn at the megaphone — addressed their coworkers.
"We are not dissident for the sake of dissidence, we are dissident for the sake of justice, for the sake of Riot living up to its values, and for the sake of making Riot the great place that we all want it to be," said Ronnie Blackburn, a researcher at the company and one of the walkout organizers.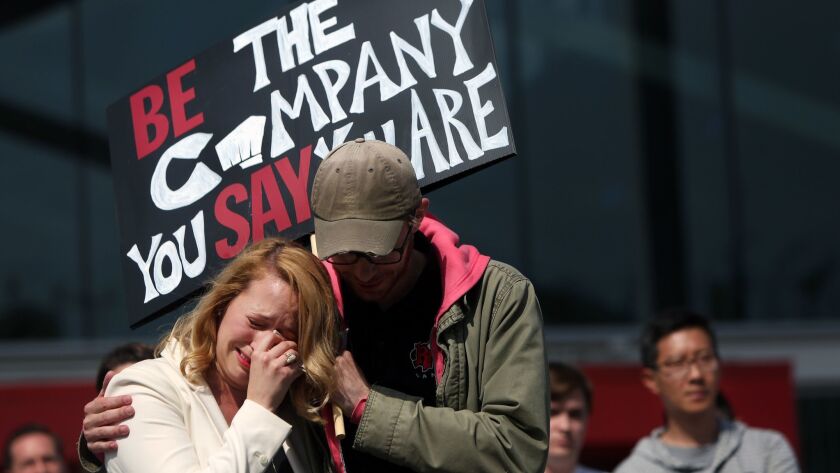 The organizers cited walkouts at Google in 2018, in which more than 20,000 employees worldwide protested the tech giant's handling of sexual misconduct allegations, as inspiration.
The Google walkout led the tech giant to end its practice of forcing employees to settle disputes with the company in private arbitration. Facebook, Google, Microsoft, Uber and Lyft also committed to end forced arbitration for sexual misconduct complaints.
The Riot workers have similar demands following a series of scandals.
Articles late last year exposed a culture of casual sexism and harassment against women at the company, which publishes the massively popular online battle arena game "League of Legends."
In response, Riot said it would change its culture and brought in consultants, restructured its HR systems, and altered the composition of its board.
In the following months, five current and former employees have filed lawsuits against the company for alleged violations of the California Equal Pay Act and alleged gender-based discrimination, retaliation and harassment.
In April, the company filed motions to move two of the suits into arbitration, rather than a full trial, claiming that the plaintiffs had signed arbitration clauses when hired.
"That lit the spark on a powder keg," said walkout organizer Jocelyn Monahan. As soon as news that the company was pushing for arbitration broke, Riot workers began organizing the walkout, circulating internal documents with demands to end forced arbitration in the case of sexual discrimination and assault cases.
The company called an all-hands meeting last week and announced it would give all new hires the choice to opt out of mandatory arbitration for sexual harassment and assault claims "as soon as current litigation is resolved." The company also said it would discuss giving current employees the same option.
"We know that this resolution will not satisfy all Rioters," the company wrote. "We understand and respect Rioters who choose to protest this decision on Monday, and admire their conviction and willingness to stand up for their beliefs." The company also gave the walkout its official blessing, instructing managers to not schedule any meetings during the appointed Monday afternoon time slot.
Many workers took their time at the megaphone to share their hopes and fears for the company — and their own stories of harassment.
"I believe there is a better future for Rioters, I believe that Riot has been making progress," said Yoko Colby. "But I am quitting in two weeks because I was failed by the internal investigation process."
"I'm quitting because I am uncomfortable walking around campus, because I don't want to see certain people who in my mind were saved from real consequences because they were protected by Riot."
As the demonstration neared its end, the organizers set a deadline for the company to respond — May 16, the next scheduled all-hands meeting.
"It's not an ultimatum so much as a suggestion, but unless we have a clear commitment from leadership you will hear from us again," said Monahan. This is not the end of a conversation, this is the beginning of a conversation."
Twitter: @samaugustdean
---