Rubicon Project earnings and Snapchat ad moves are among the week's L.A. tech highlights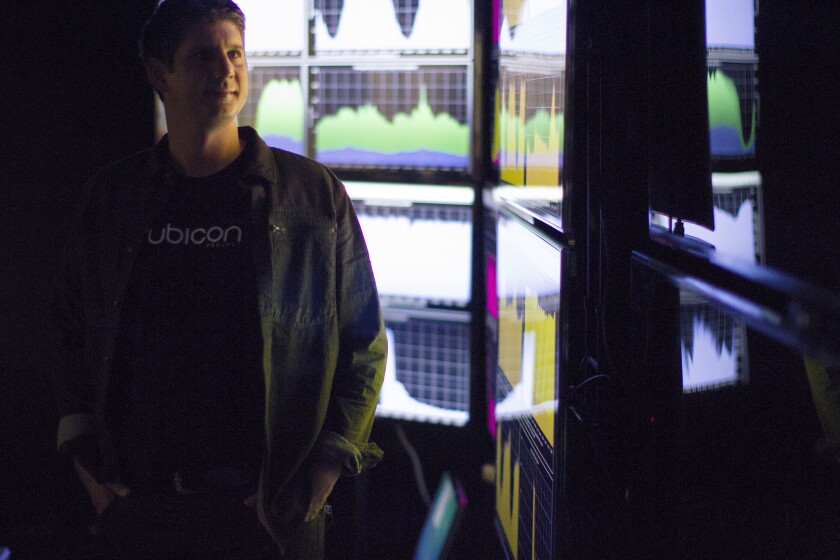 Rubicon Project, among the handful of publicly traded tech companies in Los Angeles, is getting rewarded for a rare trait in its industry: Growing sales quickly and still managing to turn a tiny profit.
The Playa Vista company gained almost $110 million in value last week, or 18%, after releasing healthy fourth-quarter and full-year 2015 earnings. The buying spree followed a big sell-off in January that crushed many tech companies.
Rubicon Project told analysts and shareholders that it was one of four publicly-listed ad technology companies in 2015 to generate profit, free cash flow and an adjusted profit margin of more than 20%. The others were Google, Facebook and Criteo.
Rubicon's sales nearly doubled to $249 million in 2015 compared with 2014, while profit grew to $400,000 last year from an $18.7-million loss in 2014.
The company expects as much as $355 million in revenue this year. Executives did not offer current-year guidance for profit, but they generally expect the firm to be a moneymaker again.
"It is an unusual circumstance to have a growth company that also finds efficiency cuts," Chief Financial and Operating Officer Todd Tappin said.
Rubicon Project provides services to online advertisers and publishers, with an aim to do the same for TV, radio and other forms of advertising. Its automated software helps media companies maximize ad revenue and links advertisers to the best ad spots given their goals.
Revenue is soaring because more ad deals are being transacted through automated systems such as Rubicon's.
But automation also has helped keep expenses down. The company didn't have to grow its customer service and other support departments as fast as it added customers in 2015 because it developed software to allow clients to get more data themselves, said Rubicon Project President Greg Raifman.
The size of the sales workforce remained in check because workers became adept at selling multiple services to the same customers, with strong success, executives said. It's all reflective of one of the company's key cultural tenets: Go fast, but don't hurry.
Rubicon Project hasn't been getting credit from Wall Street and customers for how well it's doing though, Raifman said. That's why executives are emphasizing the comparisons to Google and Facebook.
"Wall Street perhaps didn't understand our business as well as they are now," he said.
But Raifman and Tappin are confident that investors, who've pulled back from the ad tech sector in recent quarters, will slowly lift Rubicon Project to a higher rung. Shares of Rubicon Project closed Monday at $16.49, up 13 cents.
Snapchat ads. Snapchat released two features and announced a partnership to bolster the young company's rocky relationships with advertisers.
One feature is a special graphic that people can add on their birthdays to photos and videos that they post on the content-sharing app. To get the option, users must add their birthdays in the app's settings page.
The information is important to the company because advertisers like to show ads to people in specific ad ranges. Snapchat has largely been used by teenagers and young adults, but the user base is spreading as the users get older and as more people over 35 sign up.
A second addition debuted during the Oscars, allowing people to link to Snapchat's short recap of the awards show based on user-submitted videos. The video opens in the Snapchat app when installed or in a Web browser. The feature could introduce Snapchat videos -- and ads -- to more people.
Meanwhile, a new partnership with ad tracking giant Nielsen means advertisers will get independent data about who's viewing video ads on the app. It'll be comparable to information advertisers get about their TV ads.
National Engineers Week. As part of National Engineers Week, Funny or Die, USC's engineering school and the National Academy of Engineering released a comedic video imagining a world in which engineers are the celebrities featured on TV and in magazines.
Bits included "Real or artificial intelligence," a play on real body and plastic-surgery-enhanced parts, and paparazzi following a star cybersecurity programmer eager to know when she'll drop her next big idea on the world.
The initiative is just one of many being undertaken to rethink how tech geeks are portrayed in the media. Another project invited people to come up with a TV show concept centered around a female engineer.
'Candy Crush.' Activision Blizzard Inc. completed its $5.9-billion acquisition of "Candy Crush"-maker King Digital Entertainment. The mobile game maker will operate as its own unit within the Santa Monica video game giant. Activision shares took a hit in mid-February after the company posted what analysts called disappointing earnings to close out 2015. But there's hope that a new slate of games from King as well as the Blizzard Entertainment unit's new "Overwatch" game will generate stronger sales than the company has forecast.
Another China investment. A subsidiary of Chinese tech-services firm Hangzhou Liaison Interactive Information Technology Co. has invested $75 million in Carlsbad, Calif., gaming products maker Razer at a $1.5 billion valuation, taking 5% of the company. Razer sells laptops, keyboards, smart wristbands and other gear aimed at video game enthusiasts.
Weedmaps. Irvine-based Weedmaps, which provides an online database of medical marijuana shops, promoted Chief Operating Officer Doug Francis to be its chief executive. Former CEO Justin Hartfield is now chairman. Francis said in a statement that he's hoping to grow the company into new markets, develop new online services for business customers and add more content for consumers. Weedmaps brings in 4 million visits a month and has 170 employees.
Signal Sciences. Venice-based cybersecurity start-up Signal Sciences announced last week that it raised $9.7 million in venture funding last year from Index Ventures and several prominent security experts.
Signal Sciences, whose co-founders previously worked at online shopping service Etsy, is trying to help app companies detect when someone attempts to take advantage of a vulnerability and come up with steps to stamp them out.
Some of their ideas were hatched from the realization that hackers knew sensitive systems such as payment processing would be well locked down, so they tried to infiltrate through areas where security was less emphasized.
Signal Sciences' firewall is designed to help security teams and app developers focus on protecting the most targeted functions of an app, which may not necessarily be what employees had suspected.
Another Venice start-up. Commercial real estate software company CREXi announced a $4.3-million seed funding from Lerer Hippeau Ventures, Freestyle Capital, TenOneTen, Founder Collective, Karlin Ventures and Leon Capital Group. CREXi says its goal to digitize deal-making in commercial real estate is catching on, with almost 200 properties listed on its portal in about three months.
Expansion. Boston Consulting Group's Digital Ventures group plans to double its headquarters office space in Manhattan Beach to 54,000 square feet, or enough to hold about 300 employees. BCGDV develops digital projects for clients, sometimes investing in the ideas or spinning them out into separate companies.
In case you missed it. Social Security numbers, salaries and benefits information belonging to 700 current and former Snapchat employees were compromised in a phishing attack, the company said. L.A. Yellow Cab's phone lines were tied up by a hacker.
The White House is trying to get tech and media firms to help produce and disseminate anti-terrorist propaganda. Buzzfeed launched a stand-alone app for videos, many of which are made in Los Angeles.
The Expo Line train will begin running to Santa Monica on May 20, and officials are partnering with ride-hailing app Lyft to understand riders' travel patterns.
Elsewhere on the Web. Tinder Chief Executive Sean Rad encourages employees to travel to understand how people in other countries use the dating app, according to L.A. Biz. Tinder recently opened an office in India.
Text-message marketing software company Locent has raised $750,000 in seed funding, according to L.A. Biz.
Twitter: @peard33
---
Get our weekly Business newsletter
Tips for how you and your finances can get through the pandemic.
You may occasionally receive promotional content from the Los Angeles Times.