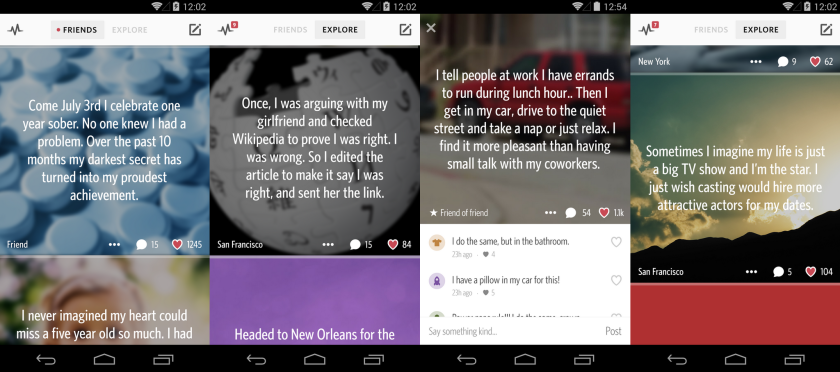 Secret, whose eponymous app lets users share anonymous status updates with their friends, is now available for Android devices.
The app debuted on the iPhone four months ago. Since then, says the San Francisco start-up, user growth has soared and the company raised more than $8.6 million in funding.
Here's now it works: Newcomers register their email address and those of their contacts, if their contacts agree. The identities are masked as users share updates that are visible to others on Secret without knowing who the posts come from. The only identifiers are "friends," "friends of friends" or the name of the state or country from where a post comes from. Posts that receive "likes" are broadcast to more users.
Secret is part of a new wave of anonymous social apps that can be seen as a reaction against social networks like Facebook, where everything that users post is tied to their identity. Whisper, a Secret rival, lets users see anonymous posts from anyone on the app. Snapchat, while not an anonymous network, lets users send messages that quickly "disappear," in contrast to posts on Facebook, which are cumbersome to remove.
The Android version of Secret gives users a feature not yet available on iPhone: a new "friend" feed that only shows secrets by their contacts, meaning those in their smartphone's address book who have also created accounts on the app. This feature is not yet available on the iPhone version of the app.
---