Snap's content chief is leaving as executive shakeup continues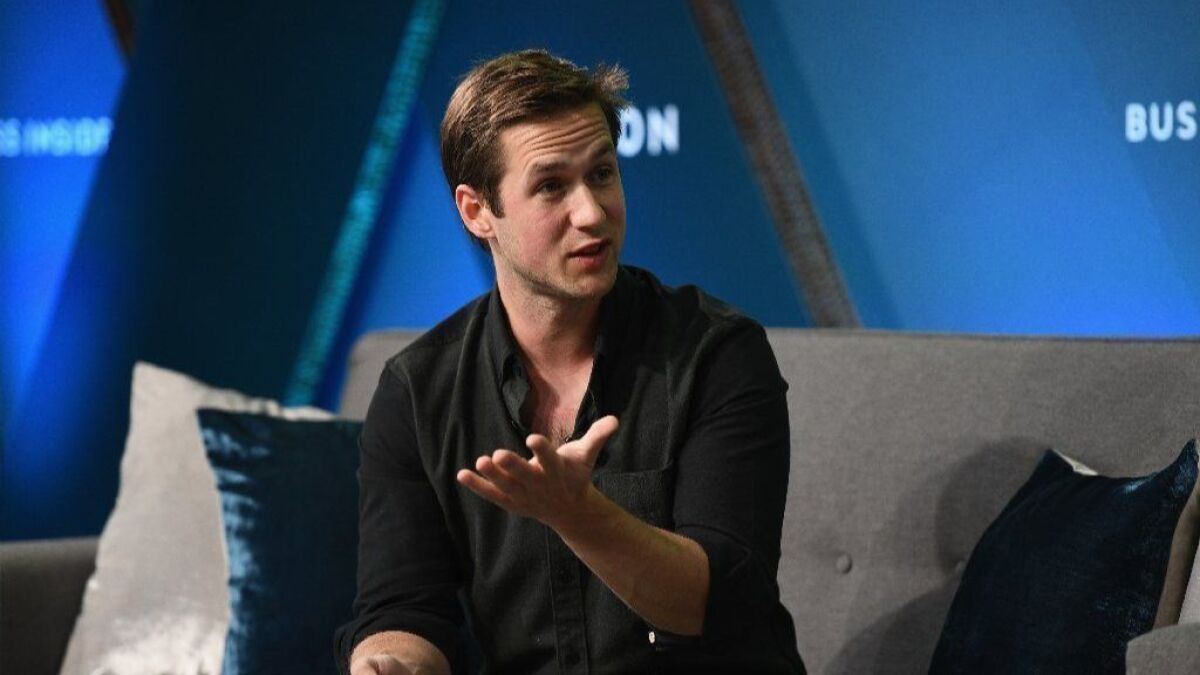 Snap Inc. is losing another high-ranking executive: Its vice president of content, Nick Bell, is on his way out the door.
Bell's exit plan — announced in an email sent to employees Monday — comes just weeks after the Santa Monica company hired former Huffington Post Chief Executive Jared Grusd to serve as chief strategy officer and oversee the content team.
A Snap representative confirmed that Bell was planning to leave the company. Bell was hired from News Corp. in 2014 to build the Discover section of the company's disappearing-message app Snapchat, which shows users a mix of videos from celebrities, professional news outlets and, as of early October, scripted shows created for the app. He reported directly to Snap Chief Executive Evan Spiegel and was known to be one of Spiegel's closest lieutenants.
Snap revenues grow in 2018, but Snapchat continues to lose users »
"After nearly five years and a once in a lifetime ride, I have let Evan know that I am leaving Snap to take some time off to recharge before deciding on my next adventure," Bell said in his email to employees.
The Discover section of Snapchat has driven many of the company's connections with established media companies, offering a venue for news outlets and celebrities to create custom content for Snap's younger user base, and its Our Stories feature combines user videos related to major news stories around the world into curated updates.
But the Discover section also played a major role in the disastrous early 2018 redesign of Snapchat. A wide swath of users — including celebrities — disliked the changes and called for a rollback. Under the redesign, the app stopped showing messages in chronological order and began jumbling them up in an algorithmic feed, and it highlighted celebrities and media brands in the Discover section over content generated by friends.
The company walked back most of the changes by May, but analysts have remained critical of Discover's mix of content. Rich Greenfield, an analyst at BTIG, opined on a recent earnings call that Discover seems dominated by "racy, 'clickbait-y' content focused around who can promote the most T&A to drive a click." Spiegel responded, saying he thinks "there's a lot of opportunity to continue improving that product."
Bell joins a dozen other significant Snap employees who have ghosted since Snap's March 2017 initial public offering.
In May, Chief Financial Officer Drew Vollero departed and was replaced by Amazon.com Inc. veteran Tim Stone. Snap's vice president of product, Tom Conrad, also left this year. Steve LaBella, Snap's vice president of marketing, is set to exit at the end of November. Imran Khan, the former chief strategy officer who played an instrumental role in the company's IPO and transition to an automated advertising system, departed at the beginning of September.
Snap stock closed at $6.65 a share Monday, down 2.1% for the day and down more than 60% from its IPO price.
Twitter: @samaugustdean
---
UPDATES:
2:20 p.m.: This article was updated to include Snap shares' closing price.
This article was originally published at 1:05 p.m.
---