Snap loses users for the first quarter ever, but its revenue beats expectations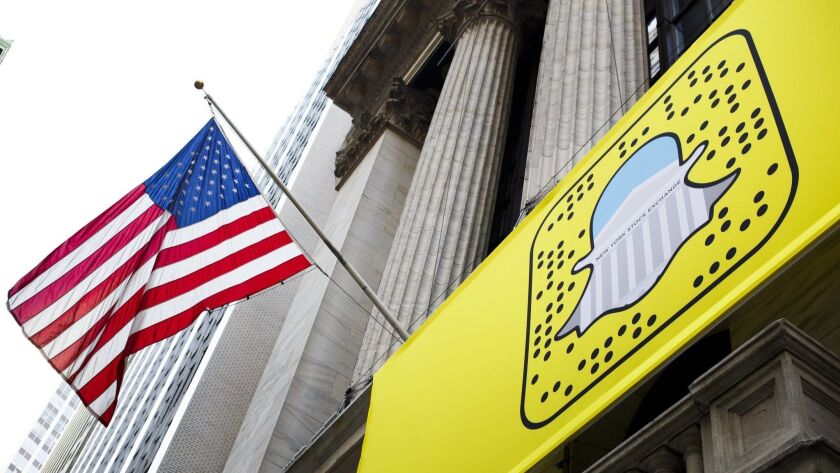 First, the good news: Snap Inc.'s second-quarter revenue beat projections, tempering long-held fears that the company's loyal Snapchat users would never support a sustainable business.
Now the bad news: The number of users Snapchat can profit from could be reaching a ceiling sooner than expected. The video messaging app reported a quarterly decline in daily users for the first time.
Tuesday's mixed results came the same day Prince Alwaleed bin Talal of Saudi Arabia announced he had acquired a 2.3% stake in Snap. The $250-million investment was made May 25 at an average cost of $11 a share, Alwaleed said.
Snap declined to confirm the investment.
Snap shares briefly soared more than 11% in after-hours trading before losing most of those gains, hovering nearer their Tuesday closing price of $13.12. That meant Snap avoided the fate Facebook Inc. and Twitter Inc. experienced last month. Those two companies saw their shares plunge about 20% after they reported quarterly results that included slower user growth and a decline in user numbers, respectively.
Snapchat saw its daily average users fall 1.5% in the second quarter to 188 million, down from 191 million the previous quarter. That missed the average analyst estimate of 193 million.
The company blamed the decline on the app's controversial redesign, which was unveiled nine months ago. The redesign sparked a major backlash highlighted by a petition drive to reverse the changes and complaints from influential celebrities such as Kylie Jenner.
The unpopularity of Snapchat's redesign is believed to have driven more users to the Facebook-owned Instagram, which has copied many of Snapchat's features such as Stories.
Snapchat's daily average user "growth concerns remain front and center for the Street and speaks to some of the clear challenges for Snap looking ahead," said Daniel Ives, an analyst for GBH Insights.
Despite the backlash, Snap Chief Executive Evan Spiegel has continued to defend the redesign. "We believe that this is an important evolution of our product that will help drive future growth in engagement," he said in a statement Tuesday.
A more positive development for the company was its revenue growth, which climbed 44% from a year earlier to $262 million — easily beating analyst projections of $250 million. Snap has typically missed analyst projections since its initial public offering in March 2017.
The higher revenue was especially good news for the company, which struggled to parlay its popularity among teenagers and young adults into profit. Snap shares are down more than 22% from their IPO price and down 12% from the start of the year.
Snap's second-quarter revenue growth was buttressed by a 48% year-over-year increase in advertising revenue as the company has continued to promote automated ad sales, known as programmatic advertising.
Analysts say it's important for Snap to keep adding users to capitalize on its gains in advertising.
"Snap is finally realizing the positive impact of their move to programmatic," Forrester analyst Melissa Parrish said. "But the decrease in [daily average users] is concerning even though it's not a huge loss by the numbers. Any company that primarily monetizes through advertising needs as large an audience as possible to continue to grow revenue in the long term, so any decrease in [daily average users] is something that concerns me."
Should user growth continue to decline, or even stagnate, that would quash expectations that Snapchat could become a serious threat to Facebook and all its properties. Some analysts say Snapchat is destined to serve a small but loyal following, much like Twitter.
"We saw and continue to see Snap as a niche platform with a reasonably dedicated user base and a relatively novel advertising environment," said Brian Wieser, an analyst for Pivotal Research.
In another first, Snap provided forecasts for the next quarter in its Tuesday earnings report. The company said revenue would be $265 million to $290 million in the three months that ends in September. Analysts on average project $289.9 million, according to data compiled by Bloomberg.
"There has been a disconnect over the past year between trends at the company and Wall Street expectations," Brian White, an analyst at Monness Crespi Hardt & Co., said in a note to investors.
Meanwhile, Alwaleed's investment appears to have been years in the making. Spiegel and Snap's chief strategy officer, Imran Khan, first met with the billionaire prince in Riyadh in 2015.
Alwaleed was detained for three months, along with many other Saudi elites, during an anti-corruption crackdown last year. He is one of Saudi Arabia's best-known investors, with stakes in Twitter, Lyft and Citigroup.
Bloomberg was used in compiling this report.
---
UPDATES:
5:10 p.m.: This article was updated throughout with Times staff reporting.
2:15 p.m.: This article was updated with news of Prince Alwaleed Bin Talal's investment in Snap.
1:45 p.m.: This article was updated throughout after quarterly results were announced.
This article was originally published at 6:55 a.m.
---