What Snapchat maker's IPO means for the Los Angeles tech scene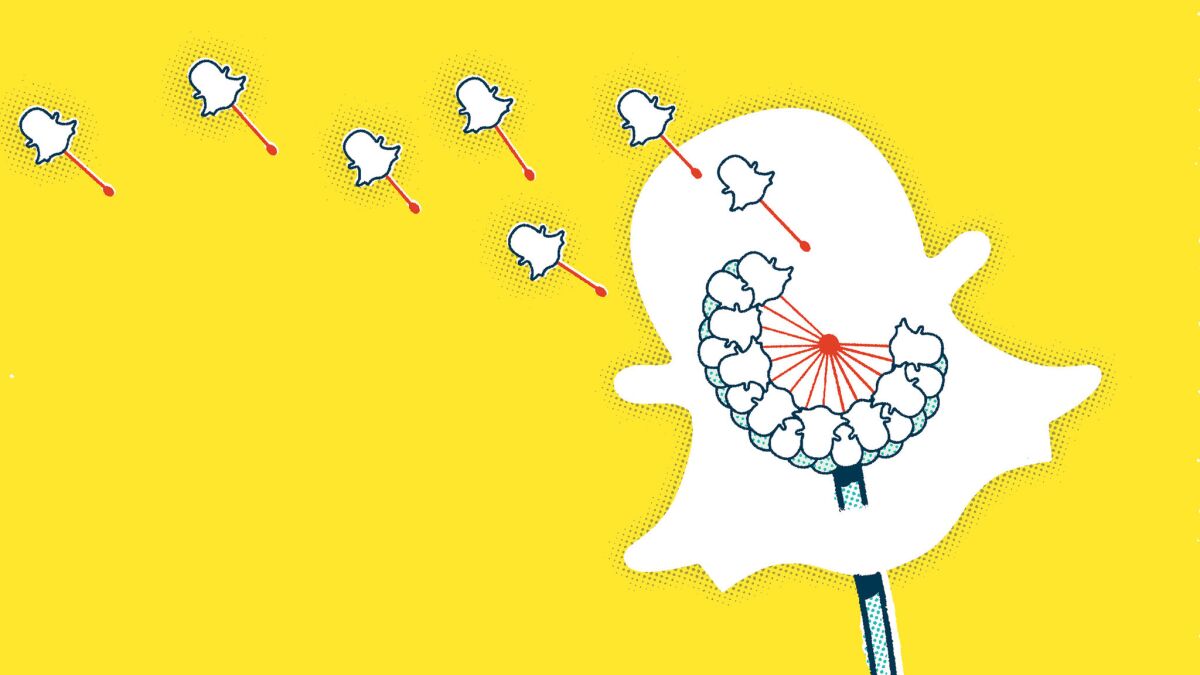 Together, Snap Inc.'s 2,000 employees helped turn the Venice start-up into a $37-billion public company. Now, the question is whether they'll do the same on their own.
The region's tech community is hoping the wealth unleashed to hundreds of Snap Inc. employees by the third-largest initial public offering in California history spurs them to become entrepreneurs and investors in their own right. Snap employees already are having conversations with venture capitalists to help line up future funding.
"The key ingredients are there: a bunch of young, smart people with good money that are in tight conditions," said Tamim Mourad, who co-founded four successive local companies in 20 years. "This is going to be huge for the L.A. tech ecosystem."
Workers peeling off after an IPO or an acquisition — both of which give employees a chance to turn start-up shares into cash — is a common phenomenon. Some people prefer returning to a smaller, more nimble operation where bureaucracy doesn't stifle their bold ideas. Others view their new fortune both as a calling card that boosts their reputation and a safety net that hedges against the financial risks of entrepreneurship. Many just get dragged along for the ride by an entrepreneurial co-worker.
Companies often try to prevent an exodus of institutional knowledge. They continually shift flight risks to the most interesting projects, or they dangle more stock in the company in exchange for continued service.
Employees at Snap, the maker of the popular disappearing messaging and entertainment app Snapchat, are now sitting on billions of dollars' worth of shares. But more than half of the company's employees joined in the last 18 months or so, and most of the stock in their pay package doesn't arrive until their third and fourth years of employment. That's a powerful incentive to stick around. In addition, Snap went public at an early stage, and its co-founders hold an outsized vision for the company's potential. Those factors could lead people to believe the fortune waiting ahead of them at Snap is unbeatable.
"This is going to be the most interesting tech story we've ever had in Los Angeles, so there's going to be desire to stay with that mothership for a little while," said Eytan Elbaz, who has co-founded four local companies, including one that sold to Google. "But over time, maybe three years out, a lot more will go out on their own."
Ev Williams and Biz Stone left Google shortly after the search giant's 2004 IPO, and they soon co-founded what eventually became Twitter. Chad Hurley and Steve Chen, employees at PayPal when it was acquired by EBay, co-founded YouTube. "Shark Tank" investor Chris Sacca started funding start-ups after the Google IPO.
In Los Angeles, the sale of Myspace to News Corp. in 2005 spawned more than a handful of start-ups. The acquisitions of companies such as Elbaz's Applied Semantics and Mourad's PriceGrabber and the IPOs of Boingo Wireless, Rubicon Project and Demand Media also led to new clusters of companies.
But these spores, sometimes called start-up mafias because of the close ties between the colleagues-turned-entrepreneurs, will be dwarfed by the scale many Los Angeles tech leaders anticipate for Snap.
"Snap's IPO is a historic multiplier for our city's tech sector," Los Angeles Mayor Eric Garcetti said. "It has great potential to power new dreams, create more opportunity and drive innovation in what is already one of the world's largest tech hubs."
Several Los Angeles venture capitalists said they collectively know about 20 people at Snap who have voiced increasing interest in forming their own business or investment fund, though timing remains uncertain.
"It's not running away from Snapchat. It's running toward their next great challenge," said Crosscut Ventures managing partner Rick Smith. "And if you've been sitting in Snap, you're bringing a lot of know-how."
Upfront Ventures' Mark Suster said his team spends an "inordinate amount of time building relationships" with people at Snap because "one day, those people are going to build the next generation of the Internet."
Software companies tend to breed more of their ilk than other firms because programmers realize what they've developed for one industry can be affordably rejiggered for use in another.
Leaving comes with other risks, though. Companies generally don't welcome back people who want to return down the road, said Marissa Peretz, a former recruiter at Tesla Motors in Los Angeles who recently co-founded Silicon Beach Talent. And most start-ups don't turn into billion-dollar businesses.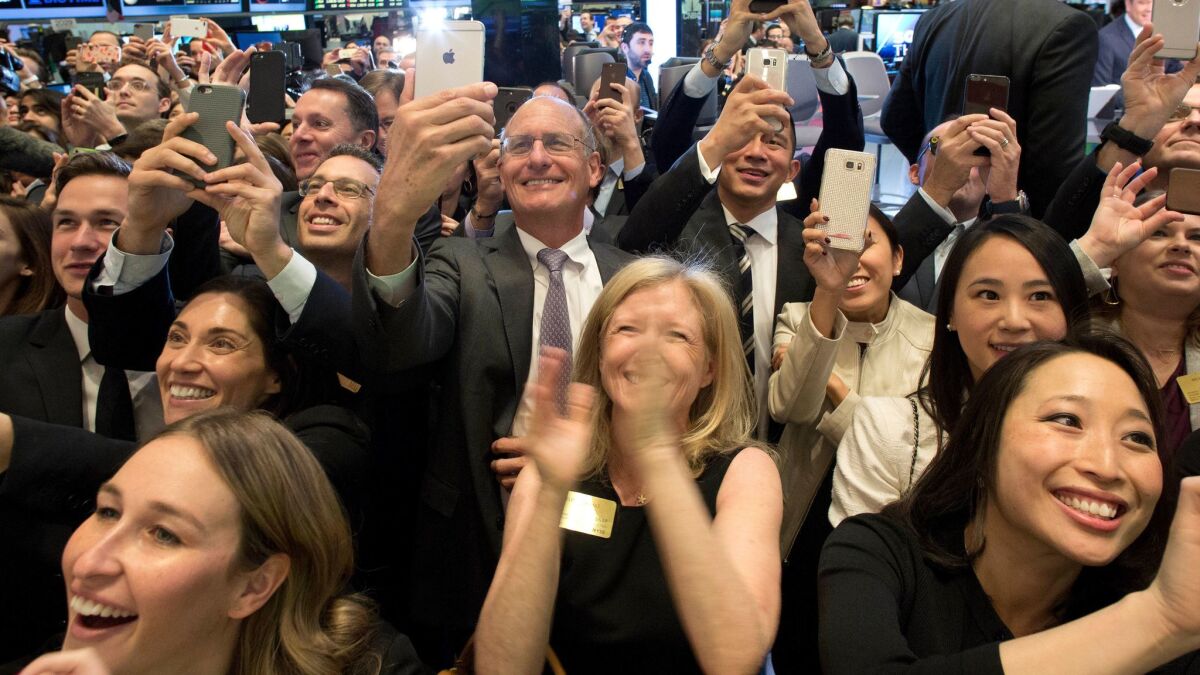 And there are other reasons to stay longer. Snap's employees are valuable because they've seen what it takes to take a company public. Learning the basics of operating in a public company will make them even more valuable, said Michael Blend, who was promoted to chief operating officer and president at Santa Monica online media company Demand Media after it went public in 2011.
"As they grow into a much bigger company, there's going to be a lot of learning opportunities for the people there," Blend said. "It's a huge product, but it's just beginning to be a big, huge business."
Blend stuck around at Demand until 2013 before co-founding OpenMail, a now 180-person Venice start-up working on marketing software. Blend's colleagues formed at least five other companies, and he invested in three of them, including Venice-based mediation app maker Stop, Breathe & Think.
"There's no obligation to invest in people's companies," he said. "Friends miss deals all the time, but if I believe in and trust the person, it's a good deal."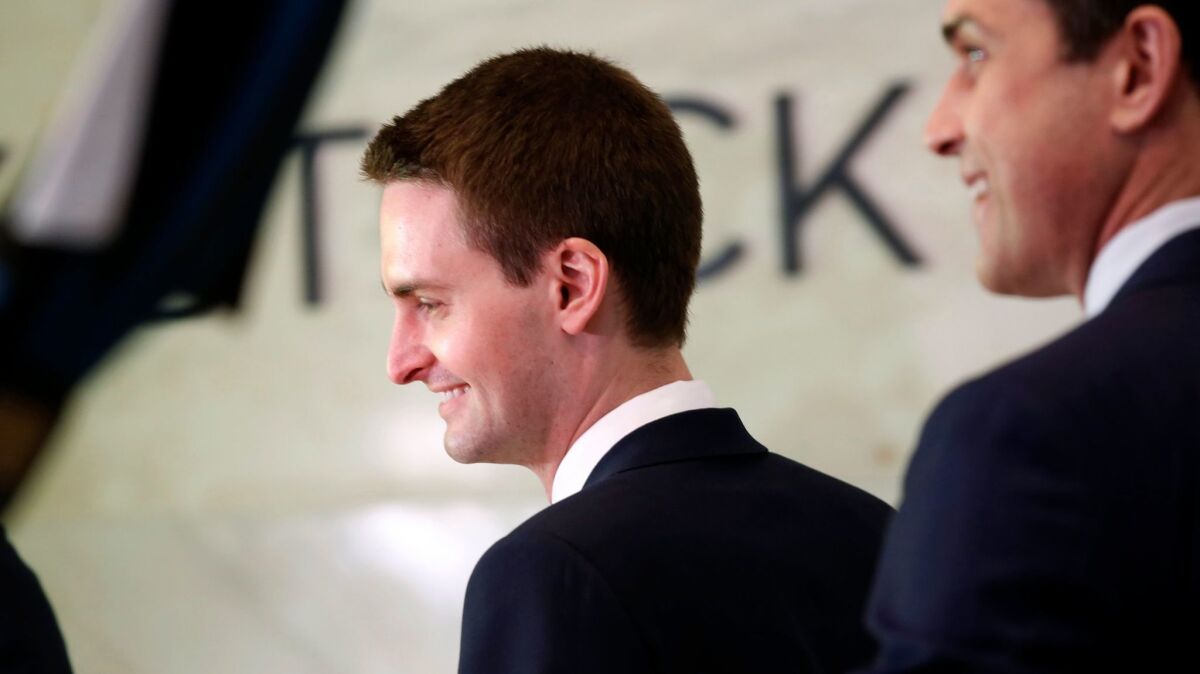 The significance of now leading the region's third-most valuable public company behind Walt Disney and Amgen isn't lost on Snap Chief Executive Evan Spiegel, who was born and raised in Los Angeles. The day after Wednesday's IPO, he wouldn't comment on whether he plans to expand his role locally, for instance by investing his own money in start-ups. (He said he would continue investing in youth arts education and other local arts programs through Snap and the newly minted Snap Foundation).
But Snap can count it a triumph, he said, if its success inspires more people to come to Los Angeles to create content. His company's mission is to reinvent the camera, and tech start-ups and entertainment firms experimenting with digital video will play a role.
"We're part of a huge number of businesses in L.A. built on top of the camera," he said.
Assuming Snap's continued growth, former employees succeeding in their own start-ups could reflect well on Spiegel.
"That's one of the best legacies a founder can leave," said Therese Tucker, chief executive of accounting software firm BlackLine, which went public last year. "You're showing you passed a whole set of knowledge to another generation."
Still, it's unfortunate when people want to leave. Tucker herself has seen both ends. She left a couple of years' worth of stock options on the table to found BlackLine after the small software firm at which she had been working was bought out. She also has had people at BlackLine forgo big payouts to open their own ventures.
Fortunately, she said, there are few individuals "who have the stomach to quit their jobs and starve for 10 years" to be an entrepreneur.
But in the interest of the Los Angeles tech scene, she too is betting there are a lot of them at Snap.
Twitter: @peard33
---