Snap Inc. lays off more than 120 engineers as it looks to be more efficient and one day turn a profit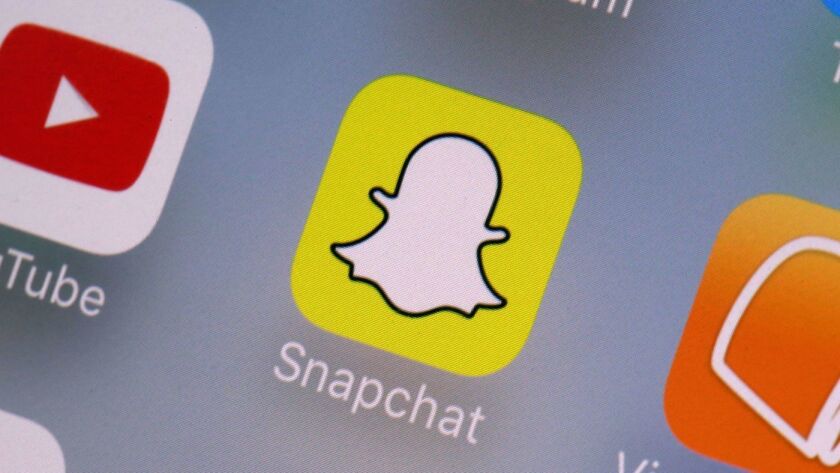 The maker of the youthful video messaging app Snapchat is cutting more than 120 engineering jobs, reining in costs as it seeks to mature its business.
Snap Inc. says the job cuts aren't related to its finances and that it intends to fill some of the open positions. The company plans to bring on more experienced hires to overhaul an engineering team that's struggled to overcome problems with Android devices and faced widespread criticism for Snapchat's recent redesign.
Many of the engineers being fired were hired fresh out of college during a phase of rapid expansion for the company.
The cuts could help Snap approach profitability after a year in which it recorded losses of $720 million, before interest, taxes and charges like stock compensation expenses. Snap's co-founder and Chief Executive Evan Spiegel told employees in a letter several months ago that he wanted to break even in 2018, according to a report Thursday in The Information.
Snap declined to comment.
The cuts are another sign of Snap's maturation a year after it went public. Last month, the company put up for lease more than half of its dispersed Venice office space to consolidate employees at a more traditional corporate office park in Santa Monica that will save the company money in the long term.
By replacing inexperienced engineers with a smaller number of seasoned engineers, the company thinks it can get more bang for its buck at a time when it's still a steep climb away from profitability.
"Almost by definition, the company is growing up," said Brian Wieser, an analyst at Pivotal Research Group. "It's an early stage company, so it's going to evolve in how it prioritizes resources and manages them."
In an email to employees, Snap's head of engineering, Jerry Hunter, said the engineering team would be restructured in what amounts to the third and largest round of layoffs at the Venice social media company since it went public.
"We want to unleash speed and productivity in our organization, while keeping a high technical bar," Hunter said in the message obtained by The Times. "That required us to think carefully about the shape of the organization, and where each member of our team fits. As part of this, we have made the exceptionally difficult decision to exit just over 120 members of our team from the company."
The layoffs amount to just over 10% of the engineering team.
Following a path trod by many tech companies before it, Snap last year introduced a performance evaluation process that allowed the company to rank employees. The group of more than 120 being laid off scored the lowest in the reviews. They'll be provided severance pay, Hunter said in his email.
The layoffs come after months of widespread criticism about Snapchat's redesign. The overhaul, which separates users' personal content with friends from public content produced by publishers and celebrities, has been the subject of a change.org petition and derision from stars such as Kylie Jenner.
Snap has defended the redesign, saying users will get used to it in time. Wall Street analysts say the new look was necessary to attract more users. The previous version was criticized for being too difficult to navigate for people older than their early-20s.
Earlier rounds of layoffs came from the company's hardware department, which is responsible for gadgets such as Spectacles, the video camera sunglasses that last year struggled to meet sales expectations. The company was left with so much unsold inventory it had to write down $40 million in losses associated with the glasses.
Despite that, Snap is investing in developing two more versions of Spectacles.
The workforce reduction also follows a string of recent high-profile executive departures, including Tom Conrad, the company's vice president of product who announced plans to leave the company by March.
Others who have left include Tim Sehn, head of engineering; Chris Handman, general counsel; Chloe Drimal, an executive in charge of content development; Robyn Thomas, vice president of legal and human resources; Martin Lev, vice president of security; and Jad Boutros, vice president and chief security officer.
Snap has struggled to find its footing since its IPO last year, with its stock price taking a beating after investors grew concerned about its slowed growth, high operating costs and its failure to meet revenue targets.
The company went public last March and has seen its share price fall short of its early highs, though it made a significant recovery in February after it exceeded analysts' earnings expectations in its fourth quarter.
Morale is reportedly low at the social media company, which is said to be skipping employee cash bonuses after falling short of internal goals.
The company also plans to move much of its staff out of its spiritual home of Venice, putting 163,000 square feet of office space up for lease last month to relocate hundreds of employees to a business park in Santa Monica.
The shift was partly driven by the impracticality of spreading out employees across a patchwork of properties in Venice. It will also reduce friction with Venice residents and business owners who disliked Snap's security and shuttle service in the quaint beachside neighborhood.
To attract new talent, the company is offering a new future-weighted stock vesting schedule. The new system, which was first reported by Bloomberg, will allow a quarter of employee stock options to vest each year. Current employees have 10% of their stocks vest their first year, 20% the second year, 30% the third and 40% the fourth.
Privately, the company says the layoffs have nothing to do with cost-cutting. But pressure will only grow on Snap to turn a profit.
Despite a better performance in the fourth quarter, Snap's losses mounted in 2017.
The company paid $5.22 in costs for every dollar it made in revenue — a large chunk of that was due to stock compensation.
A year earlier, when Snap was still a private company, it paid $2.28 for every dollar of revenue generated, according to Snap's financial reports.
Wieser, the Pivotal Research Group analyst, estimates Snap will need $2.5 billion in capital the next four years to cover its costs and investments while still having a comfortable amount of cash on hand.
In lieu of a surge in profit, Snap could either raise more equity or pare costs to come up with the needed capital. That could mean more layoffs at a company with more than 3,000 employees worldwide.
"Snap grew headcount at a blistering rate last year and likely too fast for its own good," said James Cakmak, an analyst at Monness, Crespi, Hardt & Co. "Right-sizing, unfortunately, is one of the primary ways to ensure much-needed agility in this crowded space."
To read this article in Spanish click here
Follow @dhpierson and @traceylien on Twitter
---
UPDATES:
3:10 p.m.: This article was updated to add mention of a report that Snap Chief Executive Evan Spiegel has told employees he wants the company to break even in 2018.
This article was originally published at 11:40 a.m.
---
Your guide to our new economic reality.
Get our free business newsletter for insights and tips for getting by.
You may occasionally receive promotional content from the Los Angeles Times.