Shares of Snap Inc. nosedive after poor quarterly earnings report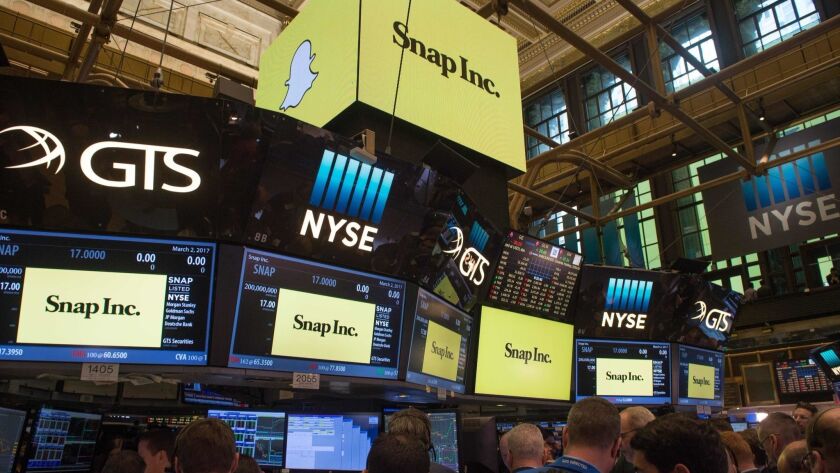 Snap Inc. delivered a bruising quarterly earnings report Tuesday, delaying hope that the company's bold changes in recent months will sufficiently grow its business.
Shares of the company behind the video-messaging app Snapchat fell more than 15% in after-hours trading as the company badly missed revenue and user growth estimates in the first quarter.
The company posted revenue of $231 million in the quarter, below Wall Street analysts' estimate of $244.5 million.
Daily active users registered at 191 million, below expectations of 194 million.
Average revenue per user was $1.21. Analysts had predicted $1.27.
Losses per share met estimates of 17 cents.
The disappointing results are a blow to a company that has made dramatic changes in an attempt to alter its fortunes.
Since Snap's initial public offering of stock last year, it has been under pressure from Wall Street to overhaul the look of Snapchat to make it more accessible to a wider audience. The change was met with widespread criticism from the app's most loyal fans, but the company succeeded in adding more users than expected in the fourth quarter.
In that period, Snap also introduced programmatic advertising — an automated auction for marketers that significantly boosted the company's ad business.
But the Venice company couldn't maintain that momentum in the first quarter.
"Snap delivered a massive miss across the board, which will further ignite fears that this company has major challenges ahead with its app redesign and business model in limbo," said Daniel Ives, an analyst for GBH Insights.
The lackluster financial performance over the first three months of the year has not deterred the company's leaders.
Evan Spiegel, Snap's co-founder and chief executive, said his company will stay the course, confident the dramatic changes will eventually pay off.
"The redesign lays the foundation for the future of both our communication products and our media platform, and we look forward to doubling down on both," Spiegel said. "As we have mentioned on our past two earnings calls, a change this big to existing behavior comes with some disruption."
Spiegel said the shift to programmatic ad-buying has increased the number of paying advertisers on the platform by 20-fold in the last year.
The $229 million in advertising revenue Snap earned in the first quarter was a 62% increase from a year earlier.
The growth in ad revenue is one reason to remain hopeful Snap will break out of its rut, said Melissa Parrish, an analyst for Forrester.
"I imagine that some will be underwhelmed by the [user] growth as it's not as meteoric as what we came to expect from Facebook," she said. "And the reported revenue isn't as high as people were hoping for. However, I think the growth in programmatically sold ad products shows that Snap's strategic focus on … advertisers is working as planned."
Parrish said Snap is going through growing pains familiar to many companies that adopt programmatic ads.
"It's going to take a while for the auction environment to stabilize and for ad prices to be more predictable, but that's not unique to Snap," she said.
"If anything, the growth in ad volume shows why Snap wanted to move in this direction," Parrish said.
The redesign of Snapchat was met with heated criticism from some of its most ardent fans, including reality star Kylie Jenner, who's dismissive tweet about the changes are believed to have briefly sparked a sell-off of Snap shares this year.
The change was necessary, the company and analysts argued, because Snapchat was notoriously difficult to navigate for most people beyond its youngest users.
Among the changes: separating content made by friends and creators in a bid to help users see more of their friends' snaps — making the app feel more intimate. That angered some users who enjoyed seeing celebrities mixed in with their friends.
Spiegel acknowledged the overhaul hurt Snap's user growth, but said it had stabilized among its iOS users. Snap is currently rebuilding its Android app because of performance issues.
"Android performance is still a weakness for us, but we are making significant progress," said Spiegel, who expects the new version to be ready by the third quarter.
Imran Khan, Snap's chief strategy officer, warned that second-quarter financial results probably would be hit by the ongoing transition to the company's new ad format. He expects a strong second half of the year for Snap, however.
"I'm optimistic about the future of our business," Khan said.
Whether it will be enough to fend off Facebook's Instagram remains to be seen. The rival photo and video app has adopted many of Snapchat's key features and boasts 2½ times more daily active users at 500 million.
A recent report by Activate, a social media influencer marketing firm, found that 89% of influencers are pulling back from Snapchat this year, opting for other apps such as Instagram.
Snap posted its earnings results after the stock market closed. During regular trading, its shares Tuesday fell 1.4% to $14.13, well below its IPO price of $17. Shares tumbled below $12 apiece in after-hours trading.
Follow me @dhpierson on Twitter.
---
UPDATES:
4:35 p.m.: This article was updated after Snap Inc.'s earnings call.
1:55 p.m.: This article was updated after Snap Inc. posted its earnings report.
This article was originally published at 6 a.m.
---