At $18.08, Snap shares close at second-lowest price since IPO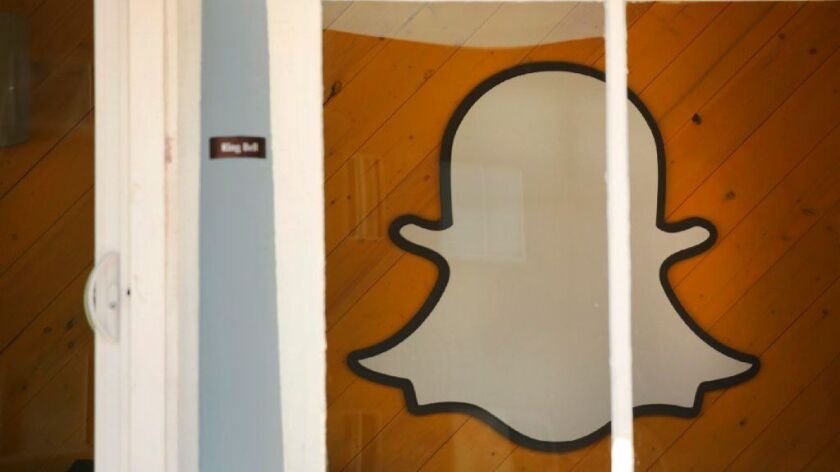 Snap Inc. shares closed Friday near their lowest point ever as investors weighed what to make of concerning growth estimates and an impending flood of new stock.
The Los Angeles company that produces the Snapchat app has experienced a rocky journey on Wall Street since going public in early March. Though Snapchat has 166 million users and advertisers are excited about the potential to market to them, investors and financial analysts aren't convinced that growth will be as enormous or as steady as hoped.
The uncertainty has fueled heavy interest in betting on shares to fall and a big sell-off after the company's first earnings report last month.
Snap's lowest closing price came the day after that announcement, hitting $18.05 on May 11. Shares exchanged hands for $17.59 that day, the cheapest they've traded since the initial public offering at $17. It also was the busiest day for trading Snap, except for the first two days after the IPO.
On Friday, shares traded as low as $17.88 before closing down at $18.08, dropping 4% in the second-lowest close. The slide from a high of $29.44 in early March has cost Snap about $13 billion in market capitalization.
Tech stocks fell across the board Friday, with the tech-heavy Nasdaq composite index falling 1.8%. Tech companies have accounted for the bulk of the stock market's run-up this year, but financial experts are mixed on whether prices are getting out of hand.
What became Snapchat launched in July 2011, and the young company doesn't have a long, demonstrated track record from which investors can draw insights. But they can see download estimates and other data predictions from research firms, which this week showed Snapchat was adding fewer users than Instagram.
Snap has said its users are distinct from the hundreds of millions of people who use Instagram. But if advertisers favor reaching a larger audience, they may gravitate toward buying commercials on Instagram or Facebook instead of Snapchat.
Fears of such a pullback in user growth and advertiser spending contributed to analysts at Nomura | Instinet and Citi Research this week lowering their expectations for Snap.
Nomura | Instinet's Anthony DiClemente lowered his sales forecast for the current quarter to $173 million from $204 million and for the full year to $842 million from $953 million.
The analysts also refocused attention on late July and early August, when Snap employees and other early shareholders can begin selling their stakes.
As part of an IPO, companies typically block such people from selling shares for several months. Insiders selling too early can suggest a lack of faith in their business and lead other investors to dump stakes too, which increases price volatility — an issue companies try to limit in the first few months after going public. The numbers of Snap shares eligible for trading could grow fivefold between July 30 and Aug. 29, DiClemente estimated.
"Should fundamentals deteriorate further between now and the end of the lockup in August, we do not believe that there will be demand to offset the substantial step-up in supply, further pressuring SNAP shares," he said.
Citi's Mark May noted that his short-term caution about Snap didn't change his belief that Snap in the long run can modestly increase usage, significantly boost sales and start producing profits.
Twitter: @peard33
---
UPDATES:
2:45 p.m.: This article was updated with additional details about the stock market.
This article was originally published at 1:35 p.m.
---