Snap acquires French start-up Zenly for location-sharing app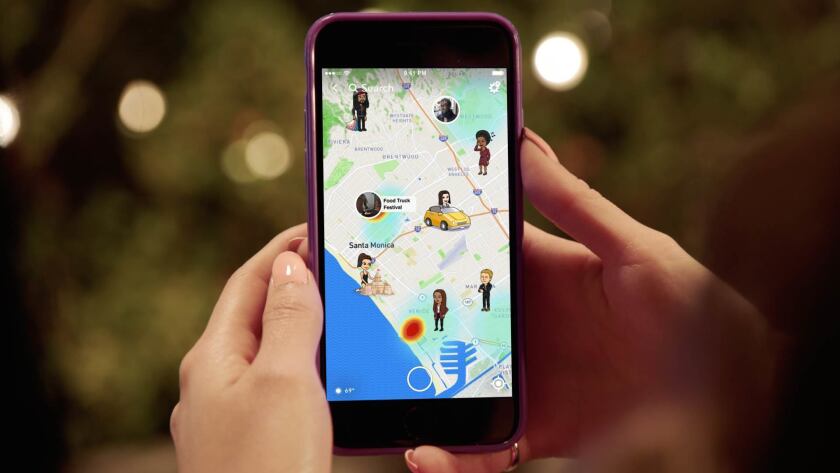 A pricey acquisition last month appears to have helped Snapchat maker Snap Inc. bolster its newest feature just before launch.
The Los Angeles tech company committed around $300 million in cash and stock to a French start-up that had developed a mapping app that shows people the precise locations of their friends, according to two sources familiar with the matter who requested anonymity because Snap prefers to keep acquisitions under wraps. Snap declined to comment.
One source added that Zenly didn't seek out other offers after its Chief Executive Antoine Martin and Snap CEO Evan Spiegel saw their goals intertwine.
Exact financial terms of the deal were unclear. But given the deal's general size, details should become public when Snap files its next quarterly update with securities regulators. Adding to the recent purchase of location-tracking technology Placed, Snap in a single quarter now has laid out about as much cash and stock for acquisitions as it reaped in cash through ad sales in all of 2016. The deal hunting is expected to continue.
Snapchat unveiled Wednesday a feature similar to what Zenly had created over the last couple of years. Users in both apps can share their location among all or a select group of their contacts and then launch chats with each other. TechCrunch first reported on the Zenly acquisition Wednesday after spotting similarities.
The Snapchat version adds a heat map that shows areas generating a large number of Snapchat uploads, such as the Hollywood sign or the Santa Monica Pier. Users can click on the location to view recent posts from such spots.
Based on a review of LinkedIn profiles, it appears Snap has decided to keep the bulk of the 45-employee Zenly team in Paris. Snap maintains an ad sales office in Paris too.
Zenly had been downloaded millions of times prior to the acquisition. It remains available on the Apple App Store, though Snap has eventually shut down some apps it has purchased such as Vurb and Seene.
Zenly had raised about $34 million from an investor group including Benchmark, Idinvest, Kima Ventures and billionaire French telecommunications entrepreneur Xavier Niel.
Benchmark owns about 4% of Snap, while Kima Ventures also backed Seene.
Twitter: @peard33
---