Snapchat company's IPO filing might be L.A.'s biggest ever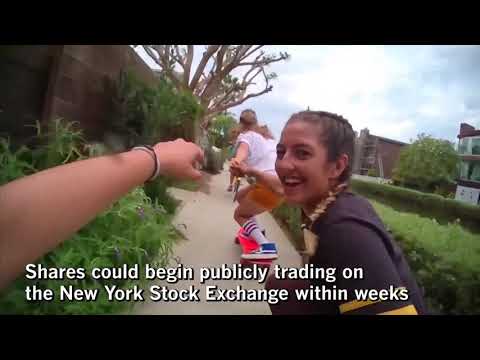 Snapchat app maker Snap's IPO filing might be the biggest ever for a Los Angeles company.
Snapchat app maker Snap Inc. filed papers Thursday to move forward with what's expected to be the biggest initial public offering ever for a Los Angeles company and one of the highest valued in U.S. history.
Conceived six years ago by Stanford University fraternity brothers to help peers send photos that would vanish after viewing, Snapchat roared through high schools and colleges starting in Orange County. When the app hit 40,000 users in months, its co-founders knew they held a treasure.

For the record:
7:52 p.m. June 28, 2019
An earlier version of this article said Lightspeed Venture Partners owns 8.3% of Snap's shares and Benchmark Capital Partners owns 12.7%. In fact, they own those percentages of Snap's Class A shares.
Now, according to Thursday's filing, it boasts 158 million daily active users — and sources familiar with the matter say Snap's stock sale could generate up to $4 billion, with shares priced to value the company at upward of $25 billion.
Snapchat has become a force in technology, advertising and entertainment. The company — which rebuffed a multibillion-dollar acquisition offer from Facebook — has popularized vertically oriented videos, pioneered interactive smartphone ads and become a hot way for media to reach teenagers, and teenagers to reach each other.
"It is for the younger people what texting was for 10 years ago," said Wedbush Securities research analyst Michael Pachter. "It's their way to communicate."
Snap shares could begin publicly trading on the New York Stock Exchange under the ticker symbol SNAP within weeks, giving investors a chance to bet Snap is just getting started.
An IPO represents a major financial and symbolic milestone for a young company, bringing with it a large amount of cash to expand, a bolstered reputation in the business community and greater responsibility to disclose financial results. Employees also may begin cashing out stock grants earned as part of their compensation, potentially turning hundreds of its workers into millionaires this year.
The company's more than 1,800 employees work on several products and services, including Snapchat, among the most-downloaded social media apps not owned by Facebook. Tech watchers initially denounced the disappearing photo messaging app as a sexting tool, but since then a raft of new features has evolved Snapchat into a coveted space for distributing ads and videos to millennials and Generation Z behind them.
In the Securities and Exchange Commission filing, Snap publicized its finances for the first time. The company said it has $150 million in cash in the bank and $837 million in bonds and other marketable securities. It generated $404.5 million in revenue in 2016, mostly from ad sales, which will be Snap's dominant source of revenue for the indefinite future. But $924 million spent on hosting costs, revenue-sharing agreements with content partners, research and development as well as other costs left Snap with a $514.6-million loss. In 2015, when advertising efforts were nascent, the company had $58.7 million in sales and a $372.9-million loss.
For all the early success, the company faces risks and competition to live up to the hype, it said in the filing.
For starters, the company says that it will not be able to keep up its feverish user growth rate and that, once growth slows, its financial performance "will increasingly depend on our ability to elevate user engagement or increase our monetization of users."
The company reported that, although its number of daily active users grew about 7% between the second and third quarters of last year, user growth was essentially flat in the latter part of the third quarter.
Snap acknowledges that it will have difficulty in countries that lack quality cellular data networks, high rates of smartphone use or both. It also cautions investors that its core user base of 18- to 34-year-olds is perhaps less loyal than other age groups and therefore more likely to switch to competing products.
The company also notes that Snapchat use declines with age. During the fourth quarter of last year, Snapchat users younger than 25 spent an average of more than 30 minutes on the app every day and opened it more than 20 times a day. Users 25 and older, meanwhile, used the app about 12 times a day and for only about 20 minutes.
The filing indicates that Snap intends to sell stock valued at $3 billion, although that number could change. The filing does not indicate how many shares Snap will sell or how much equity its executives and early investors will retain after the IPO. The filing does confirm, however, that executives and early investors will hold all of the voting power in the company. New investors would be granted non-voting stock.
Under the quickest timeline, company executives would begin courting investment pledges from big money management firms in about three weeks before listing its shares in early March. The company also could pull the plug and choose to remain private if it struggles to draw investor interest or the stock market grows turbulent.
Snap didn't specify how much it hopes to raise from selling shares to banks, mutual funds and other big-name investors in an IPO. It's also unclear how much each share would cost. But it's likely that only a few U.S. companies — including Facebook, AT&T, Kraft Foods, UPS, Visa and Google — will have commanded higher valuations during their debuts.
Facebook, which owns apps such as Messenger and Instagram and is moving into hardware through virtual reality headsets, is seen as Snap's closest peer and biggest rival. The Menlo Park, Calif., firm pulled in $18 billion in cash at a $104-billion valuation in a 2012 IPO. But Facebook was 8 years old and generating nearly $4 billion in revenue and $1 billion in profit at that time.
Financial analysts say the concern among investors is that Twitter may end up a better comparison for Snap.Twitter, which went public at levels of sales and losses similar to where Snap is today, has struggled to navigate in Facebook's wake. Three years after Twitter's stock market debut, the company's shares trade well under their initial price.
"Some people burned by Twitter will be more cautious as they evaluate Snapchat," Needham & Co. analyst Laura Martin said. "Because these companies are so immature, the management team is the best indicator of whether they will survive in the end."
But early backers of Snap see the company having an edge over Twitter, which experienced significant executive turnover before and since its IPO. Snap also should benefit from being the first video-centric app company to go public, though it's probably also the first company to have its fortune largely staked to just a mobile app.
Snap Chief Executive Evan Spiegel, a lanky 26-year-old raised in the tony Los Angeles enclave of Pacific Palisades, is seen in the tech industry as a visionary thinker. His outsized control over the company's direction is viewed by crucial investors as a positive.
Spiegel and Stanford University friends Bobby Murphy and Reggie Brown came up with the app while in school. Unlike their previous projects, what they initially titled Picaboo took off. People would share only certain things on Facebook. But they were more willing to show off the rest of their lives on Snapchat because messages self-destructed — ostensibly leaving no digital trail of indiscretion that could harm their college admissions or job prospects down the line.
Allowing people to keep ephemeral video blogs raised usage, as did aggregating user posts to make short-lived highlight videos from cool events and places. Snap also introduced video calling, gave users ways to play games through their cameras and launched a section filled with articles from newspapers and magazines. Many ideas come together along the Venice boardwalk, where Spiegel takes walks with lieutenants.
Spiegel earned $1.5 million in salary and bonuses last year. His total reported compensation was $2.4 million, which includes retirement savings contributions, life insurance premiums and $890,339 in personal security costs paid by the company. Murphy, the company's chief technology officer, took home $259,419 last year. (Brown, who sued Spiegel and Murphy in 2013 alleging they stole his idea and ousted him, received $157.5 million as a settlement, Thursday's filing revealed).
Other key Snap executives include former investment banker Imran Khan, the chief strategy officer, who made $5.5 million last year; former Pandora executive Tom Conrad, the vice president of product; and former Mattel official Drew Vollero, the chief financial officer.
The IPO would be a big moment for Los Angeles' tech scene, which hasn't enjoyed the sort of industry-leading anchors such as Apple and Xerox that for decades have attracted talent and spawned start-ups in Silicon Valley. Snap would join only a small cadre of publicly traded companies in Los Angeles, and an even smaller subset of tech firms. DreamWorks Animation currently holds the record IPO in Los Angeles by cash raised, bringing in $934 million in 2004, according to FactSet data.
Money raised through the stock sale would aid the company in hiring, acquisitions of other firms and rolling out new products. Last year, Snap launched $130 sunglasses that have an embedded video camera; it sold thousands of pairs. Dubbed Spectacles, the device is a taste of what the company has said are broad hardware development plans.
Snap has raised about $3 billion privately from investors. Its largest shareholders include Bay Area venture capital firms Lightspeed Venture Partners and Benchmark Capital Partners. Lightspeed owns 8.3% of the company's Cass A shares and 15% of its Class B shares; Benchmark owns 12.7% of the comapany's Class A and 22.8% of its Class B shares. The SEC filing does not indicate which shareholders plan to sell or reduce the size of their holdings in the public offering.
Some investors say that even if they don't invest in Snap, they'll be closely monitoring how the IPO goes. The valuations of many unprofitable start-ups, including Snap, soared during a boom in venture capital investment from 2012 to 2015. But it's unclear whether Wall Street is willing to match or exceed those values, given the struggles of game maker Zynga, Twitter and others to maintain pre-IPO growth rates.
Times staff reporter Melissa Etehad contributed to this report.
Twitter: @peard33
---
UPDATES:
3:50 p.m.: This article was updated to include commentary from analyst Michael Pachter.
2:55 p.m.: This article was updated with additional information about Snap's finances, IPO plans, user base and history.
2:05 p.m.: This article was updated with information about Snap's finances.
This article was originally published at 1:45 p.m.