Snapchat company sets IPO targets: $3.7-billion windfall and $22-billion valuation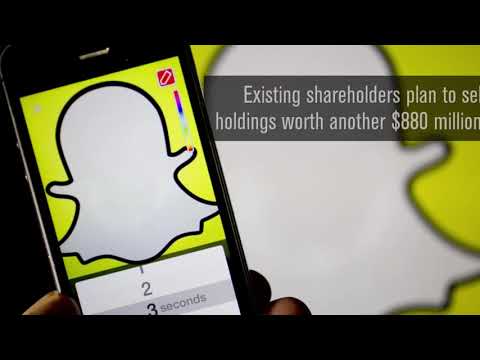 After the initial batch sells out, the company could offer another $246 million worth of shares and existing owners another $235 million. (Feb. 16, 2017)
Snap Inc. set a starting price range of $14 to $16 per share for its initial public offering, which at the top end could value the Los Angeles technology company at more than $22 billion.
The IPO of the Snapchat mobile app developer is expected to be the largest ever for a Los Angeles firm and the biggest since Alibaba and Facebook.
The share prices, which were disclosed in a securities filing early Thursday, are nonbinding. But they set the stage for Snap officials, led by Chief Executive Evan Spiegel, and investment bankers at Morgan Stanley and Goldman Sachs to hold discussions with investors around the world about their interest in betting on the nearly 6-year-old company. Scheduled gatherings include an event in London next Monday and New York City the day after.
The company started as a self-destructing photo messaging app, but has added features for texting, video sharing, money transfers and news to become the leading entertainment hub for 158 million daily users — most of them young adults.
Snap hopes to raise about $2.3 billion in cash from selling shares, which it would spend on hiring, taxes, technology, acquisitions, marketing and other efforts in the coming years.
Snap poached a top Instagram exec in 2014. But it ended in an expensive resignation
Existing shareholders, a group that includes Spiegel and cofounder Bobby Murphy, plan to sell holdings worth another $880 million. Other selling owners include chairman and early investor Michael Lynton and venture capital firms Benchmark, Lightspeed Venture Partners, General Catalyst and SV Angel.
And if the initial batch sells out, the company could offer another $246 million worth of shares and existing owners another $235 million, for a total sale of $3.7 billion for 230 million shares. Snap would have about 1.4 billion shares outstanding on a fully diluted basis.
But the size of the windfall depends on the final price per share. That's unlikely to be determined earlier than March 1.
Social media giant Facebook Inc., which many investors and analysts view as Snap's main competition, first proposed a pricing range of $28 to $35 for its shares before its IPO in 2012. The company ultimately locked in a price of $38 and a valuation of $104 billion.
Though Snap's IPO has generated great interest after a dearth of new listings last year, the company is playing it conservatively. At the midpoint of its pricing range, Snap shares would cost close to what investors paid a year ago in the company's most recent private fundraising. That means those investors may not realize a significant profit immediately.
Snap issued those shares for nearly $31, but in October it gave each of its shareholders an extra share for every one they owned, cutting the value of all in half.
Snap Inc. is headed toward Los Angeles' biggest IPO ever. How come local venture capitalists missed out?
The valuation may end up much higher in early March when a final price is set the day before shares begin trading for anyone to buy on the New York Stock Exchange under the ticker symbol SNAP.
But Snap faces a cautious investment community that — after the struggles of Twitter — may be wary to bet on unprofitable start-ups such as Snap, which has only a short history of generating revenue. Snap had sales of $405 million last year, mostly from ads shown on Snapchat. But the company lost $515 million as it boosted spending on all facets of its business.
In addition, slowing user growth on the Snapchat messaging app has raised concerns. And the company's decision to offer no voting power with shares being offered in the IPO has drawn criticism from both existing and prospective shareholders. Spiegel and Murphy would each control about 44.4% of the company's votes after the IPO, effectively giving them ultimate say in whether to take an acquisition offer, who sits on the board of directors and other matters.
Up to 7% of the shares being offered in the IPO are being reserved for friends of Snap executives, according to securities filings. The number of IPOs annually with such directed share programs has fallen to about 1 in 3 in recent years, with companies on average setting aside about 5%, according to data from market intelligence firm Ipreo.
Twitter: @peard33
ALSO
Elon Musk has a lot riding on Tesla's Model 3 — what will a unionization effort in California mean?
Time Warner shareholders vote to sell company to AT&T for $85.4 billion
Federal prosecutors are probing sexual harassment settlements paid out by Fox News
---
UPDATES:
6 a.m.: This article was updated with additional details about valuation, ownership and the directed share program.
This article was originally published at 4:05 a.m.