Does Snapchat generate revenue? Now it does, but profit's another story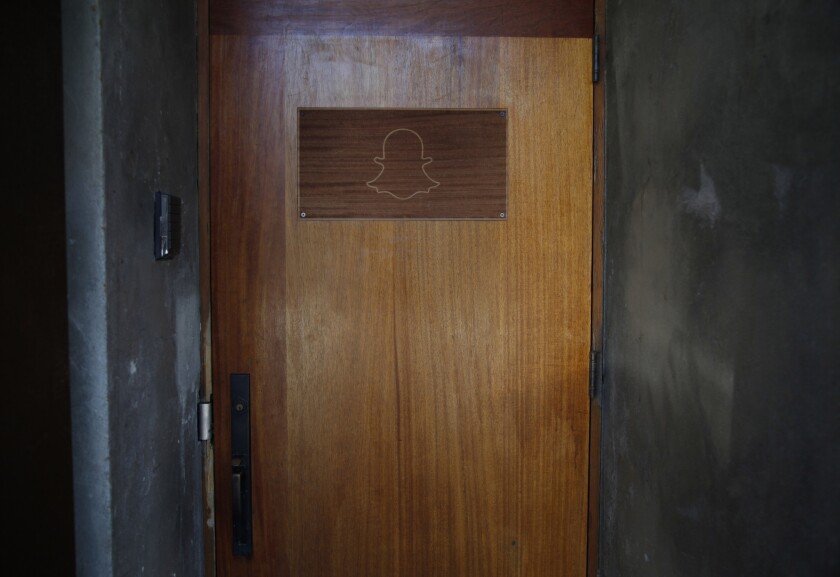 Snapchat appears to have generated $3 million by selling its first eight or so ads over six weeks last fall, according to newly leaked financial details.
The initial pile of revenue covered Snapchat's marketing and travel costs last year, a document posted on Gawker shows. But it barely made a dent in making up for the Venice start-up's nearly $129 million in other expenses during the first 11 months of 2014, including online video storage and technology costs, acquisitions of start-ups, payroll and legal bills.
Having shown at least 10 times as many ads over just the past four months than it did last fall, Snapchat should produce tens of millions of dollars in revenue this year.
Advertisers such as Apple, Toyota and Hewlett-Packard have pitched to the millions of teenagers and young adults that open the app, often several times a day, to chat with friends, watch footage from big cultural events and get a dose of news and comedy. Because many of those people aren't watching as much cable television, Snapchat has become the new frontier for advertising.
Now, the question is how soon does the 4-year-old company generate a profit from its growing advertising machine.
Spending this year is poised to remain high. Snapchat employees are filming U.S. presidential campaigns nationwide and producing weekly videos of all sorts. There's now an office in New York City and more real estate in Venice.
Cash isn't an issue, nor is there a lack of confidence that a profit will come. Investors have given Snapchat over $1 billion, implying that the company is worth at least $16 billion. In an interview with Forbes this week, early Snapchat investor Hemant Taneja reiterated what he told The Times last August: "I see Snapchat as one of the next big tech media companies."
But the pressure to turn consumer attention into profit might grow fast. Snapchat Chief Executive Evan Spiegel has said he wants to take the company public. Investor appetite for buying into the IPOs of unprofitable start-ups could be declining, though.
Just 17% of tech companies that went public last year or in the first half of this year were unprofitable, compared with annual percentages of about 30% to 70% during the decade prior, according to data from University of Florida finance professor Jay Ritter.
If the trend holds, Snapchat, which also sells a blanket and a toy, will need to sell far more ads or find new revenue streams.
Chat with me on Twitter @peard33
---