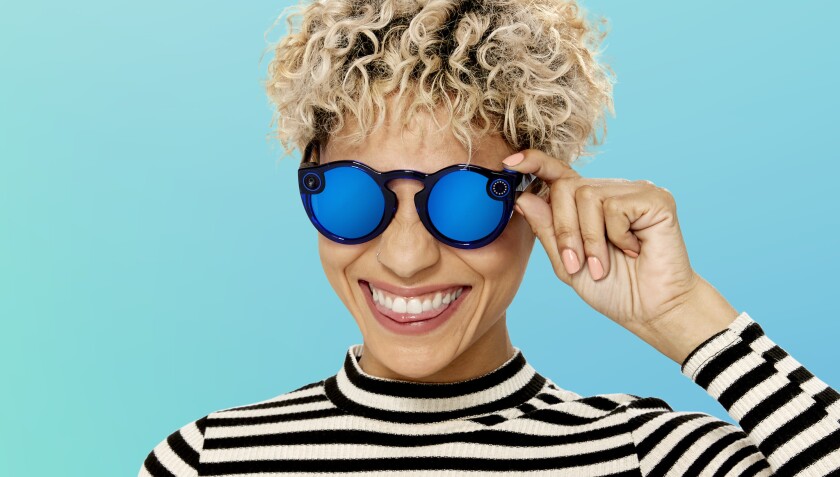 By introducing hardware like camera sunglasses, Snap Inc. is trying to prove it's different from all other social media companies.
But with its software, the Venice company behind the video messaging app Snapchat is trying to prove it can be just like the competition.
Snap announced Thursday it's doubling down on its sunglasses experiment, unveiling a second version of its so-called Spectacles that are lighter, more powerful and also water-resistant.
The move comes as Snap has begun taking a far more conventional approach to its software strategy by revamping Snapchat to attract new users and introducing cheaper ads to drum up business. The early results of that strategy will be revealed Tuesday in the Venice company's first-quarter earnings report.
The first iteration of Spectacles was a hit with the tech media but a dud on retail shelves. Introduced in November 2016, Snap sold only 220,000 pairs, well below company estimates. Snap had to write down $40 million in costs associated with excess inventory in 2017.
Despite that, Snap thinks its users will eventually prefer taking pictures and videos with its eyewear over using a phone. Snap, after all, refers to itself as a camera company first and foremost rather than a social media company.
It's the app, though, where Snap must show it can make enough revenue to credibly challenge Facebook's Instagram, which has 2½ times more daily active users than Snapchat at 500 million. Snap has yet to reach profitability and reported losses of $350 million in the fourth quarter.
Under pressure from Wall Street, Snap has made a number of moves the past year to give it more mainstream appeal — even at the risk of alienating the app's most ardent fans.
None was more dramatic than its redesign of Snapchat, which was aimed at making the app more approachable to a wider audience. The new look was met with widespread criticism, including a petition to reverse the change with more than 1.2 million signatories, and a dismissive tweet from reality star Kylie Jenner that sparked a sell-off in company shares.
In another shift, Snap introduced programmatic ad-buying, an automated auction for marketers that lowered the company's ad rates but significantly boosted the number of ads it sold. It was a major reversal for a company that long thumbed its nose at the cheap ads the industry has long relied upon.
Snap is also testing unskippable, six-second ads in some of its Snapchat Shows — short videos produced by big media companies such as NBCUniversal and Viacom. The ads, which the company is simply calling Commercials, were first reported by Digiday.
The new ad format comes at a time when Snap has laid off hundreds of staff and consolidated employees at an office park in Santa Monica in a bid to cut expenses and drive the company toward breaking even, perhaps as soon as this year.
The company is hoping to build upon its surprisingly strong results the previous quarter when Snap beat Wall Street estimates on both revenue and user growth. The report sent shares soaring to an eight-month high at over $20 — well above its IPO price of $17. It has since returned to the $14 range.
Snap's founder and chief executive, Evan Spiegel, has implored investors to remain patient, arguing it will take until 2022 for outsiders to realize the company's value.
Analysts, however, say time could be running out.
"The app redesign has faced much criticism from its core users and now must come out … in a stronger position, otherwise darker clouds will be on the horizon," said Daniel Ives, chief strategy officer and head of technology research for GBH Insights. "It will take more time for investors to digest the Snap potential turnaround story, although patience is wearing thin."
The gambit with Spectacles could diversify the company's revenue beyond ads, though sales would have to be significantly larger.
Snap says it won't make the same mistake as last time overestimating the appetite for the sunglasses. The company says it can better predict demand now by selling the device exclusively through Spectacles.com rather than specially made vending machines that largely succeeded in generating hype and not much more.
The new glasses, which cost $149.99, will come in three colors: onyx, ruby and sapphire (or black, red and blue). Lenses will come in two separate colors. Polarized and prescription versions will also be offered. Snap improved the device's performance so that all images are captured in high definition. Data transfer times have also been boosted.
"Snapchat has to show signs of success with this latest launch," said Ives, who called the first version of Spectacles a "science project gone wrong."
Follow me @dhpierson on Twitter
---