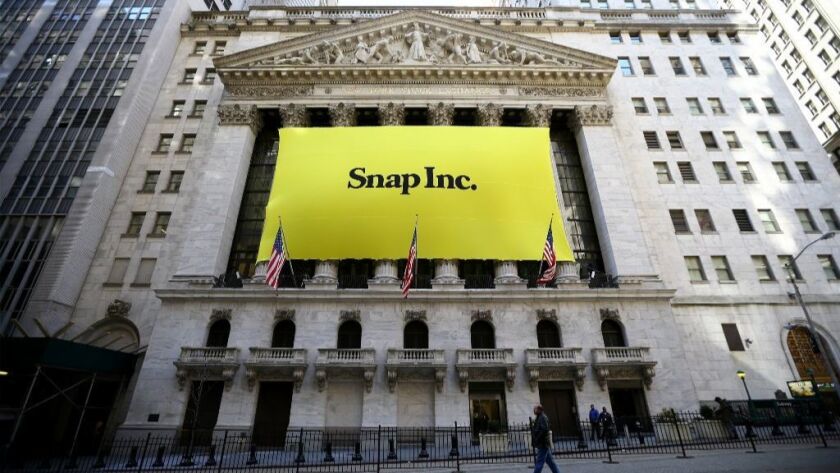 After a bruising first year as a publicly traded company, Snap Inc. has finally earned some much-needed breathing room.
Shares of the company behind the video messaging app Snapchat surged more than 25% in after-hours trading after the Venice company reported stronger-than-expected results Tuesday in its latest earnings report.
Snap reported revenue of $285.7 million in the fourth quarter, a 72% increase from a year earlier, thanks to surprising growth in users and advertising. That blew away analysts' estimate of $253 million.
It was the first time Snap beat Wall Street's expectations, helping the struggling company finish its fiscal year strong.
"This was a monster quarter relative to bearish expectations," said Daniel Ives, an analyst for GBH Insights. "This was a major step in the right direction for Snap as the turnaround appears [to be] showing signs of life into 2018."
Snapchat added 8.9 million daily active users, its largest jump since the third quarter of 2016. The company now has 187 million daily active users. Analysts had expected 184 million.
More advertising pushed the average revenue per user up 46% from a year earlier to $1.53, well above the estimate of $1.36. Advertisers tend to spend more at the end of the year because of the holiday season.
Still, Snap's success in eking out more revenue from its users can't be explained seasonally. Gross margins jumped to 36% in the fourth quarter compared with 8% a year earlier.
Snap's co-founder and chief executive, Evan Spiegel, credited a redesign of Snapchat, an improved experience for Android users and a switch to programmatic ad buying — an automated auction for advertisers — for turning around the company's trajectory. Programmatic buying lowers ad rates because of its efficiency, but Snap was able to offset that by adding more advertisers.
"Our business really came together towards the end of last year, and I am very proud of our team for working hard to deliver these results," Spiegel said in prepared remarks for investors Tuesday. "We executed well on our 2017 plan to improve quality, performance and automation, which removed friction from our advertising business and improved our application."
Snap shares traded as high as $17.80 after-hours after closing at $14.06. The company hadn't matched its $17 March initial public offering price since July.
Snap posted a net loss of $350 million, or 28 cents a share, in the quarter that ended Dec. 31. Analysts had expected a loss of $410 million, or 33 cents a share.
The same time last year, Snap posted a net loss of $170 million, or 20 cents a share. It finished 2017 with a net loss of $3.45 billion. The company totaled $826 million in revenue for the full year.
Before Tuesday's earnings report, Snap's prospects looked increasingly challenging because of fierce competition for users and advertising from Facebook and its photo- and video-sharing app Instagram.
Snap was showing cracks with periodic layoffs and the departure of at least seven executives since the company's IPO.
Analysts say Tuesday's report increases optimism that Snapchat will reach 200 million users by next year — putting it about 100 million users short of Instagram.
The key thing to watch is how Snapchat reconciles its appeal with its core audience of young users and its efforts to make the app more accessible to a wider — and older — demographic. The changes include a redesign in November to make the app more intuitive for the Facebook-set and a move to allow users to share public content on other platforms.
"It runs counter to why Snapchat was appealing to its younger demographic in the first place, and I worry it will alienate that existing user base because they're now trying to cater to the masses and Wall Street," said Jessica Liu, a Forrester analyst.
Follow me @dhpierson on Twitter
---
UPDATES:
3:40 p.m.: This article was updated to include comment from analysts and additional details from Snap's quarterly earnings report.
This article was originally published at 1:40 p.m.
---