Snap Inc.'s chief financial officer will step down and be replaced with an Amazon executive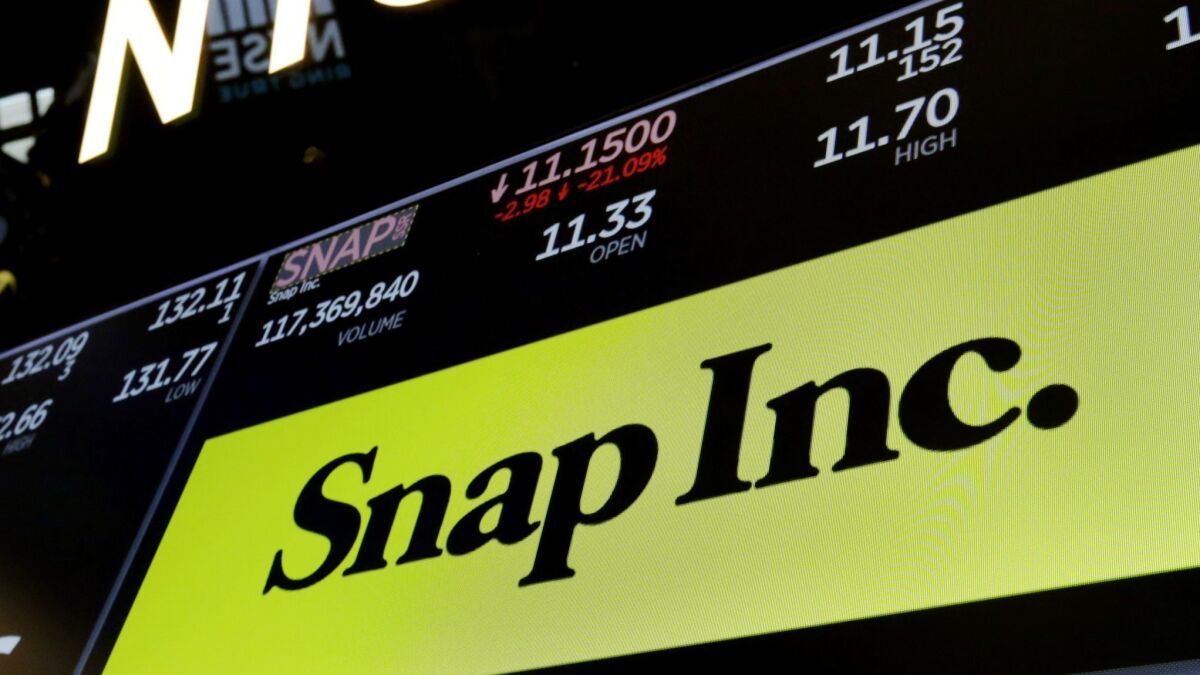 Snap Inc. Chief Financial Officer Drew Vollero is stepping down later this month to be replaced by a longtime Amazon executive, Tim Stone.
Vollero, who has been at the Venice company for nearly three years, is pursuing other opportunities, Snap said.
He is among at least eight executives who have left Snap since the maker of the video messaging app Snapchat went public in March 2017.
"I am deeply grateful for Drew and his many contributions to the growth of Snap," Evan Spiegel, Snap's co-founder and chief executive, said in a statement. "He has done an amazing job as Snap's first CFO, building a strong team and helping to guide us through our transition to becoming a public company. The discipline that he has brought to our business will serve us well into the future. We wish Drew continued success and all the best."
Vollero said he was proud of his time at the company.
"The financial strategies we have in place are gaining traction to grow margins, flatten costs, and reduce cash burn, and we have a talented finance team that can execute well," he said in a statement.
The announcement comes a week after Snap posted disappointing first-quarter financial results, missing Wall Street's targets for revenue and user growth. The company is making a difficult transition to a new app design and automated advertising. It's also facing blistering competition from Facebook's Instagram.
Snap shares were down less than 1% Monday to $10.74, well below its initial public offering price of $17. Shares were trending up in after-hours trading, however, on news of Vollero's replacement.
Stone has been at Amazon since 1998 and most recently worked leading the integration of Whole Foods, which the e-commerce giant acquired last summer. He also has experience with Amazon's cloud business, a major cost for Snap. He will start May 16.
Other departed Snap executives include Tom Conrad, vice president of product; Tim Sehn, head of engineering; Chris Handman, general counsel; Chloe Drimal, an executive in charge of content development; Robyn Thomas, vice president of legal and human resources; Martin Lev, vice president of security; and Jad Boutros, vice president and chief security officer.
"It's been a revolving door since the IPO and it speaks to the turbulence this company has encountered over the past year," said Daniel Ives, an analyst for GBH Insights.
Follow me @dhpierson on Twitter.
---
UPDATES:
2:40 p.m.: This post was updated to include comment from analyst Daniel Ives.
This article was originally published at 2:25 p.m.