Soylent CEO shakes up Montecito Heights with shipping-container home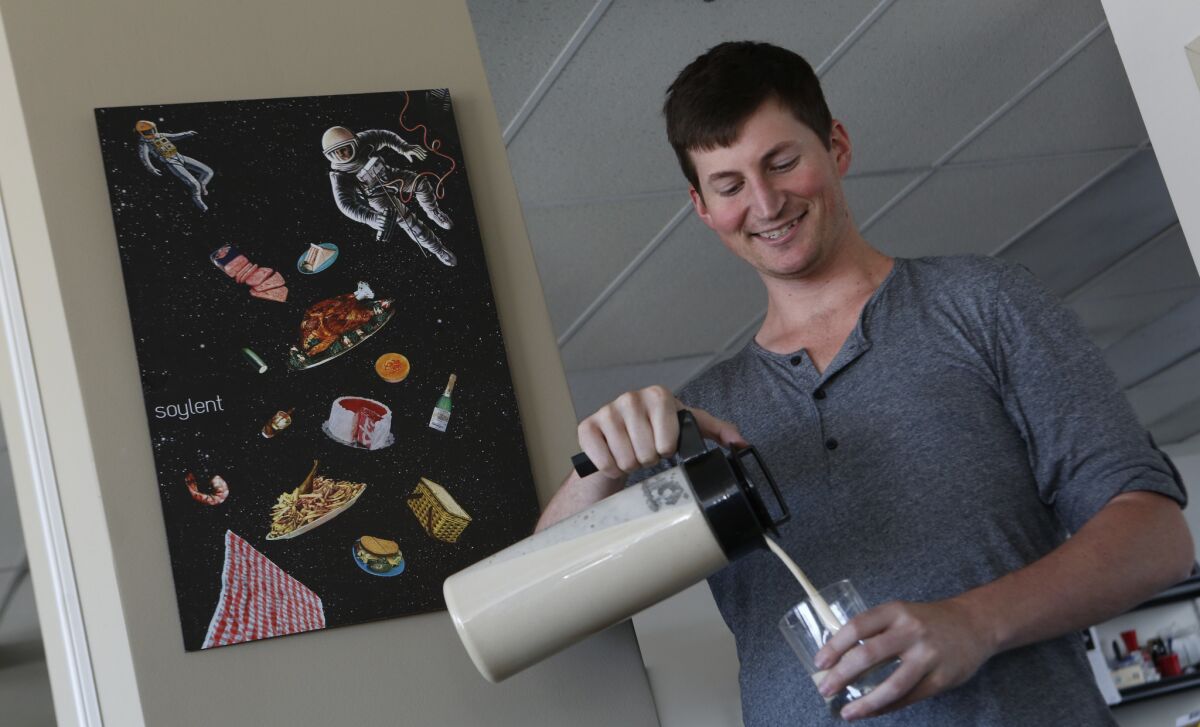 Living in used shipping containers decked out with chic furnishings is becoming fashionable nationwide, from woodlands to desert hilltops.
But on a dusty hilltop in Montecito Heights, one such eco-home has reportedly become an eyesore — and the object of a potential criminal complaint.
Rob Rhinehart, chief executive of meal-replacement beverage startup Soylent Co., placed a bright red shipping container on what locals call Flat Top sometime after December, according to the real estate news outlet Curbed.
Rhinehart owns the land under the container, Curbed reported. But Los Angeles city officials say he doesn't have the proper permits for the structure, and they've asked the city attorney to file charges because he's refused to remove it. A spokesperson for the city attorney's office didn't immediately respond to a request to comment.
Neighbors told Curbed they have security and safety concerns, complaining that the now-graffiti-stained container looks in disarray and could come tumbling down the hillside in an earthquake. They also griped about a July 4th party Rhinehart threw that allegedly left trash strewn about the popular walking destination.
Rhinehart dismissed the concerns to Curbed. But he said the container would be relocated to an undisclosed location because of a neighbor's request. Rhinehart wasn't immediately available to comment.
He told the Financial Times recently that the container cost $1,500 and that the land came cheap because it lacks water and electricity hook-ups. No problem for him — he's got a portable toilet and solar power.
"The only drawback is the area's still a little rough, so it got graffitied," Rhinehart told the newspaper.
His Los Angeles startup has roped technology workers, the health-conscious and the extremely busy into chugging glasses of chalky liquid as an alternative to traditional meals. The substance includes soy, vitamins, minerals and algal oil; the company contends it's everything a person needs for nutrition.
Many consumers share recipes to dress up their Soylent concoctions with a bit more flavor. Investors have given the company more than $20 million in venture capital.
Twitter: @peard33
---
UPDATES:
5:55 p.m.: This article was updated with additional details from the Financial Times.
This article was originally published at 5:48 p.m.