Square unveils 'Terminal' gadget to rival keypad credit-card machines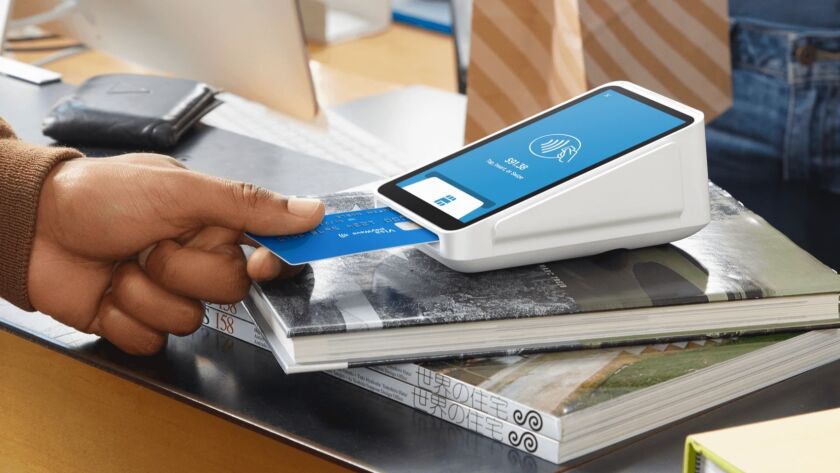 Square Inc. unveiled a device that competes with old-school keypad-based credit-card machines, part of the payment company's broader effort to attract new merchants.
The product, called Square Terminal, enables sellers to ring up sales, process any type of payment and print receipts from one device, the San Francisco company said Thursday. The hardware costs $399, and the company charges a transaction fee for every payment. Sellers that are new to Square will get a discount on the machine. Square Terminal also has software with which merchants can access inventory, create discounts and send invoices.
Square is betting its fast payments processing and simple design will woo more merchants away from competitors such as Ingenico Group and Verifone. The company has been expanding its hardware suite to attract larger customers and different types of merchants. Last October, Square unveiled a countertop hardware device that's also embedded with its electronic-payments technology.
Less than 5% of Square's revenue comes from hardware. The company offers a variety of credit-card readers and a stand that turns an Apple Inc. iPad into a point-of-sale terminal. Square has typically sold its hardware cheaply or given it away to attract merchants to its software and services, where it aims to make money.
Square, co-founded and run by Twitter Inc. Chief Executive Jack Dorsey, started by selling smartphone plug-ins that enabled food-truck vendors and other small businesses to accept credit-card payments. It has since won over larger merchants by offering a suite of services and software that make running a business easier. Those more profitable offerings, including loans, food delivery and inventory-management software, have boosted Square's financial performance and its stock.
The company's shares had risen to a record closing high of $99.01 in September but have since fallen more than 20%. The declines were driven in part by the planned departure of the company's chief financial officer, Sarah Friar, who is leaving to run local social network Nextdoor.com Inc.
---