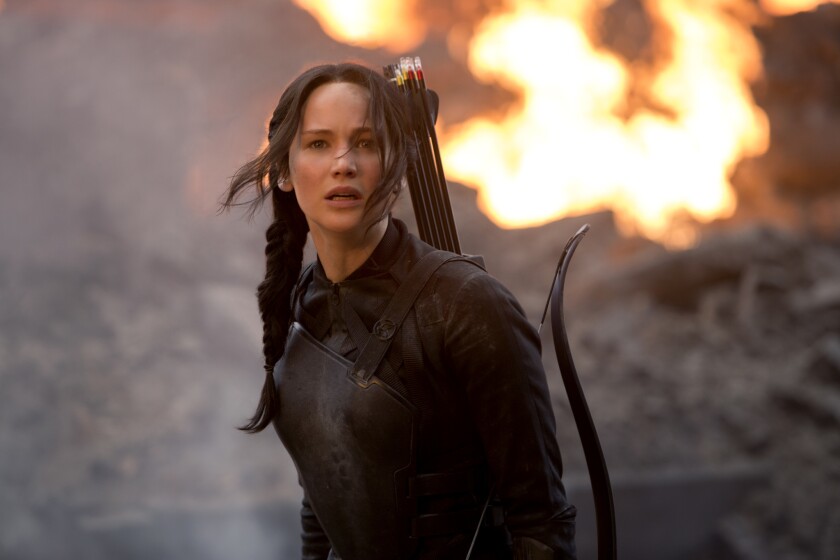 If you've ever seen something in a movie you really wanted but didn't know where to buy — Jennifer Lawrence's outfits in "The Hunger Games," Vin Diesel's tank tops in "Fast and Furious 6" — TheTake might be able to help.
Founded by a group of engineers and a business graduate, the platform catalogs every purchasable item in a film and links users to retailers that stock the products. The items range from the mundane (a throw pillow from "Neighbors") to the extravagant (a $350-million Air Bus from "Godzilla").
The mobile app, which launches on Thursday, builds on the Web-based platform that launched earlier in the year.
When a movie is playing, users can open the mobile app, which listens to the film and identifies the scene. It then pulls up a still image of the scene with all the purchasable items tagged and linked to retailers.
TheTake CEO Tyler Cooper describes the mobile app as the "Shazam of movies," comparing it to the music-identifying app.
"We take a movie as soon as the trailer is released, we ingest all the products we see in the trailer and, even if it's sold out, we'll go ahead and tag it," Tyler said. "We try to catalog every purchasable product in the trailer."
Tyler told The Times that he first got the idea for TheTake when watching Kanye West perform at the 2011 MTV Video Music Awards.
"He was on an all-white circular stage wearing a bright red suit with a black shirt underneath and some red sneakers, and he was playing this weird beat machine, and I was watching it, thinking it looked amazing," Cooper said. "I tried to Google all that stuff but I couldn't find any of it online."
Tyler felt it was a missed opportunity for the product makers and content producers, so he started developing TheTake with a small team of engineers after graduating from business school in 2013.
When TheTake first launched, the team manually scoured the Web to find the products featured in the films. Today, it has deals set up with studios where the studios supply them with lists of everything used on set.
TheTake currently has more than 100 films in its database, with 10 new movies added each week. It focuses on major studio releases, and aims to tackle 150 films each year. This means its product catalog is rapidly growing and diversifying beyond fashion and pillows.
"We recently catalogued the items in '50 Shades of Grey,'" Tyler said. "Lots of blindfolds and whips. So that was interesting."
Twitter: @traceylien
---