Twitter shares nosedive after company reports no user growth in fourth quarter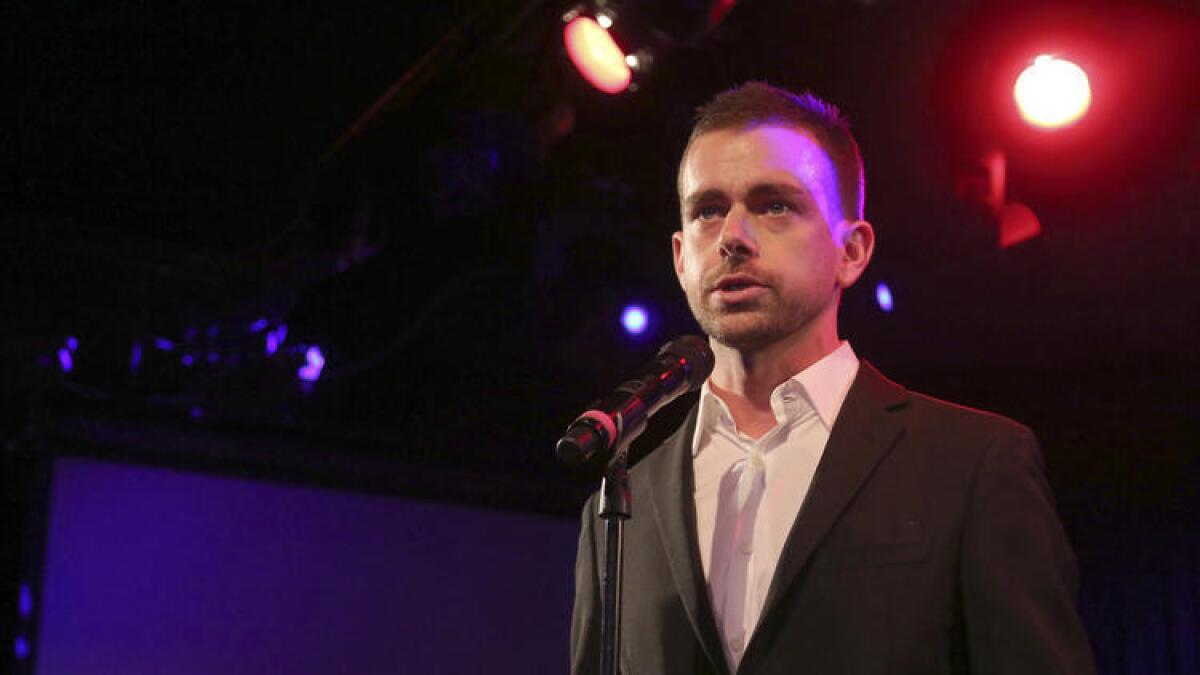 In less than a year, Twitter Inc. has lost its chief executive, replaced him with one who's still running another company, introduced new features that have generated about as much excitement as a golf clap, lost five more key executives and inspired the antemortem #RIPTwitter.
On Wednesday, the microblogging company released arguably its most crucial quarterly earnings report to date and reported the one thing Wall Street investors and analysts didn't want to hear: user growth flatlined.
------------
FOR THE RECORD
An earlier version of this story said Twitter added 320 million monthly users in the fourth quarter. It did not add any more users. Instead it maintained its user base of 320 million.
------------
Twitter had 320 million monthly active users the final three months of 2015, the same number as in the third quarter. What's worse, if you exclude SMS Fast Followers, an audience that uses Twitter through text messaging in emerging foreign markets, user numbers declined on a quarterly basis to 305 million from 307 million.
The numbers will only exacerbate fears that Twitter, still a massive company with a dedicated following, will max out its reach unless it makes dramatic changes.
"If users don't grow, it's hard to see how they can grow revenue and earnings sufficiently to justify a high stock price," said Wedbush Securities analyst Michael Pachter, who listened in on the earnings call.
"Getting the product right is half the battle; communicating to non-users that it's a useful, live service is the other half," Pachter added. "They really need to increase engagement among users, and really need to attract new users. I didn't hear a clearly articulated strategy for either."
Company executives countered by saying that user growth is traditionally the worst in the fourth quarter and that it rebounded in January.
Twitter shares briefly plummeted in after-hours trading. They had increased 58 cents, or 4%, to $14.98 during regular trading Wednesday after reaching an all-time low Tuesday for the third day in a row.
In the last year alone, Twitter shares have fallen nearly 70%.
Twitter isn't the only technology company souring on Wall Street. The sector as a whole has taken a beating in recent months as tech stocks such as Apple, LinkedIn and GoPro begin to succumb to concerns about the broader economy.
One bellwether known as the FANG stocks — Facebook, Amazon, Netflix and Google (now Alphabet) — have fallen 17% on average this year after scoring 83% growth in 2015.
One problem is the tech sector has seen sky-high valuations in recent years, stoking fears that amid a tumultuous time on Wall Street, tech could be poised for a deeper dive than other sectors.
"The market is losing a certain amount of confidence in the ability to sustain these valuations in the industry," said Rob Enderle, a tech industry analyst. "Social media stocks have been troubled for a while. You've got Facebook then everybody else. There isn't the same excitement as there once was. If the social media bubble hasn't burst, it's certainly bursting at the moment and Twitter is the canary-in-the-coal-mine event."
The grim user growth at Twitter overshadowed some positive financial numbers for the San Francisco company.
Revenue in the fourth quarter grew 48% year-over-year to $710 million, in line with Wall Street forecasts. It reported a net loss of $90 million, or 13 cents a share, compared with a loss of $125 million a year earlier.
The number of active advertisers grew 90% year-over-year to 130,000.
Twitter Chief Executive Jack Dorsey, who is also CEO of mobile payments company Square, said Twitter would refocus this year on leveraging its advantages in the real-time experience of its platform.
"We're focusing on what Twitter does best: live," Dorsey told analysts. "Watching a live event unfold is the best way to understand the power of Twitter."
To that end, Dorsey said the company would bolster its live-streaming video through its app Periscope, give social media stars and trendsetters more tools to reach their audience and make Twitter a safer medium to communicate more freely. The company has faced criticism in the past for not taking a stronger stance on harassment, hate speech and the use of Twitter by terrorist organizations.
Ahead of earnings on Wednesday, the company revealed a new Timeline that shows tweets out of order — a controversial move that takes away from Twitter's real-time feel and replaces it with an algorithm.
"The tweets you're most likely to care about will appear at the top of your timeline," said Mike Jahr, Twitter's senior engineering manager in a blog post.
News of the change, first reported by BuzzFeed last week, sparked a maelstrom on the platform among Twitter's most loyal fans. As a result, one of the top trending hashtags was #RIPTwitter.
The outrage elicited a response from Dorsey, who tweeted Saturday that the company was "always listening."
The new algorithmic Timeline can be switched off in settings.
An earlier change, Moments, which curates and promotes popular tweets, was not nearly as controversial but did little to inspire confidence in the company's direction.
"We do not think that Moments drove a meaningful increase in users, as much of the content remains outdated or irrelevant," Pachter of Wedbush Securities said in a note to investors last week. "In addition, Twitter remains difficult to use relative to its peers, and a solution does not appear to be imminent."
Twitter's enduring problem is that competitors simply do things better, said said David Giannetto, author of "Big Social Mobile: How Digital Initiatives can Reshape the Enterprise and Create Business Results."
Facebook, for example, leads in social connection. Google is far better at delivering content. And Amazon is better at enabling consumption.
Beyond attracting more users and advertisers, Twitter still has a personnel problem.
Last month, it announced the departure of its top executives in engineering, human resources, media and product.
Dorsey, one of Twitter's co-founders, was eventually named chief executive after his predecessor Dick Costolo stepped down last June.
david.pierson@latimes.com
Twitter: @dhpierson
Times staff writer Tracey Lien in San Francisco contributed to this report.
---