Uber tries to limit size in class-action lawsuit with new driver contract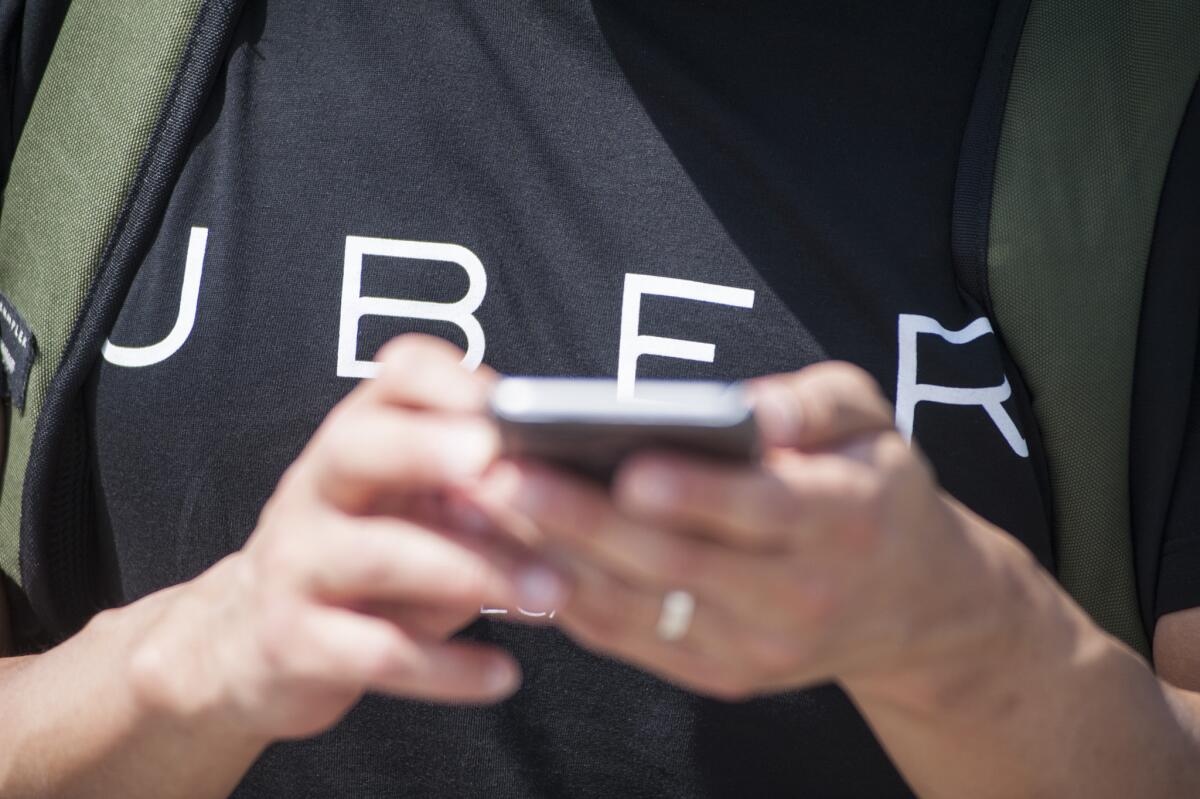 If there ever was a time for Uber drivers to carefully read their contracts, it's now.
The on-demand transportation company on Friday issued a new driver partner agreement to Uber drivers containing a revised arbitration clause that would exclude anyone who signs it from participating in current or future class-action lawsuits.
The move comes as Uber has faced a series of setbacks in a federal court case involving drivers who claim they have been misclassified as independent contractors. Arbitration clauses such as the one released Friday allow companies to avoid potential litigation from aggrieved employees or customers by shifting the matter to a private dispute resolution process.
SIGN UP for the free California Inc. business newsletter >>
Uber released its new driver agreement just days after U.S. District Judge Edward Chen ruled that Uber's existing arbitration provisions were unenforceable, potentially expanding a high-profile class-action misclassification lawsuit to include the majority of Uber drivers in California – as many as 160,000.
Drivers have to accept the agreement to continue driving on the Uber platform, but they can opt out of the arbitration provision by emailing optout@uber.com stating their name and that they want to opt out of the provision.
Drivers have 30 days to opt out after they sign the new agreement.
The attorney representing the plaintiffs in the class-action lawsuit, Shannon Liss-Riordan, said the new agreement was clearly an attempt by Uber to limit the class size. Her firm is working on a motion to ask the court to block the new agreement.
"We believe this is an illegal attempt by Uber to usurp the court's role now in overseeing the process of who is included in the class," she said.
An Uber spokesman said the company informed Judge Chen of its decision to send a new arbitration agreement, which he said the judge approved.
"We believe strongly that our agreements are valid, but we are making some changes and clarifications to remove uncertainty for drivers and for us as we work through our multiple appeals on this issue," the spokesman said.
The spokesman added that the company does not intend to enforce the new arbitration provisions for drivers who are part of any certified class, such as the high-profile O'Connor vs. Uber Technologies class action.
But the language in the new agreement suggests otherwise.
According to Todd Scherwin, managing partner of the Los Angeles office of law firm Fisher and Phillips, the wording in the new contract clearly tries to stop current and future Uber drivers from participating in class action lawsuits.
"From Uber's perspective, if it limits [the size of the class] at all — say it knocks out 1,000 people, or 5,000 people, or 10,000 people — it will be worth it."
This kind of action is uncommon in class actions, Scherwin said, but it does happen. And in nonlegal parlance, Uber's move isn't as sneaky as it sounds.
"The section about the arbitration provision and the ongoing lawsuits is big and bold and underlined, so I don't think there's a lot of sneakiness to it," he said. "If that part had been hidden, or if there wasn't an opt-out provision, then you'd say this is their way to try to hide it."
The provision can be found on page 15 of the 21-page contract.
Chen, the federal judge overseeing the Uber misclassification suit, first certified a class of drivers in September. But the class was initially limited to drivers who didn't accept arbitration agreements when they first signed up to drive for the ride-hailing platform – a group Uber said at the time was only a "tiny fraction" of drivers in California.
Wednesday's ruling significantly expanded the pool of potential drivers by certifiying an additional subclass of UberBlack, UberX and UberSUV drivers, even if they signed or electronically accepted any Uber contract with an arbitration provision.
Twitter: @traceylien
ALSO
Kitson, boutique for young starlets, is closing all 17 stores
California's Lemon Law helps protect pricey consumer electronics
Electric car start-up Faraday Future picks Nevada over California to build a $1-billion plant