Honolulu lawmakers agree to cap surge pricing for Uber and Lyft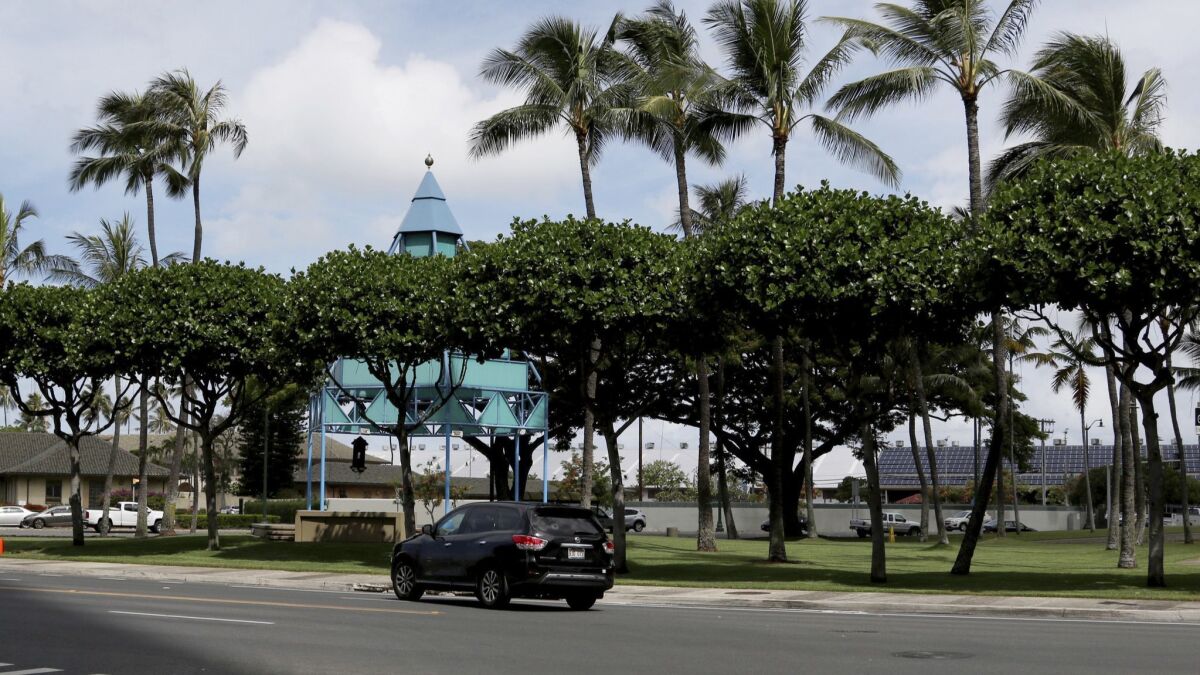 Reporting from San Francisco —
Honolulu lawmakers delivered a blow to the ride-hailing industry's business model Wednesday when they approved a measure that would make their city the first in the U.S. to limit how much Uber, Lyft and other such services can charge during times of high demand.
The measure, known as Bill 35, targets "surge pricing," in which ride fares increase during periods of heavy demand. Uber and Lyft typically experience price surges during rush hour, around concerts and events, and during bad weather.
Councilwoman Kymberly Marcos Pine, who voted for the limits, said she was concerned to hear that U.S. Navy sailors getting off ships in Pearl Harbor recently were quoted as much as $221 to get to Waikiki when a cab ride was $44. As the wife of a sailor, she said she wants to protect service members from being "price gouged."
An Uber spokesperson said that the price Pine quoted was for an Uber Select — a higher-priced tier of Uber rides — and that the trip, which was never taken, was requested during a time of "very high demand."
Ride-hailing proponents insist that price gouging isn't an issue for Uber or Lyft because both services practice "upfront pricing," in which customers are shown the cost of a ride before they agree to book it.
"I realize that nobody likes to pay more for a trip," said Michael Goodman, 62, an Uber driver from Northridge who has been driving for the ride-hailing company for more than three years. "But the prices are shown in the app before the rider places a request. The rider always has control of their exposure to surge prices."
The elastic pricing model allows Uber and Lyft to expand their driver fleet at times of high demand, giving them an advantage over traditional taxicabs, which have limited supply. A recent UCLA survey of Uber and Lyft drivers found that 38% of respondents said surge pricing was a key motivator in driving for the services during busy times.
Uber and Lyft said that removing that incentive could reduce the number of drivers on the road, leading to longer passenger wait times and less reliable service.
"Bill 35 is a solution in search of a problem," said Tabatha Chow, Uber's senior operations manager for Hawaii. "As we've been told, the city hasn't received a single consumer complaint about our dynamic pricing model.
"If implemented, this bill will restrict innovation, limit consumer choice and put the availability of Uber service on Oahu at risk."
Lyft spokesman Adrian Durbin said the measure, if signed into law, "would reduce the availability of safe, reliable Lyft rides that people depend on."
Honolulu's approval of the measure sets an uncomfortable precedent for the ride-hailing companies, but transportation policy experts aren't convinced that other cities will follow suit.
Pete Gould, a transportation policy expert at Shared Mobility Strategies who previously worked with Uber, said regulatory discussions about price caps were common in the early days of ride-hailing, when the concept of dynamic pricing was new. Surge pricing in particular was an issue in the days before Uber and Lyft introduced its upfront pricing feature because, instead of telling customers how much a ride would cost, the companies used a fare multiplier that often led to sticker shock.
In New York and Massachusetts, lawmakers have gone as far as mandating that ride-hailing services cannot increase their fares during states of emergency and natural disasters. Both companies have said since 2014 that they cap their own fares during major storms, natural disasters and other emergencies.
But many cities have also moved on from the idea of regulating fares, Gould said, and are now focused on issues such as tax collection and whether drivers should be able to bargain collectively.
Gould described the Honolulu as measure as "trying to level the playing field by bringing everyone down to a system that didn't work that well with taxis, and doesn't make sense for consumers."
"This is very much a 2015 policy debate, not a 2018 policy debate," he said.
The measure now goes before Mayor Kirk Caldwell, who has 10 days to sign it into law, veto it or allow it to become law without his signature.
Twitter: @traceylien
The Associated Press contributed to this report.
---