Irvine TV maker Vizio is suing troubled Chinese firm LeEco after $2-billion deal collapses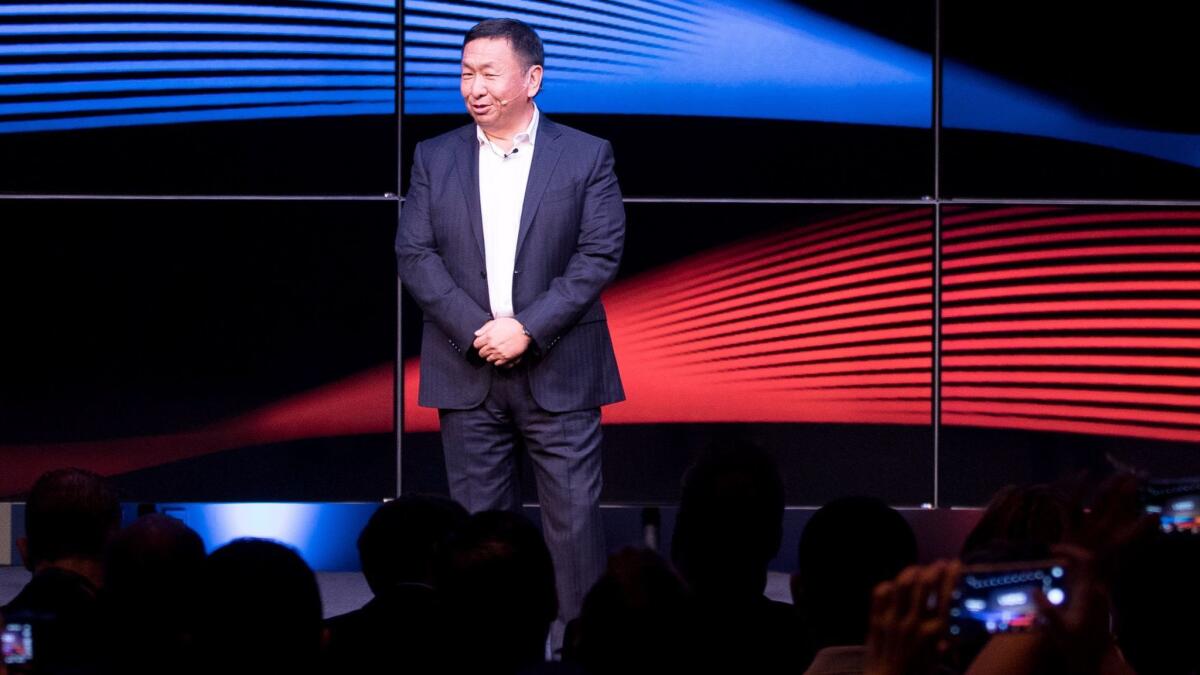 When Chinese technology company LeEco announced a $2-billion deal to buy Irvine TV maker Vizio Inc. last July, its leaders insisted that the big purchase was well within their means.
And in conversations during the six months leading up to the announcement, LeEco, with wide-ranging initiatives in cars, movies and smartphones, made similar assurances to Vizio executives. Vizio, which had been contemplating listing its shares on the stock market, sought the cash for global expansion and paying out its hundreds of employees and numerous investors.
But by this spring, Vizio learned that LeEco couldn't come up with $60 million, let alone $2 billion.
The Irvine start-up sued LeEco in state and federal courts Tuesday, alleging that it had been defrauded by the Chinese firm.
Vizio accused LeEco of misrepresenting its financial health during negotiations early last year, when in fact the company "had begun to collapse due to their severe cash flow and financial problems," according to court filings. LeEco didn't respond to a request to comment.
The companies called off the merger in April, triggering a provision in the merger agreement that called for LeEco to pay Vizio a $100-million breakup fee if the deal foundered. But LeEco has paid only $40 million and has given no indication of when, or if, it can pay the remainder, according to the lawsuits.
The filing in Orange County Superior Court seeks up to $50 million in damages, while the action in U.S. District Court in Santa Ana seeks punitive damages in addition to the remaining $60 million. If Vizio wins, it could require help from Chinese courts to recover the funds.
Vizio declined to make anyone available for an interview, saying only that it continues to explore "strategic opportunities" to expand. It's unclear what the troubles with LeEco have meant for Vizio Chief Executive William Wang, who had expected to focus on a new venture in TV ad technology after the merger closed.
Vizio has said little about its business prospects during the last two years, last reporting $2.2 billion in revenue and $44.3 million in profit during the first nine months of 2015. It is facing growing competition from Chinese firms such as TCL and Hisense, and it remains a small player globally compared with industry leaders Samsung and LG. Those two companies accounted for 42% of the revenue from the 47 million TV shipments worldwide during the first three months of this year, according to research firm IHS Markit.
For now, Vizio is among several creditors seeking to get their hands on LeEco's depleted bank account. LeEco founder Jia Yueting built the company into one of the leading online video services in China before tapping the country's cheap lending markets to expand into hardware. But LeEco has struggled to find buyers for its products and services outside of China, and access to cash has tightened in China as the government tries to shore up the economy.
Trading has been halted on shares of a publicly listed unit of LeEco after falling more than 14% this year. Assets belonging to Jia and LeEco have been frozen by courts in China and elsewhere over failure to repay loans. Another LeEco-connected group, automotive start-up Faraday Future, continues to scale back factory development plans in the U.S.
Vizio alleges that the merger may all have been part of a ploy intended to project to prospective investors that LeEco was in stronger financial shape than it actually was. LeEco also received access to Vizio data, including customer lists, that it could have used for its own gain, the allegations note.
Court records state Vizio was allegedly duped again this spring when LeEco asked if it could pay half the break-up fee with noncash considerations.
The fee, amounting to 5% of the intended purchase price, was in line with those in other such transactions in recent years involving Chinese acquirers, which have faced increasing regulatory and financial challenges in closing deals.
In lieu of cash, Vizio accepted LeEco's promise of help in marketing its TVs in China. In the last two months, though, LeEco has failed to honor that pledge in any way, according to the lawsuit.
LeEco had "merely engaged in a subterfuge to try to reduce their liability," Vizio's attorneys allege.
Twitter: @peard33
ALSO
PayPal now an option in Apple's online stores
Verizon customer data — including phone numbers and PINs — exposed by vendor
Owners of the Patriots, Mets and Heat are among founding members of a new video game league