Whisper loses high-profile board members as co-founders seek to regain control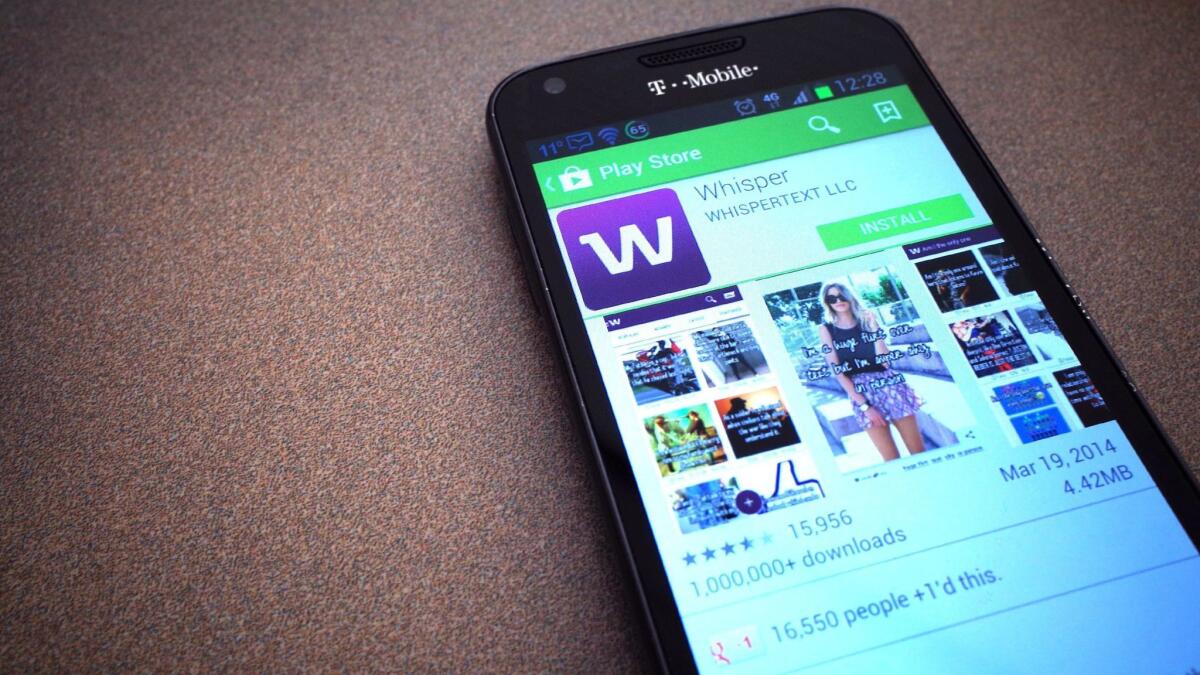 Two high-profile board members at the anonymous social media app Whisper have departed in recent months amid an unusual effort by the start-up's co-founders to take back control of the company.
Since becoming a hot attraction on Los Angeles' start-up scene around 2014, Whisper has struggled to turn the attention of about 30 million monthly unnamed users into a significant revenue generator.
The company had drawn comparisons to Snapchat, Yik Yak and other fast-growing communications apps. It drew a $200-million valuation and more than $60 million in funding, including from prominent Silicon Valley venture capital firms Sequoia, Lightspeed Venture Partners and Shasta Ventures.
But Sequoia's Roelof Botha and Lightspeed's Jeremy Liew recently vacated their board positions. So did investor John Hadl and Shasta's Sean Flynn, who was a board observer. Sequoia's website lists the name of an investment partner alongside seemingly each company in its portfolio, except Whisper.
The investors or representatives for their firms declined to comment. Whisper also declined to comment.
Three sources familiar with the board upheaval, who spoke on the condition of anonymity to describe internal matters, say Whisper co-founders Michael Heyward and Brad Brooks have attempted to orchestrate a buyout of early investors. Whether the effort is ongoing is unclear. Heyward is Whisper's chief executive. Brooks is CEO of TigerText, a Santa Monica start-up that sells a chat app aimed at healthcare workers.
Also unclear is whether the pair used their own funds or were joined by new investment firms to finance the buyout of venture capitalists. Whisper held talks last year with a potential acquirer, which decided not to move forward, a source said. Whisper also solicited investment last year from magazine publisher Time Inc. and the ad agency WPP.
Earlier this year, Whisper authorized the issuance of about $25.5 million worth of stock at a share price flat with its last fundraising in 2014, according to regulatory filings. Any buyers of those shares have the first crack at any proceeds from a sale, initial public offering or other form of liquidation.
Investors on the board and the co-founders are believed to have disagreed over the company's direction amid slowing user growth, sources said. Heyward, the chief executive, has described Whisper as a media company that gathers and distributes user-generated content — all of it unattached to real names — across the Web. Such a company may not become as large as investors were betting on initially.
In July, Whisper laid off 14 of its 71 employees, including its chief operating officer, in an effort to lower costs. With meager revenue, the company has said it hopes to turn a quarterly profit by the end of the year.
State documents show Whisper has liens against it because of more than $1,200 in unpaid tax penalties and interest. It's not unusual for start-ups to prioritize spending on product development over paying taxes when in a cash crunch, according to Burkland Associates, which provides financial services to start-ups. But liens are rare, and the issue emphasizes the apparent disarray at Whisper, said Burkland's Walt Spevak.
Liew, a venture capitalist known for being the first to lead an investment in the disappearing-message app Snapchat, remarked in 2013 that Whisper evoked similar usage patterns. The potential drew investment from Chinese app giant Tencent, Thrive Capital and CAA Ventures.
Whisper also raised about $7.7 million in debt funding in 2013, according to PitchBook. Silicon Valley Bank — identified as the lender by a source familiar with the situation — declined to comment.
Former employees say Whisper remains popular among teenagers and young adults, just like Snap Inc.'s Snapchat. But the appeal of anonymous posting hasn't reached as close to mainstream as the disappearing aspect of posting offered by Snap, whose offices surround Whisper's designer house-turned-headquarters in Venice.
Whisper initially charged users to send direct messages to other users on the app. It later scrapped that offering and instead focused on generating revenue through selling ad slots on the app.
The company landed a partnership earlier this year with Tronc, the parent company of the Los Angeles Times, to funnel user posts onto newspaper websites. But a source familiar with the matter but not authorized to speak publicly said the relationship quickly fizzled. Tronc declined to comment.
Twitter: @peard33