Windows 10: 10 features and issues to consider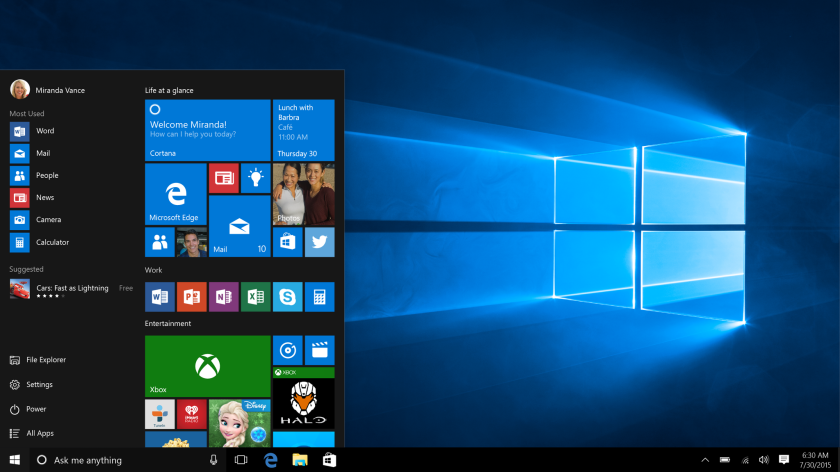 People whose computers run on Windows 7 or Windows 8 can expect to receive notices on their desktops starting Wednesday that they can upgrade to Windows 10.
Upgrading to the newest Microsoft operating system is free to those users who make the move within the next year. For everyone else, it's about $120.
In the wake of Windows 8, which almost nobody liked, Microsoft exercised more caution with Windows 10. It restores items lacking in Windows 8, such as the Start menu, while providing some welcome updates. Here are five highlights along with five other issues to keep in mind while considering Windows 10.
Edge
Edge is a much-needed upgrade to the Internet Explorer browser, an alternative to Firefox, Chrome and others. New features include an ad-less "reading view" and the ability to draw notes on websites and then quickly share a screen shot.
On the downside, Internet Explorer isn't dead; many apps work only with the slow, unruly and unsightly old option.
Cortana
Cortana is Microsoft's "virtual personal assistant." Highlight a word on a Web page in Edge and Cortana loads up definitions, details and explanations. Like Apple's Siri, Cortana understands naturally spoken commands. It answers questions, searches for files and heeds orders, such as "Turn off Wi-Fi." Cortana draws information from users' calendars, habits and data to show weather and other personalized information.
'Multi-doing'
With Windows 10, users can view up to four apps at once on a single screen. Called "multi-doing," it's a multitasker's dream. After a user drags and snaps a program to a corner of the screen, Windows now suggests other recently used applications to snap side-by-side.
The feature also works well across multiple monitors and multiple virtual desktops.
Xbox connectivity
Have an Xbox One in the house? With a Windows 10 computer, gamers can play from any room in the house by streaming off the Xbox.
Players can record and share clips from gameplay as they normally would. There's also chat and activity feed, just like on Xbox. No word from Microsoft on parental controls for the Xbox streaming.
Speed
Early reviews cut immediately to one topic: Windows 10 loads up fast. Updates should be more frequent and take less time to install too.
New security features should also make for a snappier experience. Assuming the hardware is capable, facial or fingertip scans can replace passwords. A feature called Passport will let users unlock once and access many services without scanning again.
Microsoft Store
People planning to get Windows 10 by buying a new computer have an extra option to consider. Desktop and laptop manufacturers often installed software at the factory that most consumers won't find useful. Many see the so-called bloatware as a nuisance.
But computers sold in Microsoft's official stores, like the one at Westfield Century City, have a "signature" version of Windows without the bloatware, said Aaron Woodman, a Microsoft product manager.
Your mileage might vary
Hardware and location could be among the factors that limit the number of new features people can actually use. For instance, Microsoft says Cortana works only in the U.S., United Kingdom, China, France, Italy, Germany and Spain. Basic requirements include 1 gigabyte of RAM, 16 gigabytes of disk space and a 1-GHz processor.
No Windows Phone
The tiny portion of the world with phones running Windows will have to wait longer for Windows 10. Microsoft is planning to roll out Windows 10 for smartphones "later this year," when its arrival could coincide with a new Microsoft phone.
Office
Microsoft Excel, Word, Powerpoint and all that comes with the Office productivity suite come bundled for free with Windows 10 on tablets and later smartphones. But advanced features require a paid upgrade.
Should you upgrade?
A couple of analysts said people shouldn't rush to get Windows 10 if they are happy with their current setup.
"If you're buying a new PC, Windows 10 will be a great platform," said Stephen Kleynhans, vice president at research firm Gartner. "If I have Windows 7, I will take my time. If I was on Windows 8 on a tablet or touch device or a desktop, I would look at moving fairly quickly."
Wes Miller, at the consulting firm Directions on Microsoft, added that both consumers and businesses might wait to see reactions to the first update to Windows 10. Microsoft is now doing more testing before releasing updates, which should come more often.
"This is a new way of building Windows, and businesses will want to see how it performs before taking the plunge," Miller said.
Hoy: Léa esta historia en español
Chat with me on Twitter @peard33
ALSO:
Windows 10 upgrades may not ramp up until next year
Nokia is getting back in the game, starting with a virtual reality camera
Facebook is giving you a peek at how it combats workplace inequality
---