Yelp begins featuring content on Bing Local search pages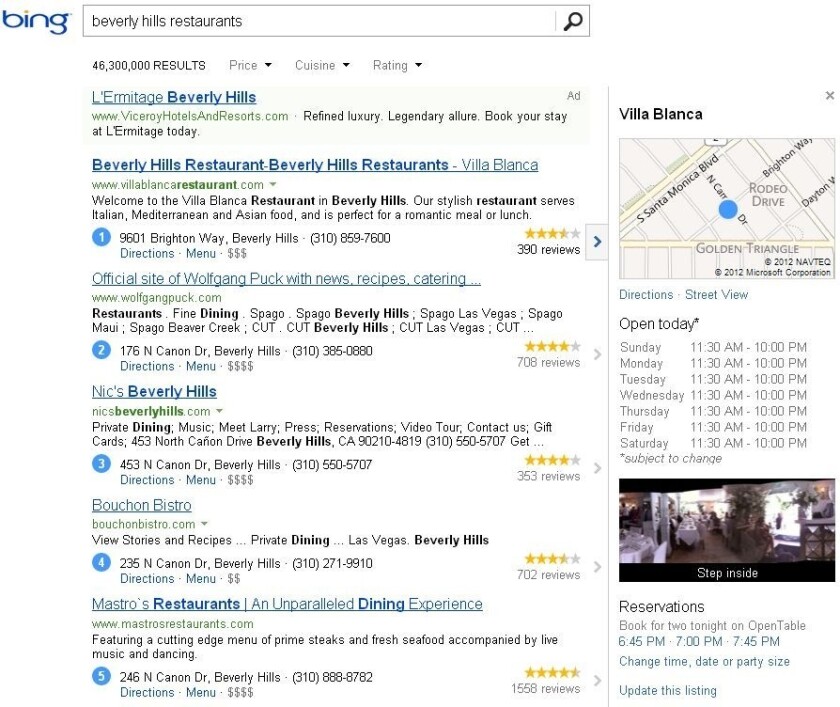 Local reviews site Yelp will begin featuring content -- including review snippets and photos -- on Microsoft Bing Local search pages.
San Francisco-based Yelp said the new "Powered by Yelp" experience would be featured prominently on relevant Bing Local pages starting Thursday, with a full U.S. rollout "in the coming weeks."
"Whether it's discovering the right restaurant, planning the evening's entertainment or finding local services, Yelp has emerged as a proven and trusted resource," said Mike Nichols, general manager of Bing. "Enabling people to do more with search involves building a spectrum of features and data that people trust, and teaming up with Yelp is another important step."
To try out the new feature, we went to Bing and typed in "Hollywood restaurants" into the search bar and clicked on "Local." The results all showed each restaurant's Yelp star ranking; a drop-down tab revealed a map of the restaurant's location, its hours of operation and a photo. (In case you were wondering, the top three results were for Roscoe's House of Chicken and Waffles, Eva Longoria's Beso and the Griddle Cafe.)
Yelp Chief Executive Jeremy Stoppelman said he was excited to see "how Bing fans respond to this new local search experience powered by Yelp."
Founded in 2004, Yelp now has a monthly average of about 71 million unique visitors. "Yelpers" have written about 27 million local reviews on everything from restaurants to pet grooming services to dentists.
RELATED:
Yelp wins dismissal of class-action lawsuits
Microsoft's Bing search engine gets social-media makeover
Yelp loses $9.83 million in its first quarter since going public
Follow Andrea Chang on Twitter.
---