Mark Zuckerberg's personal charity is part of a push to steer $500 million to affordable housing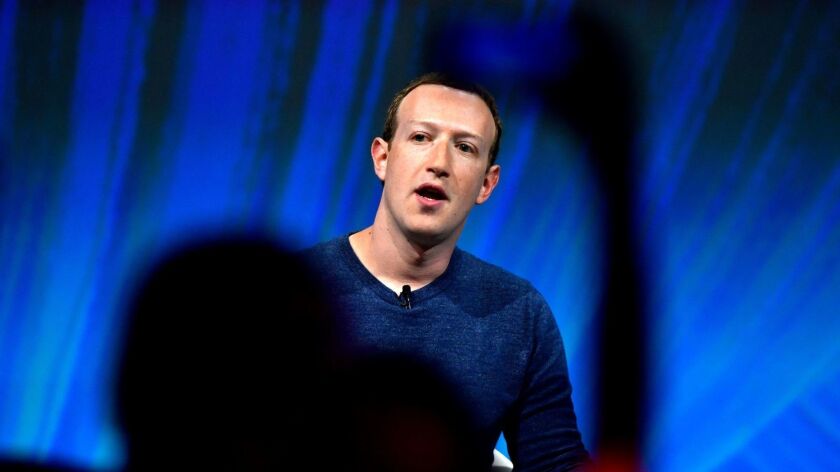 As tech companies face mounting pressure to address their role in the California housing crisis, a band of corporations, philanthropies and foundations — including Facebook as well as the personal philanthropic company of Chief Executive Mark Zuckerberg — are seeking to raise $540 million to invest in affordable-housing efforts in the Bay Area.
At a news conference Thursday, Facebook and the Chan Zuckerberg Initiative announced a partnership with the San Francisco Foundation, the Ford Foundation, Genentech, the William and Flora Hewlett Foundation, the David and Lucile Packard Foundation and others to help fund new affordable-housing units and preserve existing homes.
The group — dubbed the Partnership for the Bay's Future — has raised $280 million and hopes the announcement will increase the momentum toward reaching its $540-million goal.
Once raised, $500 million of the funding will be managed by a nonprofit group, the Local Initiative Support Corp., which uses public and private funds to help finance community development projects. The nonprofit estimates that a fund of that size could help preserve or develop 8,000 units of affordable housing in the next five to 10 years. The funds will be deployed as loans "so the dollars will also potentially recirculate and get to be redeployed," said Judith Bell, the vice president of programs at the San Francisco Foundation.
The first group in which the fund will invest is the East Bay Asian Local Development Corp. through a revolving line of credit expected to be able to support six projects.
"It is designed to be a fund that will be around for about 18 years," Maurice Jones, the president and CEO of LISC, said. "That's because the work that we're talking about here is going to require that amount of time for us to get the kind of traction we're talking about."
The remaining $40 million will be awarded through grants to jurisdictions with concrete plans to preserve and expand affordable housing.
"We're close to halfway on raising the resources for both the funds," Bell said. "We see the need also to bring voices together to step up as the governor is really speaking to a new agenda."
The push comes as regulators and voters alike have set their sights on tech companies and their executives as the Bay Area and California at large grapple with an influx of well-paid workers that has contributed to a jump in housing prices in some cities and suburbs. Days after taking office, Gov. Gavin Newsom called on tech companies to voluntarily lend $500 million to developers of middle-income housing in California. San Francisco residents voted in November to impose a tax on any company that made more than $50 million annually to help fund the city's housing efforts.
It's a sentiment that Fred Blackwell, CEO of the San Francisco Foundation and a founding member of the new regional partnership, echoed on Thursday.
"I like the fact that corporations generally in the tech sector are starting to step into this but I also very firmly believe that this can't be a voluntary movement," Blackwell said. "I do think that corporate contribution and philanthropy is important but I also think we need to have a really tough conversation about taxation and how that fits into this equation."
While some in the industry have vocally opposed government-mandated contributions to housing efforts, others appear willing to allocate personal funds toward a problem exacerbated by the success of their companies. Earlier this month, Microsoft pledged $500 million to develop affordable housing in Seattle and the Puget Sound region, where the company is headquartered.
"I would say two or three years ago nobody [in tech] would say the word 'housing,'" said Priscilla Chan, who co-founded the Chan Zuckerberg Initiative with her husband. "Nobody wanted to talk about it. It was just not our problem. Now, we're in a moment where Microsoft is standing up and saying we want to contribute and Facebook and Genentech are part of this partnership. The amazing part is their capital but also their voices. They are important constituents of the Bay Area that have been driving a lot of the Bay Area economy and now wanting to be a part of the solution for a problem that is age old."
The Chan Zuckerberg Initiative, for its part, has seeded $40 million of the $500 million investment fund and $10 million to the $40 million grant fund. To reach the funding goals, Chan Zuckerberg Initiative director of justice and opportunity Caitlyn Fox said it's important to ensure there are new sources of funding.
"It's really important because we heard early from the community we need more resources, but we don't want this to be zero-sum," Fox said. "We don't want to be taking from one pot and moving it to another. We need new people at the table and new resources. So that has been a big focus of ours, how do we get corporations in? How do we get banks in but in a new way? And new philanthropies to the table?"
According to Bell, the groups recently briefed Newsom's office and have engaged officials in Santa Clara County as well as San Jose, Mountain View, Emeryville, Oakland, San Francisco, Concord, Hayward and other communities in the process of developing the two funds.
The housing crisis in the Bay Area is a complex and long-standing issue that the region has struggled for years to rein in. Among the challenges is not just the influx of well-paid tech workers, but also the failure of municipalities to approve and commit to the development of new housing that allows the region to keep pace with population growth.
Twitter: @jmbooyah
---