Verizon buys Yahoo for $4.8 billion, and it's giving Yahoo's brand another chance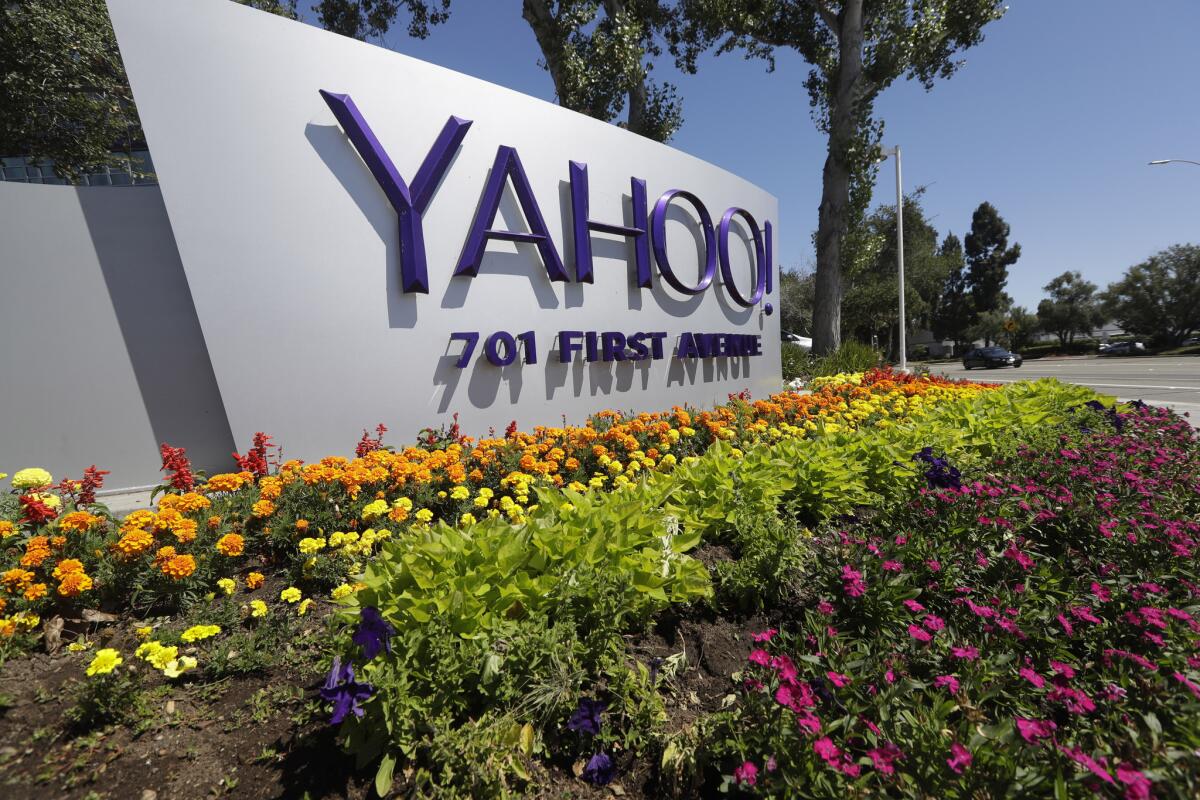 Reporting from SAN FRANCISCO —
Verizon Communications Inc. built its business on pipes and antennae. Now the nation's biggest telecommunications company is assembling a different kind of network — one centered around eyeballs and advertisements.
With its $4.83-billion acquisition of Yahoo Inc.'s core business on Monday, Verizon continues its expansion beyond wireless and broadband by taking on a struggling tech giant far removed from its glory days.
Under Verizon, Yahoo will join its longtime rival, AOL, which the telecom snatched up last year for $4.4 billion. Both companies offer a cautionary tale of how an Internet titan can quickly turn into an also-ran. But together, analysts said, they provide Verizon a key foothold in digital advertising — a potentially lucrative revenue stream as the pool of new mobile and broadband customers dwindles.
"Yahoo is a company that changed the world," Yahoo Chief Executive Marissa Mayer said in a note to employees. "Now we will continue to, with even greater scale, in combination with Verizon and AOL."
The deal — which includes Yahoo's email service; websites dedicated to news, finance and sports; advertising tools; real estate; and some patents — is expected to close in the first quarter of 2017. The Sunnyvale, Calif., company will continue to operate independently until then.
The sale does not include Yahoo's cash or its shares in Alibaba Group and Yahoo Japan. After the deal closes, these assets will become a publicly traded investment company with a new name.
Yahoo's Web business will be integrated with AOL, but AOL spokeswoman Caroline Campbell said "Yahoo brands [such as Yahoo Finance and Yahoo Sports] will not go away." Instead, they will exist alongside AOL properties, such as the Huffington Post, TechCrunch and Engadget, and firms in which Verizon invests, such as AwesomenessTV.
The sale gives the New York telecom "high-quality Web content" and the advertising dollars that come with it, said Laura Martin, Internet analyst at Needham & Co.
The deal also includes Yahoo's sizable and sophisticated digital advertising business — one that can be merged with AOL's to cut costs and secure Verizon's place behind industry leaders Google and Facebook.
The final price is a far cry from the $45 billion Microsoft offered in 2008 — an offer Yahoo famously rejected. But Yahoo's brand has taken a beating in recent years, with some analysts saying the company should be happy to fetch anywhere near $5 billion.
"The state [of Yahoo] is troubled, clearly," former interim Chief Executive Ross Levinsohn told CNBC last week, predicting a sale between $3.5 billion and $4 billion. "We can look back over the past four years and say the strategy did not pay off."
The deal had been expected to end Mayer's four-year tenure, but she said Monday that she intends to stay with the firm.
"I love Yahoo, and I believe in all of you," Mayer said. "It's important to me to see Yahoo into its next chapter."
Yahoo's troubles began well before Mayer took the reins.
The company churned through five CEOs in six years, unable to decide if it was a media company or a technology company — indecision that resulted in it doing neither particularly well. It largely missed the mobile revolution, catching only the tail end once Mayer joined.
As "Google" became the default verb for search, Facebook laid claim to all things social and everyone else snapped up what was left of photo sharing, video streaming and instant messaging, Yahoo was left out of the conversation.
"The old-fashioned definition for a 'dying brand' was when a company went out of business," said Marlene Towns, a professor at Georgetown's McDonough School of Business. "The more recent definition is we stop talking about them. That is the first sign of imminent death in this connected age."
Although Mayer helped create revenue with mobile products, her own leadership was marred with foibles. Her acquisitions — including the $1.1 billion paid for Tumblr — have been a bust. Her turnaround strategies haven't improved the company's revenue decline. And her big spending on media personalities such as Katie Couric and David Pogue hasn't drawn viewers as hoped.
This year, activist investor Starboard Value LP grew so impatient with Mayer that it wrote to shareholders, calling for an overhaul of the board of directors and a sale of the core business.
When Yahoo launched in 1994, it was the definitive guide to the Internet. But over the years, the company became complacent, said Kraig Swenrud, chief marketing officer of Campaign Monitor, who has spent nearly 20 years doing marketing for high-tech companies.
"You either embrace the constant, never-ending change as a brand, or you perish," Swenrud said. "And that's what's happened to Yahoo."
As Yahoo ping-ponged from a Web portal to a media company to a mishmash of both, it lost direction, said Nicole Ferry, a partner and executive director of strategy at branding firm Sullivan.
"If you look at a company like Facebook, their mission is to connect the world, so all its new products and acquisitions speak to that," said Ferry. "Or Google's mission to organize the world's information — many of its products and acquisitions serve that mission."
At Yahoo, there was no clear mission.
"What are they trying to do?" Ferry said. "What is their reason for being?"
Yahoo properties still attract about 1 billion users a month. Millions rely on Yahoo Mail, and Yahoo Finance is a stalwart for financial news. These products alone aren't enough to return the brand to its peak, business analysts said, but in the right hands, people might care about Yahoo again.
"Look at Apple," said Towns, referring to the hardware company's reinvention under Steve Jobs.
"Or Microsoft," said Swenrud, pointing to the company's ongoing transformation under Chief Executive Satya Nadella.
"Or Hostess' Twinkies," said Towns. "They were going to go out of business, and news of that woke consumers up, and people started to remember the nostalgia of Twinkies, and the publicity helped them find a buyer and reinvent themselves."
The Verizon deal could lead to a Twinkies-like revival. Or it could be a dud.
Telecoms such as AT&T and Comcast were rumored to have checked out Yahoo but opted against bidding. Maybe they were onto something, according to John Colley, a professor of Warwick Business School, who said wedding two unrelated businesses rarely works.
"The telecoms industry is maturing, and this acquisition appears to be more about finding future growth in unrelated diversification," which, he said, is "always a high-risk path."
Times staff writer Samantha Masunaga contributed to this report.
ALSO
Why have upscale retailer Nordstrom and other apparel giants lost their luster?
General Atomics' $40-million gamble on small nukes
Olympus told U.S. executives no broad scope warning was needed despite superbug outbreaks
---
UPDATES:
5:27 p.m.: This article was updated with additional reporting and context.
9:55 a.m.: This article was updated to add stock prices for Yahoo and Verizon.
9:30 a.m.: This article was updated to add comments from analysts and background information about Yahoo's brand.
8:10 a.m.: This article was updated to add information about Yahoo's struggles in the last decade.
7:35 a.m.: This article was updated throughout with Times staff reporting.
6:30 a.m.: This article was updated to add background information.
6:20 a.m.: This article was updated to add that Yahoo CEO Marissa Mayer intends to stay with the company.
This article was originally published at 4:15 a.m.