Apple will argue that the FBI's court order violates its free-speech rights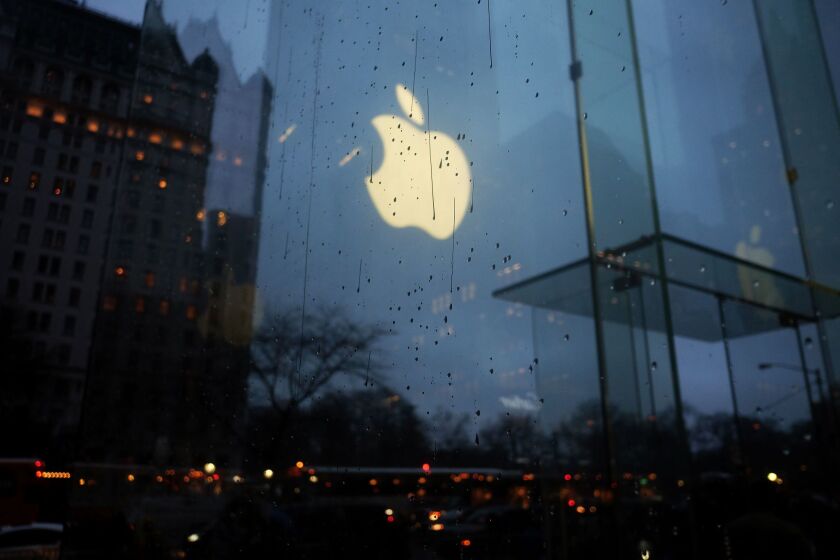 In Apple's fight to knock down a court order requiring it to help FBI agents unlock a killer's iPhone, the tech giant plans to argue that the judge in the case has overreached in her use of an obscure law and infringed on the company's 1st Amendment rights, an Apple attorney said Tuesday.
Theodore J. Boutrous -- one in a pair of marquee lawyers the technology company's hired to wage its high-stakes legal battle -- outlined the arguments Apple plans when it responds to the court order this week.
At the heart of Apple's response, Boutrous said, will be an objection to the use of the All Writs Act as the legal basis of the order compelling the company to assist the FBI. The act, which was first passed by Congress in 1789 and updated periodically, is a sweeping legal tool that allows judges to issue orders if other judicial avenues are unavailable.
See more of our top stories on Facebook >>
In seeking the order, prosecutors said the act provided legal grounds to force Apple to write new computer software that would allow FBI agents to discover the phone's four-digit security passcode.
In recent legal skirmishes, law enforcement authorities have relied on a 1977 Supreme Court ruling that said the All Writs Act could be used to compel New York Telephone Co. to provide technology to enable investigators to track calls being made in a gambling operation.
But significant differences exist in the current case, experts have noted. For example, the phone company was a heavily regulated public utility and already had the technology needed to comply with the court's order.
"The government here is trying to use this statute from 1789 in a way that it has never been used before. They are seeking a court order to compel Apple to write new software, to compel speech," Boutrous said in a brief interview with The Times.
Boutrous said courts have recognized that the writing of computer code is a form of expressive activity -- speech that is protected by the 1st Amendment.
He indicated that Apple would argue that Congress, not the courts, is the proper venue for a debate about "the security and privacy of citizens and law enforcement needs."
"It is not appropriate for the government to obtain through the courts what they couldn't get through the legislative process," he said.
A spokesman for the U.S. attorney's office in Los Angeles declined to comment.
Apple's anticipated gambit will be the latest development in a legal showdown stemming from the Dec. 2 attack on the Inland Regional Center in San Bernardino, in which a county employee and his wife killed 14 people and wounded many more.
Federal authorities have categorized the attack by Syed Rizwan Farook and Tashfeen Malik as terrorism, making it the deadliest act of terror on U.S. soil since 9/11.
Authorities have all but pieced together the couple's movements between the time of the attack and their deaths in a wild firefight with police hours later, but they cannot account for the couple's whereabouts during an 18-minute period.
The FBI is also probing whether the couple received any help in plotting or carrying out the attacks.
Hoping some answers exist on an iPhone 5c that the county issued to Farook for use in his job as a health inspector, FBI agents turned to Apple for help unlocking the device.
When Apple refused, prosecutors turned to the courts, setting up an epic showdown that pits Apple's concerns about incursions into users' privacy against law enforcement's need for information.
Earlier this month, U.S. Magistrate Judge Sheri Pym in Riverside directed Apple to help the FBI get around the phone's passcode protection and any auto-erase functions the device might employ. After Pym, the case would move to a U.S. District Court judge and then probably on to the 9th Circuit Court of Appeals.
For more news on federal legal issues in California, follow @mauradolan and @joelrubin.
MORE
Apple backs idea for panel to study technology and national security
Car makers had to install air bags; shouldn't Apple have to hack its iPhone?
How you might feel about Apple right now if your boyfriend died in San Bernardino
---
Your guide to our new economic reality.
Get our free business newsletter for insights and tips for getting by.
You may occasionally receive promotional content from the Los Angeles Times.