California attorney general announces investigation into TikTok's impact on children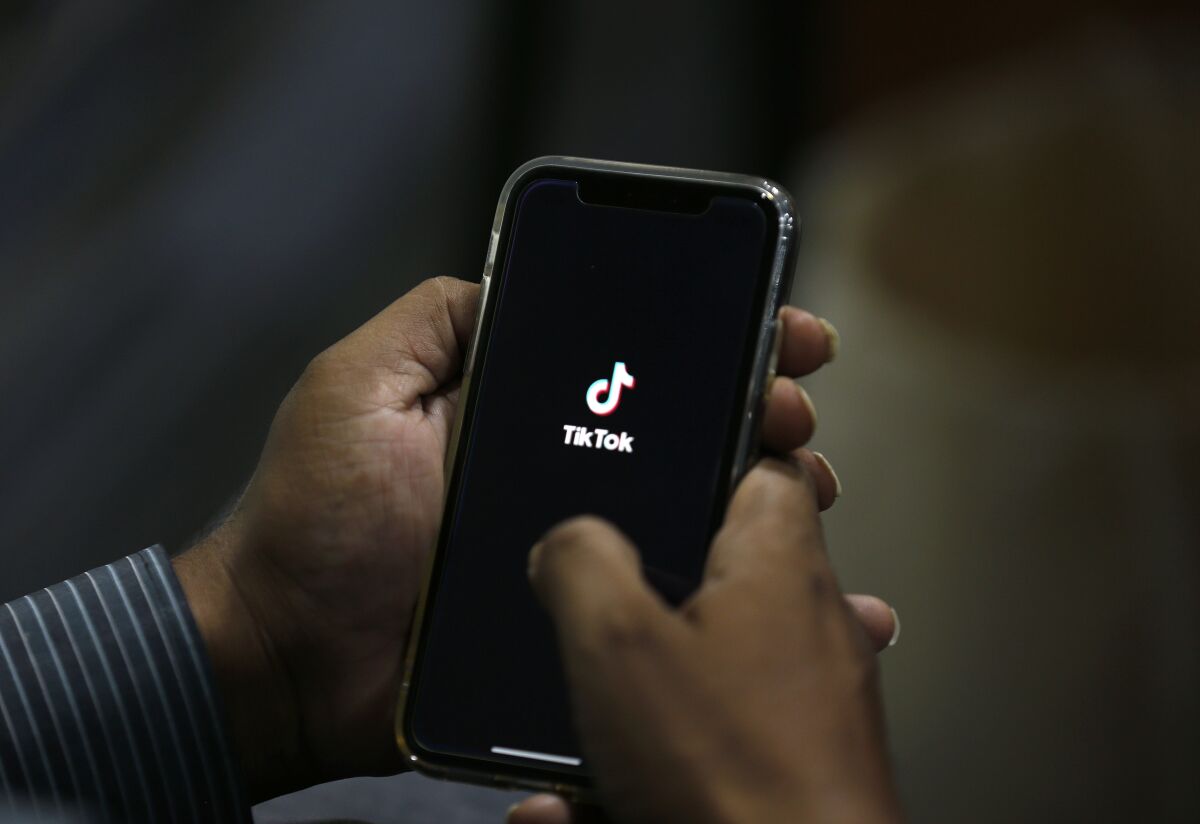 A nationwide investigation will explore the risks that the wildly popular short-form video app TikTok poses to children, California Atty. Gen. Rob Bonta announced Wednesday.
Among the issues the investigation will focus on will be how the company has sought to increase the duration and frequency of use of its app by young people, the extent to which the company is aware of any harm it may be causing those users and whether it's violating consumer protection laws.
"Our children are growing up in the age of social media — and many feel like they need to measure up to the filtered versions of reality that they see on their screens," Bonta said in a statement. "We know this takes a devastating toll on children's mental health and well-being. But we don't know what social media companies knew about these harms and when."
Senators have fired a barrage of criticism at a Facebook executive over the social-networking giant's handling of internal research on how its Instagram photo-sharing platform can harm teens
"Our nationwide investigation will allow us to get much-needed answers and determine if TikTok is violating the law in promoting its platform to young Californians," he said.
Bonta's office said that the investigation is being led by attorneys general from eight states: California, Florida, Kentucky, Massachusetts, Nebraska, New Jersey, Tennessee and Vermont. Unspecified attorneys general from other states will also be involved.
TikTok offers a mix of video entertainment and social media that has made it a hit among many Americans, especially young ones, during the COVID-19 pandemic. In 2020, it became the most downloaded app in the world by some metrics.
Responding to the investigation, a TikTok spokesperson told The Times that the company cares deeply "about building an experience that helps to protect and support the well-being of our community," adding that the company limits certain platform features by age and invests in ways for users to "enjoy content based on age-appropriateness or family comfort."
TikTok appreciates "that the state attorneys general are focusing on the safety of younger users," the spokesperson wrote via email. "We look forward to providing information on the many safety and privacy protections we have for teens."
Not long ago, the app's future in the United States looked uncertain. In August 2020, then-President Trump issued an executive order aimed at banning the app — which is owned by the Chinese company ByteDance — in the U.S., citing national security concerns. ByteDance held talks with Microsoft and other U.S. companies with the goal of avoiding a shutdown by handing over ownership or control of user data.
Although some security questions still linger, threats of an outright ban have since evaporated.
In November, Bonta helped launch a similar investigation into how Instagram, another social network, tries to boost engagement among young users, and the mental health effect on those users. (Bonta hasn't issued a news release updating the public on the status of that investigation since he first announced it.)
The opening of that investigation came after Meta — the company that owns Instagram — paused plans to develop a kid-focused spinoff app after information revealed by whistleblower Frances Haugen indicated that Instagram can harm the mental health of young users, especially teenage girls.
Reporting by the Wall Street Journal revealed that Meta was aware of but consistently downplayed those concerns.
Bonta's new investigation into TikTok will be a bipartisan undertaking, with the Republican attorneys general of Florida, Kentucky, Nebraska and Tennessee leading it in partnership with their Democratic counterparts from California, Massachusetts, New Jersey and Vermont. Tech regulation is one of the few areas in contemporary politics around which bipartisan consensus is still commonplace, although the two parties differ in their emphasis, with liberals focusing on misinformation and monopoly power and conservatives raising alarms about censorship and bias.
Concerns revolving around the safety of children have proved particularly unifying. Heated debates about the extent to which social media platforms should regulate their users' content almost uniformly draw the line at child sexual abuse material. Age limits, though not consistently enforced, are also commonplace online.
Even President Biden's State of the Union address, delivered the night before Bonta's announcement, touched on the issue.
"As Frances Haugen, who is here tonight with us, has shown, we must hold social media platforms accountable for the national experiment they're conducting on our children for profit," Biden said. "It's time to strengthen privacy protections, ban targeted advertising to children [and] demand tech companies stop collecting personal data on our children."