All Silicon Valley Bank customers' funds are guaranteed, U.S. officials say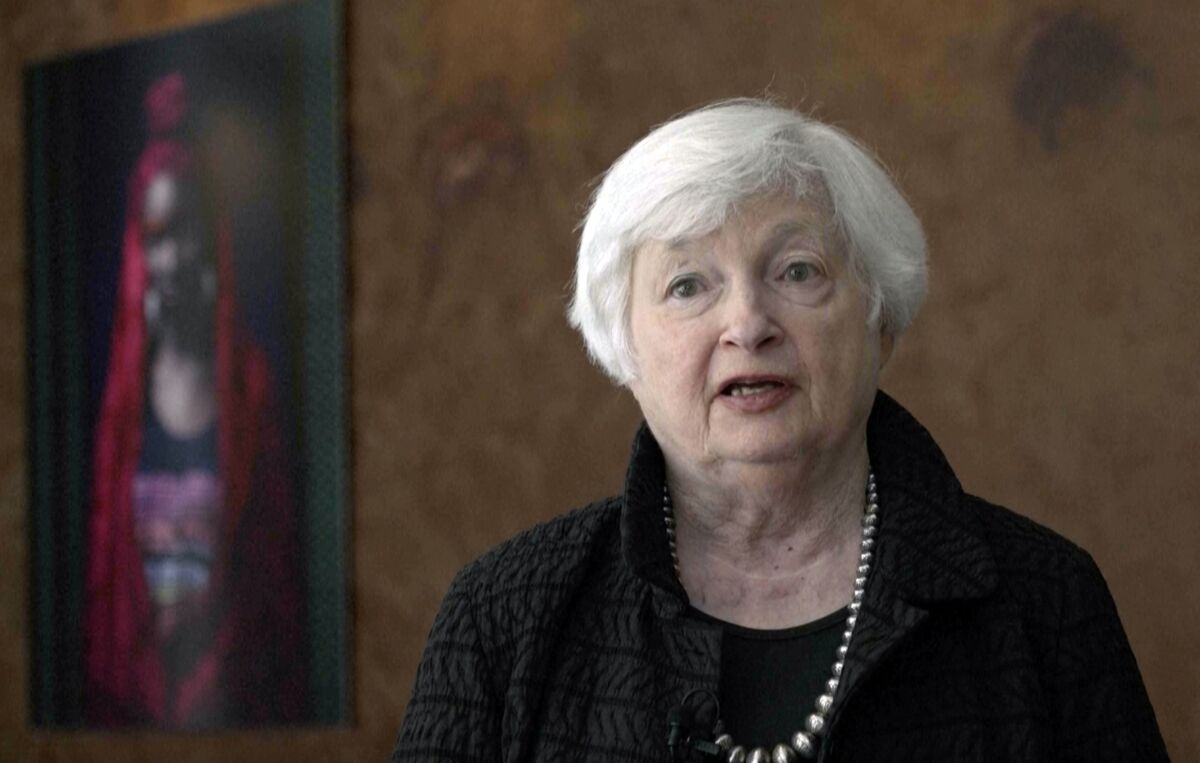 The U.S. government took extraordinary steps Sunday to stop a potential banking crisis after the historic failure of Silicon Valley Bank, assuring those who had made deposits at the failed financial institution that they would be able to access all of their money quickly, even as another major bank was shut down.
The announcement came hours before stock trading reopened in Asia, and amid fears that the factors behind the collapse of the Santa Clara, Calif., lender could spread and affect other institutions. Regulators had worked all weekend to come up with a buyer for the bank, but as of Sunday evening those efforts appeared to have failed.
The Silicon Valley Bank failure is the old story of what happens when short-term depositors want their money back from a bank with only long-term assets.
In a sign of how quickly the financial bleeding was occurring, regulators announced that New York-based Signature Bank had failed and was being seized on Sunday. With more than $110 billion in assets, Signature Bank is the third-largest bank to fail in U.S. history.
In an effort to shore up confidence in the banking system, the U.S. Treasury Department, Federal Reserve and Federal Deposit Insurance Corp. said Sunday that all Silicon Valley Bank clients would be protected and have access to their funds. Officials also announced steps they were taking to prevent more bank runs.
The plan "will ensure that the U.S. banking system continues to perform its vital roles of protecting deposits and providing access to credit to households and businesses in a manner that promotes strong and sustainable economic growth," the agencies said in a joint statement.
Under the plan, those who had deposited money at Silicon Valley Bank or Signature Bank, including those whose holdings exceed the $250,000 insurance limit, will be able to access their money on Monday.
In a separate move Sunday, the Federal Reserve announced the creation of an expansive emergency lending program to help prevent a wave of bank runs that would threaten the stability of the banking system and the economy as a whole.
The failure of Silicon Valley Bank demonstrates the risk in showering unproven companies with cash and in handing so much power to venture capitalists to manage the process.
Officials at the Fed characterized the program as akin to what central banks have done for many decades: Lend freely to the banking system so that customers are confident that they can access their accounts whenever needed.
The program's emergency lending facility will allow banks to borrow from the Fed to pay depositors, rather than having to sell Treasuries and other securities to raise the cash. Silicon Valley Bank had to dump some of its Treasuries at a loss to cover its customers' withdrawals. Under the Fed's new program, banks can post those securities as collateral and borrow from the emergency facility.
The Treasury has set aside $25 billion to offset any losses incurred under the Fed's emergency lending facility. Fed officials said, however, that they did not expect to have to use any of that money, given that the securities posted as collateral have a very low risk of default.
Analysts said the Fed's program should be enough to calm financial markets on Monday.
"Monday will surely be a stressful day for many in the regional banking sector, but today's action dramatically reduces the risk of further contagion," economists at Jefferies, an investment bank, said in a research note.
Though Sunday's steps marked the most extensive government intervention in the banking system since the 2008 financial crisis, its actions are limited compared with the response 15 years ago. The two failed banks themselves have not been rescued, and taxpayer money has not been provided to them.
"Amazing news, and exactly what I expected, but Silicon Valley lives with investor confidence and I'm still hoping POTUS will appear on TV ... and assure the world that everything is fine," said Moaz Hamid, a venture capitalist and longtime client of Silicon Valley Bank.
President Biden said Sunday evening as he boarded Air Force One back to Washington that he would speak about the bank situation on Monday. In a statement, he also said he was "firmly committed to holding those responsible for this mess fully accountable and to continuing our efforts to strengthen oversight and regulation of larger banks so that we are not in this position again."
Regulators had to rush Friday to close Silicon Valley Bank, which had over $200 billion in assets, when it experienced a run of clients rushing to withdraw their money all at once. It is the second-largest bank failure in U.S. history, behind the 2008 failure of Washington Mutual.
Some prominent executives in Silicon Valley feared that if Washington didn't rescue the failed bank, customers would make runs on other financial institutions in the coming days. Stock prices plunged over the last few days at other banks that cater to technology companies, including First Republic Bank and PacWest Bank.
Silicon Valley Bank began its slide into insolvency when its customers — largely technology companies that needed cash as they struggled to get financing — started withdrawing their deposits. The bank had to sell bonds at a loss to cover the withdrawals.
U.S. Treasury Secretary Janet L. Yellen described interest rates, which the Federal Reserve has increased to combat inflation, as the core problem for Silicon Valley Bank. Many of the bank's assets, such as bonds or mortgage-backed securities, lost market value as interest rates climbed.
Then-FDIC chair Sheila Bair recalled that with almost all of the bank failures during the 2008 financial crisis, "we sold a failed bank to a healthy bank. And usually, the healthy acquirer would also cover the uninsured because they wanted the franchise value of those large depositors. So optimally, that's the best outcome."
But she told NBC's "Meet the Press" that with Silicon Valley Bank, the problem "was a liquidity failure — it was a bank run — so they didn't have time to prepare to market the bank. So they're having to do that now, and playing catch-up."
Rugaber and Megerian reported from Washington and Sweet and Bussewitz from New York. Times staff writer Jeff Bercovici in Berkeley and Associated Press staff writers Hope Yen in Washington and Jennifer McDermott in Providence, R.I., contributed to this report.