From railroad tycoons to tech titans, California has an anti-monopoly streak
Help us make Essential California serve you better. Take this survey.
Good morning, and welcome to the Essential California newsletter. It's Thursday, Jan. 26.
"Hey, Google, are you a monopoly?"
The government's answer is yes.
This week the U.S. Department of Justice, joined by California and seven other states, sued the tech giant, alleging it has an illegal stranglehold on online advertising.
The company "used anticompetitive, exclusionary, and unlawful means to eliminate or severely diminish any threat to its dominance over digital advertising technologies," according to the civil antitrust complaint.
The federal and state departments of justice want "to halt Google's anticompetitive scheme, unwind Google's monopolistic grip on the market, and restore competition to digital advertising," the complaint reads.
"In many cases, a business's online presence can make or break its success, and advertising is a key component in that equation," California Atty Gen. Rob Bonta said in a statement. He added:
"Google's anticompetitive practices and obsessive need for control of ad tech markets has not only controlled pricing, but has stifled creativity in a space where innovation is crucial... it is in California's best interest to ensure that creativity, innovation, and competition in technology are protected."
In response to the lawsuit, the Mountain View, Calif., company said it will "vigorously contest attempts to break tools that are working for publishers, advertisers, and people across America."
"DOJ is doubling down on a flawed argument that would slow innovation, raise advertising fees and make it harder for thousands of small businesses and publishers to grow," Dan Taylor, Google's vice president for global ads wrote on the company's blog.
With major industries like tech, agriculture, aerospace, entertainment and healthcare concentrated in California, the state — which is closing in on Germany for the title of fourth-largest economy in the world — has a lot to wrangle.
"California has been a front-runner in state antitrust enforcement," said Diana Moss, president of the American Antitrust Institute. The progressive nonprofit studies big industry and advocates for strong enforcement of antitrust laws.
The state frequently signs on to federal complaints, "which gives heft to antitrust claims," she said, adding that California also has "a vibrant private enforcement community" — as in private attorneys that bring antitrust action against corporations.
The action against Google has been a long time coming, Moss told me, as it and other tech titans "acquired their way to dominance" without many challenges from regulators.
"There has been a lot of deference given to ... innovation that is promised by big tech mergers and not interfering with the VC-based startup model that feeds the big tech acquisition pipeline," she said. "Both are terrible reasons for the government to stand down on merger enforcement in the sector."
The Golden State has a long history of challenging big business, going back to the early years of its statehood, when railroad companies were running amok.
The railroad industry's power went largely unchecked in the post-Civil War era as train technology expanded, quickly becoming an indispensable way to move goods and people. That allowed companies to charge different rates to passengers, farmers shipping their harvests and the merchants and shippers who needed products hauled across an expanding nation.
The industry also had the power to condemn land it wanted to build routes through and received financial aid from federal, state and local governments. The bigger companies bought up smaller competitors, then divvied up the markets among the giants. The railroad tycoons' expanding reach began to alarm some politicians, including in California.
Newton Booth, the Golden State's 11th governor, held that office as a Republican but later splintered off to join a short-lived anti-monopoly party before being elected to the U.S. Senate. He holds the distinction of being California's sole third-party U.S. senator.
In his 1871 inaugural address as governor, Booth vowed that his administration would "in a greater degree check one of the growing and threatening evils of our time: land monopoly."
He mentioned railroads several times in his speech, noting their now well-worn argument that "competition is the best regulator of prices."
"Practically there is no local competition," Booth said, "and we cannot ignore the tendency toward a general consolidation of all the railroads in the United States — a consummation which, if reached, will create a power greater than any single state, and the rival of the general government."
The movement to keep railroad companies in check led to the 1887 Interstate Commerce Act, making railroads the first industry subject to federal regulation.
In more recent years, the state attorney general's office has sued telecommunications giants, auto part makers, healthcare providers, pharmaceutical companies and big oil.
When German-based chemical conglomerate Bayer was cleared by the U.S. Department of Justice to buy Monsanto, California led a coalition of states that opposed the merger.
"California is the breadbasket for America and the world," former Atty. Gen. Xavier Becerra said in a news release at the time. "With this merger, three companies will control the global food supply. ... When it comes to something as essential as food, no foreign company should have monopolistic power over what Americans eat."
That merger ultimately went through.
So what should we, the consumers, take away from the Google lawsuit? For Moss, it's the latest counterpoint to the conservative idea "that 'free markets' are totally self-regulating and that no government oversight is needed."
"If firms are allowed to acquire and exercise market power without any oversight, then markets become noncompetitive and everyone suffers," she said. "We need antitrust enforcers to call balls and strikes to ensure competition ... that [provides] benefits for consumers, workers and entrepreneurs. "
And now, here's what's happening across California:
Note: Some of the sites we link to may limit the number of stories you can access without subscribing.
CALIFORNIA MASS SHOOTINGS COVERAGE
Officials in San Mateo County have identified six of the seven victims killed in Monday's shootings in Half Moon Bay: Zhi Shen Liu, 73; Marciano Jimenez Martinez, 50; Qi Zhong Cheng, 66; Ai Xiang Zhang, 74; Jing Zhi Lu, 64; and Ye Tao Bing, 43. The seventh victim was identified as Jose Romero Perez, named in charging documents filed against the suspected shooter on Wednesday. San Francisco Chronicle
The suspect in that Half Moon Bay shootings has been charged with seven murders, the attempted murder of an eight person who survived, and other felonies. Los Angeles Times
The victims in the Half Moon Bay shootings were farmworkers who earned low wages and lived in conditions the San Mateo County district attorney described as "squalor." San Francisco Chronicle
Law enforcement took hours to warn public that the Monterey Park mass shooter was on the loose. As officials face scrutiny, our newsroom reached out to experts. Los Angeles Times
California's Asian community is already reeling from a rise in hate crimes during the pandemic — sometimes with senior citizens as victims. Now, with three mass shootings in recent months, the violence feels like too much to bear. Los Angeles Times
Check out "The Times" podcast for essential news and more
These days, waking up to current events can be, well, daunting. If you're seeking a more balanced news diet, "The Times" podcast is for you. Gustavo Arellano, along with a diverse set of reporters from the award-winning L.A. Times newsroom, delivers the most interesting stories from the Los Angeles Times every Monday, Wednesday and Friday. Listen and subscribe wherever you get your podcasts.
POLITICS AND GOVERNMENT
California voters will decide the fate of a state law that could raise fast-food worker wages. The Fast Recovery Act had been slated to take effect Jan. 1, but a coalition of restaurant and business trade groups gathered enough signatures to put a referendum on the 2024 ballot. Los Angeles Times
A new bill would impose a statewide ban on homeless encampments near parks, schools, libraries and day-care centers. The proposal from Assemblyman Josh Hoover (R-Folsom) follows similar actions by local governments, including in Los Angeles. The Sacramento Bee
HEALTH AND THE ENVIRONMENT
California's declining monarch butterflies are getting millions in federal aid, thanks to 2022's infrastructure bill. A grant through the Monarch and Pollinator Highway Program aims to better conserve habitat for butterflies, insects and other pollinators, partly by funding planting and seeding efforts along highways and other roads. Monterey Herald
A CalMatters investigation reveals that California sends nearly half its toxic waste across its borders, often to states with weaker environmental rules. State shipping records show that two out-of-state municipal waste landfills the state relies on are near Native American reservations. CalMatters
CALIFORNIA CULTURE
Times columnist Mary McNamara has a line on "the hottest red carpet in Hollywood": the American Legion. Really. Hollywood Post 43 was founded in 1919 by World War I veterans and early movie industry workers. The old clubhouse's star is rising again, with major premieres hosted there in recent months. Los Angeles Times
The fate of a $2.3-million vinyl record collection has some in San Diego singing the blues. The Dijkstra Black Music Collection — more than 8,000 jazz, blues, gospel, soul and reggae discs — had been slated to go to San Diego State University, but the agreement imploded. That created an opportunity for Stanford University, the records' new home. San Diego Union-Tribune
Free online games
Get our free daily crossword puzzle, sudoku, word search and arcade games in our new game center at latimes.com/games.
AND FINALLY
Today's landmark love is from Genie Davis of Redondo Beach: River's End in "tiny, perfect Jenner."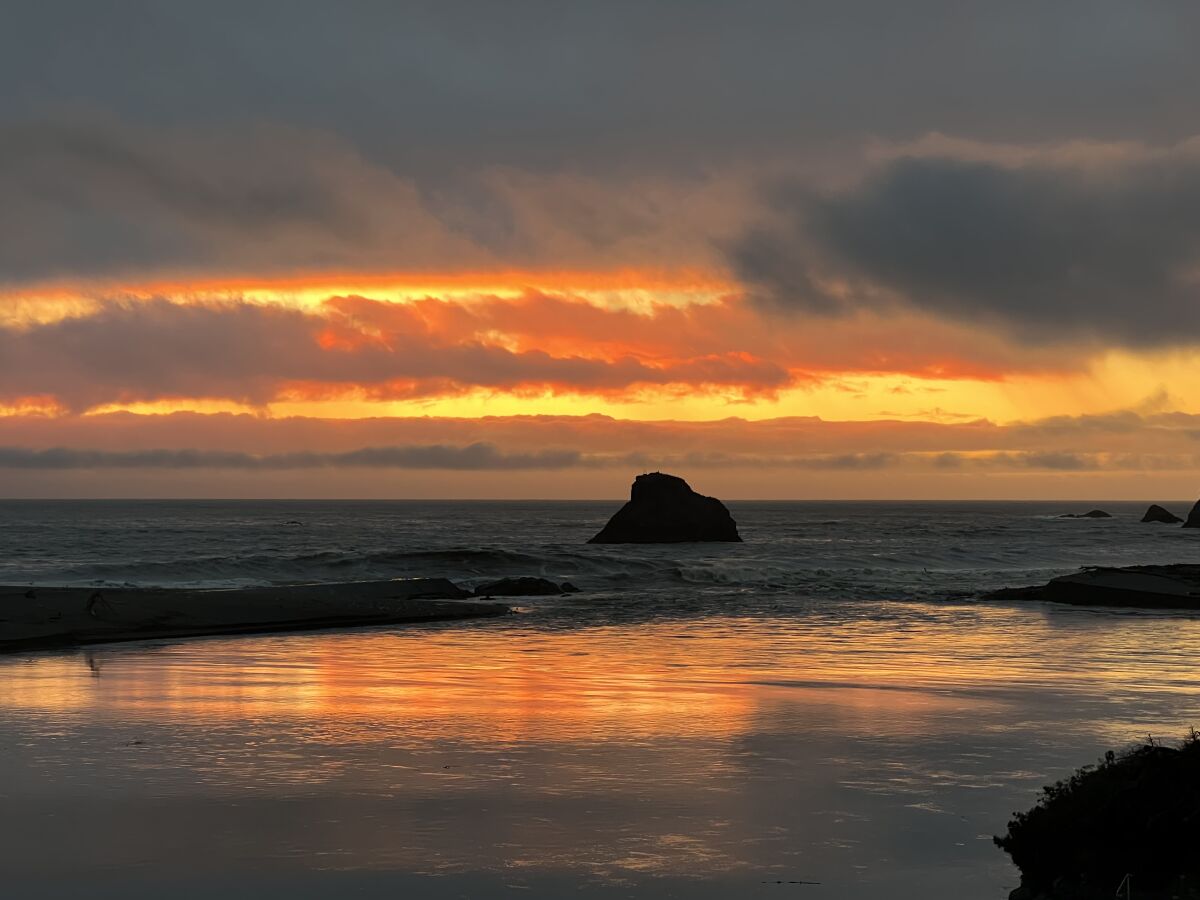 Genie writes:
"This is where I spent New Year's Eve this year — in a cabin where the Russian River meets the sea. I have been drawn to this place for 25 years but only stayed overnight for the first time in 2021. It has both wildness and peace — that which is in all living things. This year I went for New Year's weekend and after a steady rain all day, this joy broke through just at sunset."
What are California's essential landmarks? Fill out this form to send us your photos of a special spot in California — natural or human-made. Tell us why it's interesting and what makes it a symbol of life in the Golden State. Please be sure to include only photos taken directly by you. Your submission could be featured in a future edition of the newsletter.
Please let us know what we can do to make this newsletter more useful to you. Send comments to essentialcalifornia@latimes.com.
The stories shaping California
Get up to speed with our Essential California newsletter, sent six days a week.
You may occasionally receive promotional content from the Los Angeles Times.