Can we still be optimistic about tech? Columnist Brian Merchant talks dystopia, dehumanization and 'innovation fatigue'
Good morning, and welcome to the Essential California newsletter. It's Friday, Feb. 3.
What a time to be alive.
The delicate metal and glass rectangle in my pocket can summon food, clothing and any conceivable consumer product with a few twitches of my thumb. I can buy everything, read everything, watch everything, say everything without leaving the couch. It also doubles as a telephone, if I'm feeling nostalgic.
The movie magic from the sci-fi films of my youth is now driving past me on the street or misunderstanding the commands I shout from the next room.
But if the future has arrived, why does it often feel so bleak and boring? I thought I'd be more excited.
Brian Merchant, The Los Angeles Times' recently installed tech columnist, has a diagnosis for me: a mild case of "innovation fatigue."
"For the last 20 years, it does seem that there's been advance after advance — some of them great and compelling, others less so," he told me. "A lot of the conditions in which we're receiving these new technologies make it harder to be completely optimistic about them."
I spoke with Brian this week about his new column, where he will be writing about technology from his vantage point in California — the "locus of power... in terms of how technology is developed and deployed." I wanted to get his perspective on the Golden State's outsize impact on the industry and how tech continues to change our lives — for good and bad.
He noted a "techlash" in recent years brought on by behemoth companies behaving badly.
"It's become a little harder to celebrate outright as a lot of these companies have become very powerful monopolies," Brian said. "We now know that every new technology, when we say it's disruptive, it doesn't just mean it's cheaper."
Take the metaverse, which Brian argues has been a dystopian idea from the start:
When virtual reality was first being talked about in the '80s and '90s, it was seen as this kind of wild, almost fantastical, cool thing. Now, when the metaverse threatens to become real, people are sitting at home — in the middle of a global pandemic, with social and economic inequalities everywhere — and the prospect of ... being forced to strap on [a headset] to participate in a work call suddenly has a whole new range of implications. We have all these incredible technological advancements and yet we're often resigned to the idea that we're going to have to use them to these very dull and even destructive ends.
Tech is a such a clown car of a word; any number of fun, bizarre or horrifying characters could come spilling out. It's easy to fixate on what the product does at the expense of what it means for people.
"[Technology is] often used to cover up, increasingly, the human role," Brian said. "What I would hope that my work does is to try to make clear that there are so many people behind not just the great inventions and innovations that we're still coming across, but also the services that seem so seamless and 'frictionless' — to use the industry term."
With the power being wielded in Silicon Valley and more recently in SoCal's Silicon Beach — along with the massive population of gig workers in the state — Brian said dehumanization and worker exploitation are major concerns for him in his work.
Here's more from my conversation with Brian about technology and the big stories he'll be chasing (edited for length and clarity).
You mentioned the people behind a lot of this tech. It feels like sometimes — because of how quickly you can open your phone and do anything you want — that sort of masks them from users.
It does. And we've seen the way people will try to turn the act of ordering something on Amazon into a piece of TikTok content by asking their delivery person to do a dance or something. It's putting these dehumanizing layers between what's actually just old-fashioned work.
When you hit that button on Uber Eats, there's a real cook cooking the food, packaging it up, laying it out there; somebody who has to drive their car [to you], worry about gas mileage and whether or not they're driving fast enough to get a good rating so that they can do another one, whether or not they're gonna make money on this particular drive. It's a very labor-intensive process, and the technology is maybe the smallest part in the equation.
What are the big, consequential tech stories that are unfolding right now that are important for Californians?
No. 1, we're going to continue to cover — as an overarching theme — the power in Silicon Valley, and how what's happening at the major tech firms have repercussions on the technologies and services that people will use every day.
No. 2: AI. This is going to be a year to watch AI and automation and how it collides with work. It's going to be a good opportunity to talk about the ways that automation figures into things like gig work, or the processes that your workplace might be using with software automation or more mundane things like that.
We're going to see a lot of companies pitching a lot of uses for AI, they're not always going to be good ones. There's also going to be a lot of people trying to make money off of a new, buzzy trend and selling products that may be useless or outright dangerous — and may have repercussions for working people.
And three... I guess I'll sort of cheat and I'll say the way that technologies are interacting with our home life — because for a lot of us, that's our working life, too. Technologies are helping to collapse those barriers with remote work and hybrid work. And a lot of people are being more intensely surveilled at work and at home by software that they use to log in to meetings and so forth.
What gives you optimism? What are the innovations that could be a benefit to people and society that maybe don't get as much attention?
There's tons of really great stuff that's happening in the tech scene, and it tends to get overshadowed by a lot of the bad stuff, because a lot of the bad stuff can also be more pressing.
I think there are great examples of counterprogramming to the social media giants that are becoming toxic. Twitter was a big story last year, with Elon Musk taking over and reinstating a bunch of really controversial and arguably toxic people. And it led to a lot of discussion about what we want our social life to be online. I think there's a lot of exciting stuff [and] people really trying to answer that question. Like Mastodon, which can be clunky, but isn't a big tech company... it's really trying to be a more holistic online community than something that's just trying to extract your data and maximize attention at any cost.
Another part of the equation of coverage this year that I'll be looking at is that the Department of Justice has finally signaled some interest in the tech giants for their anti-competitive practices. There's going to be some cases brought before too long — and that could stand to shake things up.
I think there's a lot of reasons to be optimistic even if, in general, the outlook often sort of defaults to dystopianism. Technology can do amazing things. It's just all about the social context in which people have access to it or it can be deployed.
You can read Brian's first column for The Times here.
And now, here's what's happening across California:
Note: Some of the sites we link to may limit the number of stories you can access without subscribing.
L.A. STORIES
Residents in a Hollywood high-rise were concerned when a new neighbor began bragging about his arsenal of weapons and making threats, so they reported his behavior to police. That neighbor was arrested this week, and LAPD officials say residents' reports may have "prevented a mass shooting." Los Angeles Times
Mt. Baldy looms large over the Los Angeles Basin, enticing many hikers. But the peak ranks among the deadliest in the nation, according to expert climbers. Times reporter Jack Dolan unpacks the mystique of the mountain, the site of more than 100 searches for missing hikers and six confirmed deaths since 2020. Los Angeles Times
Check out "The Times" podcast for essential news and more
These days, waking up to current events can be, well, daunting. If you're seeking a more balanced news diet, "The Times" podcast is for you. Gustavo Arellano, along with a diverse set of reporters from the award-winning L.A. Times newsroom, delivers the most interesting stories from the Los Angeles Times every Monday, Wednesday and Friday. Listen and subscribe wherever you get your podcasts.
POLITICS AND GOVERNMENT
Former House Speaker Nancy Pelosi is backing Rep. Adam Schiff's (D-Burbank) bid for a U.S. Senate seat in 2024 — as long as incumbent Dianne Feinstein doesn't run again. The 89-year-old senator said she would announce her plans later this year. Los Angeles Times
California voters told The Times they were deceived by petition circulators who said their signatures would help raise wages for the state's fast food workers. Voters were actually backing a ballot measure orchestrated by fast-food corporations and trade groups to block a newly approved law designed to boost those workers' pay. Los Angeles Times
With gas bills spiking, the California Public Utilities Commission voted this week to fast track annual gas and electric credits to consumers. Those payments are typically issued in April via credits to consumers' electric and gas bills but will be moved up "as soon as can be practicably implemented," officials said. Los Angeles Times
CRIME, COURTS AND POLICING
A civilian oversight board is calling on San Diego County's sheriff to release internal reports on jail deaths. A report last year from the state auditor noted that the 185 deaths in county jails from 2006 to 2020 had made the system the deadliest among California's large county lockups. San Diego Union-Tribune
Gov. Gavin Newsom and Fresno County Dist. Atty. Lisa Smittcamp are at odds after the killing of Selma police Officer Gonzalo Carrasco Jr., allegedly by a man who was released early from prison. Smittcamp blamed Newsom and other lawmakers for a "warped" criminal justice system. Newsom said Smittcamp "should be ashamed of herself and she should look in the mirror." The Fresno Bee
Leaders of Black Lives Matter's L.A. chapter are calling out Mayor Karen Bass for her decision to grant LAPD Chief Michel Moore a second term. Activists pointed to the police killings of Takar Smith, Keenan Anderson and Oscar Sanchez last month as they denounced Moore's record. Los Angeles Times
CALIFORNIA CULTURE
Steph Curry is playing defense against a plan to add more housing in his mansion-filled neighborhood. It's a new chapter in the ongoing battle for and against multifamily zoning changes in California. Curbed
After three decades of operation, San Diego County's last locally owned printing press was acquired by an out-of-county firm. The purchase caught many local publications off guard. San Diego Union-Tribune
Free online games
Get our free daily crossword puzzle, sudoku, word search and arcade games in our new game center at latimes.com/games.
AND FINALLY
Today's landmark love comes from Fritzi Lareau of Redwood City: Sequoia National Park.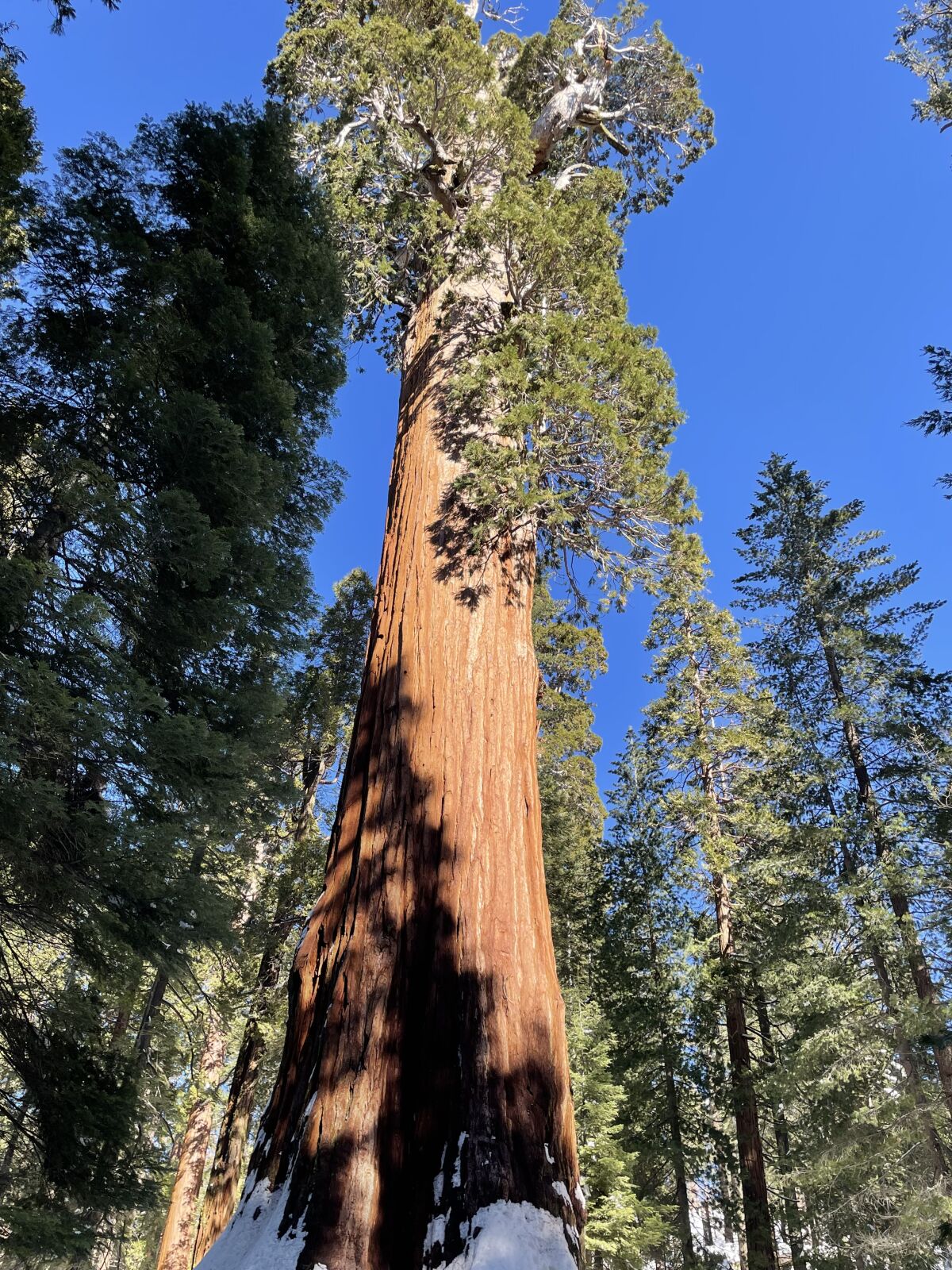 Fritzi writes:
"Sequoia National Park and the magnificent ancient forest is a unique place that awes visitors and locals alike. What a magnificent experience to visit and commune with these giants. Growing steadfastly through centuries, they are a California treasure."
What are California's essential landmarks? Fill out this form to send us your photos of a special spot in California — natural or human-made. Tell us why it's interesting and what makes it a symbol of life in the Golden State. Please be sure to include only photos taken directly by you. Your submission could be featured in a future edition of the newsletter.
Please let us know what we can do to make this newsletter more useful to you. Send comments to essentialcalifornia@latimes.com.
The stories shaping California
Get up to speed with our Essential California newsletter, sent six days a week.
You may occasionally receive promotional content from the Los Angeles Times.