Newsletter: Essential California Week in Review: Drought fears and environmental rules
Good morning, and welcome to the Essential California newsletter. It is Saturday, Feb. 18.
The stories shaping California
Get up to speed with our Essential California newsletter, sent six days a week.
You may occasionally receive promotional content from the Los Angeles Times.
Here's a look at the top stories of the last week
Gov. Gavin Newsom wants to waive environmental rules in the delta amid drought worries. The Newsom administration wants to waive environmental rules to store more water. Critics say the approach threatens fish in the Sacramento-San Joaquin River Delta.
Chilly California weather could stave off snowpack loss. The cold conditions have kept Southern California's mountain peaks topped with thick, bright layers of snow even without significant precipitation in several weeks.
An asteroid will just miss us in 2029. Scientists are making the most of a rare opportunity. On April 13, 2029, an asteroid wider than three football fields will pass closer to Earth than anything its size has come in recorded history. With humanity's safety assured — from this threat, at least — the coast was clear to geek out on some asteroid science.
The gas bill is $907.13? Sticker shock for Californians as prices soar. Household budgets in the Golden State, already stretched thin as prices soar for expenses as diverse as rent and eggs, are being pummeled by monster gas bills.
Dramatic photos show Lake Oroville's rise after epic storms. The key component of California's water supply looks noticeably fuller after a series of January storms.
Raquel Welch, international icon who starred in 'Fantastic Voyage,' died at 82. In an era when men often considered women largely ornamental, Welch earned a reputation for being strong-willed and independent.
Feinstein calls it a career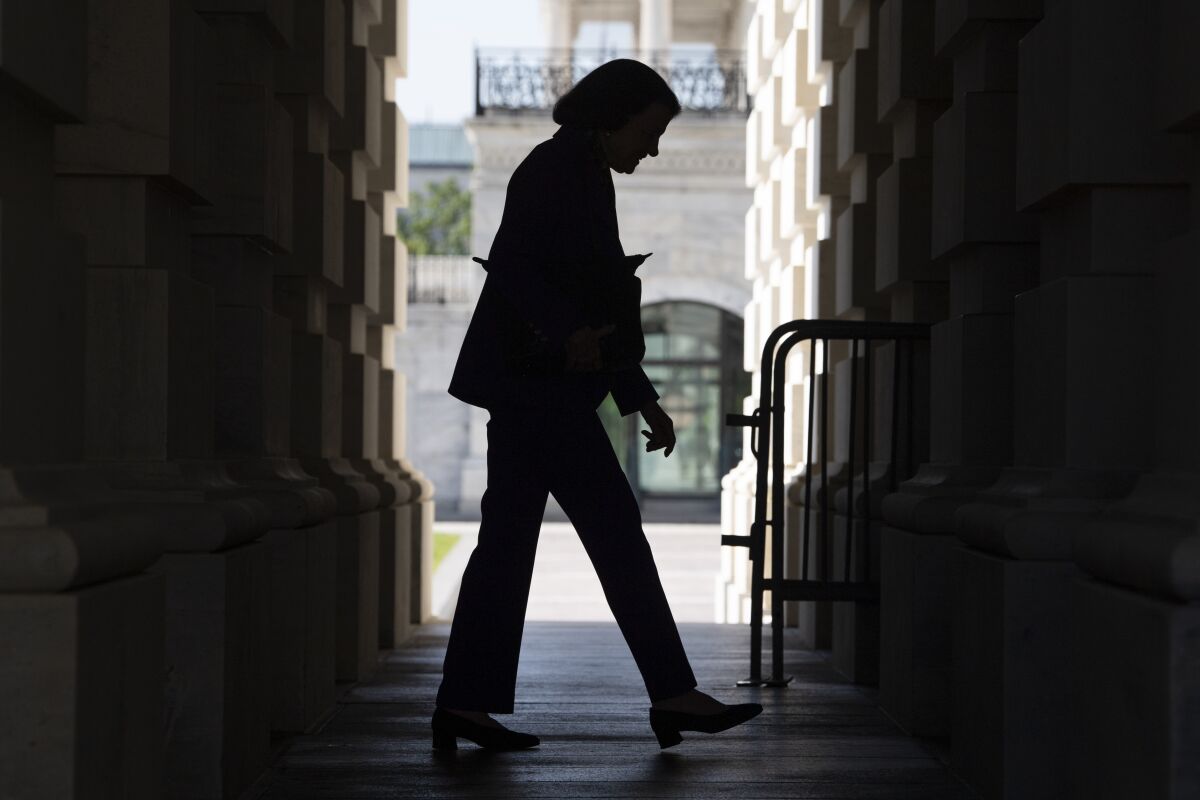 Sen. Dianne Feinstein makes it official: She will retire at the end of her current term. California's longest-serving senator will not run for reelection next year, marking the end to one of the state's most storied political careers.
Thoughts from Times opinion writers:

Free online games
Get our free daily crossword puzzle, sudoku, word search and arcade games in our game center at latimes.com/games.
More from our newsroom
ChatGPT wrote cover letters for these job seekers. Can you tell? Cover letters are notoriously hard to write. These job seekers decided to outsource the task to ChatGPT, an AI chatbot, with impressive results.
De León and other council members tussle on redistricting. The discussion appeared to reopen deep wounds, puncturing the veneer of normalcy reestablished in the months since an incendiary leaked tape upended L.A. City Hall last fall.
Workers at Medieval Times strike, citing low wages and high risks for knightly work. The queens, knights, advisors, trumpeters and squires of Buena Park's Medieval Times strike as shows and utensil-free dinners continue with replacement workers.
Syrian refugees in Turkey face harassment after the quake: 'I never felt this level of racism before.' Since last week's earthquake, refugees of Syria's civil war living in Turkey have faced growing anger from those who see them as a burden and blight.
California's population dropped by 500,000 in two years as the exodus continues. California lost more people than any state besides New York between April 2020 and July 2022, data show. Texas gained nearly 900,000 people in the same period.
A climate letdown at the Super Bowl. There were only three ads for electric cars — and nothing else on clean energy.
'A town of Hispanics left in the dark': Planada flooded, and is now forgotten. After the town flooded and about half its homes were damaged, residents of this farming community struggle to find temporary housing and rebuild.
LAUSD bus drivers, food workers and teacher aides give union OK to call a strike if talks fail. The overwhelming strike authorization vote by members of Local 99 of SEIU is intended to put pressure on L.A. Unified to reach a contract settlement.
Los Angeles County search-and-rescue team combs through the wreckage in the Turkey earthquake zone. In the days since the magnitude 7.8 earthquake struck Turkey, search-and-rescue teams, including one from Los Angeles County, have been a ubiquitous presence.
ICYMI, here are this week's great reads
The Hollywood sign debuted 100 years ago in 1923, the year of L.A.'s 'Big Bang.' The year 2023 marks the centennial of many iconic L.A. landmarks, including the Hollywood sign, Memorial Coliseum, Biltmore Hotel and the Angelus Temple.
Send me a love song: How L.A. became hopelessly devoted to radio dedication shows. Even in the age of Spotify, when you dedicate a song on the radio, 'you're letting the world know you love somebody.'
Barbie house? Batman's bachelor pad? The story behind Santa Monica's most meme'd homes. Two homes in Santa Monica — one pink and purple, the other pitch-black — have gone viral due to their clashing styles.
Today's week-in-review newsletter was curated by Karim Doumar. Please let us know what we can do to make this newsletter more useful to you. Send comments, complaints and ideas to essentialcalifornia@latimes.com.
For the record: The Jan. 28 edition of Essential California listed incorrect authors. Multiplatform editor Elvia Limón wrote that newsletter.
Our daily news podcast
If you're a fan of this newsletter, you'll love our daily podcast "The Times," hosted every weekday by columnist Gustavo Arellano, along with reporters from across our newsroom. Go beyond the headlines. Download and listen on our App, subscribe on Apple Podcasts and follow on Spotify.
The stories shaping California
Get up to speed with our Essential California newsletter, sent six days a week.
You may occasionally receive promotional content from the Los Angeles Times.