Long before dawn, El Cuba arrives with his dark sunglasses, heavy gold rapper chains and his old, beat-up broom.
He sweeps the sidewalk clean and picks up trash, setting the stage for the street vendors of the Piñata District.
Every weekend, they flock here — in trucks, in vans, on bus, by foot — to put on a feast at the edge of downtown unlike any other in Los Angeles.
Cumbias boom from giant speakers. Carne asada smoke clogs the air. Fryers sizzle as vendors vie for your attention. Some dance, some sing, some get down on one knee and recite poetry. Others take you by the hand and pull you to their table: Tacos! Pambazos! Tortas! Come and eat, señores y señoras! I invite, you pay.
It's street food theater that overwhelms the senses and follows few, if any, norms. All those who come hunting for piñatas tend to get swept up in the show — in the birria from Jalisco, pupusas from El Salvador, nieve from Oaxaca, guasanas from Michoacan.
Some days the health department rolls through and everyone runs with their carts, pots, pans, ice coolers and baskets. It's a cat-and-mouse game that's lived on for years on the streets of L.A., one expected to change soon as the city works to enforce new rules that took effect in January.
Meanwhile, the peddlers of the Piñata District have created one of the most tantalizing spaces in the city, with some intriguing characters. There's the Cheese Cowboys, El Churro Boy, El Chapo and the Abuelo of the Corn. There's also El Cuba, who's homeless and lives in a nearby tent. For tips, he hustles out a living as the market's gofer, cleaning up before and after and running errands in between.
"I look after this place 24 hours a day," he said on a recent Saturday, rushing off to fetch a bag of ice. "The vendors take care of me and I take care of them."
The Abuelo of the Corn
It's hard to say when or how the street food market started — or more significantly, who got here first. Every vendor, from the one who hawks fresh honey to the one who sells laxatives, has a different sense of time:
This began in the '90s, says one. In the 2000s, says another. Maybe five … 10 years ago?
Candelario Padilla, 85, shakes his head at the confusion. "Everyone here knows I'm the one who discovered this place," he says matter-of-factly. "Forty years ago, I came here and started selling corn and then everyone started selling corn. Then I started selling tacos and everyone started selling tacos. Then I started selling fruit … and you know."
"I got tired of it all and went back to selling corn."
In the 1980s, Padilla said, this strip of East Olympic Boulevard, from South Central Avenue to Stanford Avenue, was filled with auto body shops. Then, one day, an immigrant from Michoacán came along and turned one shop into a produce store. He hung a few piñatas out front, and when they quickly sold he put out more. Those piñatas eventually became so popular they took over his store. Later, he added Mexican and American candy, balloons, gift bags and table centerpieces.
The party business flourished through the 1980s and '90s from a single shop to more than two dozen, down a three-block corridor surrounded by the blight of Skid Row and the buzz of downtown commerce: the Fashion District, the Flower Market, produce warehouses and most recently, the posh artists' shops and lofts of the industrial Row DTLA.
Antonio Tapia — that immigrant from Michoacán — is now retired at 88 years old, but his children run about half a dozen stores in the district. They have plenty of competition from other merchants who sell similar products at wholesale prices.
On any given day, hundreds of customers flood the strip to plan every kind of fiesta. They often come with the whole family — mom, dad, abuelita, nieces and nephews — to shop for their birthdays, baptisms, weddings and first communions.
Padilla shuffles over with his cane and his sombrero every weekend to entice the crowd with his $3 grilled corn. He sets up his rusty grocery cart and his grill next to Doña Luz, who sells birria.
People who know me know just where to find me.
— Candelario Padilla
The old man is not like other vendors: He works silently all afternoon, hardly looks up, never shouts, Elote! Elote!
"Why should I?" Padilla says. "People who know me know just where to find me."
At this stage in life, with no wife and no kids, he likes to keep to himself — to come to the market, make a few bucks, then head back home.
Selling his corn, Padilla makes enough to eat, to pay the $420 rent on his small motel room, and now and then to travel home to visit family in Guadalajara.
"In this country, people love you for your money," he says. "That's one thing I've never had or cared to have."
Growing up, there were things about my mom that never changed, like the way she'd take us downtown to shop in her old Toyota Corolla, get spun around and end up terribly lost.
El Churro Boy
Jonathan Martinez began selling churros in the Piñata District when he was 13 years old. 
New contenders pop up at the market all the time. They show up with secret recipes, determined to make the best hand-made tortillas, Micheladas or tacos de barbacoa with consomé on the side.
Jonathan Martinez has seen many come and go over the years. He began selling churros at the Piñata District when he was 13 years old. He works for Don Enrique, who takes his kiosk to fairs and farmer's markets all over town.
Big and round and now 18 years old, Martinez towers over customers in his apron — perpetually smeared with dough. He's shy and speaks little Spanish, but he's got his sales pitch down: Pasele! Pasele! What can we get for you? We've got churros, buñuelos, plantains, funnel cakes ...
He serves his churros warm, freshly sprinkled with cinnamon and sugar, after putting on a most unconventional cooking show.
He starts with a cement drill and uses it to mix a huge pot of dough. Then he grabs his churro gun, a 3-foot long metal contraption that comes from Guadalajara and looks just like a bazooka, and he shoots long, curly strands of churros straight into a fryer. They're cooked within two minutes.
A few weeks ago, a young couple from Ontario set up another churro stand a few feet from Martinez. He was a mechanical engineer, she was a homemaker. Together they spent nearly $7,000 of their savings on a shiny vending cart hoping to make extra money. But their churros were frozen and reheated. They didn't stand a chance against churro boy.
"I think they left after the first day," Martinez said.
Cheese Cowboys
At the street food market, there are many rules — all of them unwritten.
Like all the vendors, Ivan Tapia (no relation to Antonio Tapia) had to learn fast.
No. 1: Don't ever take someone else's spot. Every inch of pavement is spoken for. Some vendors pay hundreds, even thousands of dollars a month to business owners to rent a patch of sidewalk or an entire parking lot. All of this is forbidden by the city, but you seldom see a police officer or code enforcer drop by to ask questions.
If the vendors have a conflict, they solve it among themselves — without getting outsiders involved. That's what Tapia did one afternoon when another cheese vendor confronted him in a battle over turf.
"I stayed calm," he said. "Getting worked up wouldn't do any of us good."
Up north in the farm town of Hollister, where he lives, Tapia had never heard of the Piñata District. Then two years ago, while visiting an aunt in L.A., he stumbled across the scene and was captivated by the colors. He followed the vibrant trail of umbrellas, tarps and canopies down a sidewalk transformed into a tunnel of sizzling hot food — sopes, gorditas, huaraches, pozole. "It felt just like Mexico," he said.
The one thing he couldn't find — and he was grateful — was a vendor who sold cheese. Up on his ranch, cheese was all Tapia could think of.
He had a day job pouring concrete, but his dream was to grow a business selling quesillo and queso fresco, the kind his mother, Griselda, taught him to make as a child back in Jalisco. He already had 10 cows. Each night after work, he'd go door-to-door drumming up customers. But sales were slow.
A few weeks after running into the street market, he returned to test the waters. He parked himself next to a lady selling quesadillas, hoping to unload an ice cooler with 50 blocks of his homemade cheese. He sold them in two hours. "Just like that," he said. "That would have taken me all day back home."
Today, Tapia, 33, is a regular at the Piñata District. He has more than 50 cows and a warehouse with half a dozen workers.
Every weekend, he and his Cheese Cowboys drive more than 300 miles south to arrive at the market just after 9 a.m. Wearing wide-brim cowboy hats and pointy alligator boots, they unload a van carrying about a thousand blocks of queso. They sell half of the inventory at the market. The rest they deliver to nearby wholesale buyers they met at the Piñata District.
On a recent Sunday, Tapia and his cowboys worked the crowd from behind their table, a tower of cheese stacked high in front of them.
"Queso! Queso!" announced Tapia, offering samples to all who passed by. "Come get your queso straight from el rancho."
El Chapo
El Chapo, whose real name is Jorge Sanchez, sells aguas frescas. 
At the market, all the vendors know each other — though it may not be by name.
Here, they all get christened with new titles — depending how they look, where they're from, what they sell, what gimmick they use to try to sell. There's La Bailariana (the Dancer). El Guero (the Light-skinned One). El Taquero (the Taco Guy.). El Barbudo (the Bearded One). El Canastas (the Basket Guy). La Señora de la Papa Loca (the Mrs. of the Crazy Potato).
Among the most recognized in the crowd is El Chapo. The 64-year-old with faux diamonds in his two front teeth is like a padrino, a godfather of the corridor. He got his infamous nickname as a kid in Nayarit.
"It has nothing to do with that other señor," he says with a laugh. "It's because I'm a chapo, a chaparrito, and because I sell the best aguas frescas from Sinaloa."
A few years ago, El Chapo, whose real name is Jorge Sanchez, got tired of running from health officials. He joined local groups to lobby the city on behalf of street vendors. He attended meetings and marches, and drove all over Los Angeles passing out fliers.
"Street vending is a big part of our culture and we're a big part of this city," he said. "They have to find a way to let us work."
People shop at Tapia's Productos Mexicanos en General, the first and oldest store in the Piñata District.
(Silvia Razgova / For The Times)
Jesus Diaz sells fresh bread.
(Silvia Razgova / For The Times)
Customers dig into fresh
barbacoa
beef tacos at the Barbacoa Estilo Hidalgo stand.
(Silvia Razgova / For The Times)
Stephanie Arias and her husband, Eric Aguilera, arrange the
churros
at their stand.
(Silvia Razgova / For The Times)
Claudia Asurez, left, and Maria Martinez, who walks through the crowd selling fresh bread.
(Silvia Razgova / For The Times)
Maricela Gonzales prepares fresh tortillas.
(Silvia Razgova / For The Times)
People dig in.
(Silvia Razgova / For The Times)
In late 2018, after years of debate, he and other vendors celebrated when the city legalized street vending. Immigrant rights activists fought a hard battle. Others factors — such as changes in state law and President Trump's crackdown on immigrants living in the country illegally — also swayed council members to take action.
With their vote came a series of rules that took effect in January: Vendors must pick up trash; ensure people can pass on the sidewalks; keep enough distance from fire hydrants, driveways, curbs, building entrances. They must also have permits required by the city, county or state. And if they set up shop next to another vendor, they must leave at least three feet of space.
Hardly any of these rules are now followed along existing corridors where street vending is popular, including the Piñata District. El Chapo works toe-to-toe with a fire hydrant, one El Cuba likes to visit daily with his wrench to haul away water for other vendors.
City officials say approving the new rules was a start, but it's going to take time to fully enforce the regulations. In 2020, all vendors will be expected to carry permits and in some areas, such as the Piñata District, the city may set up a dedicated selling zone.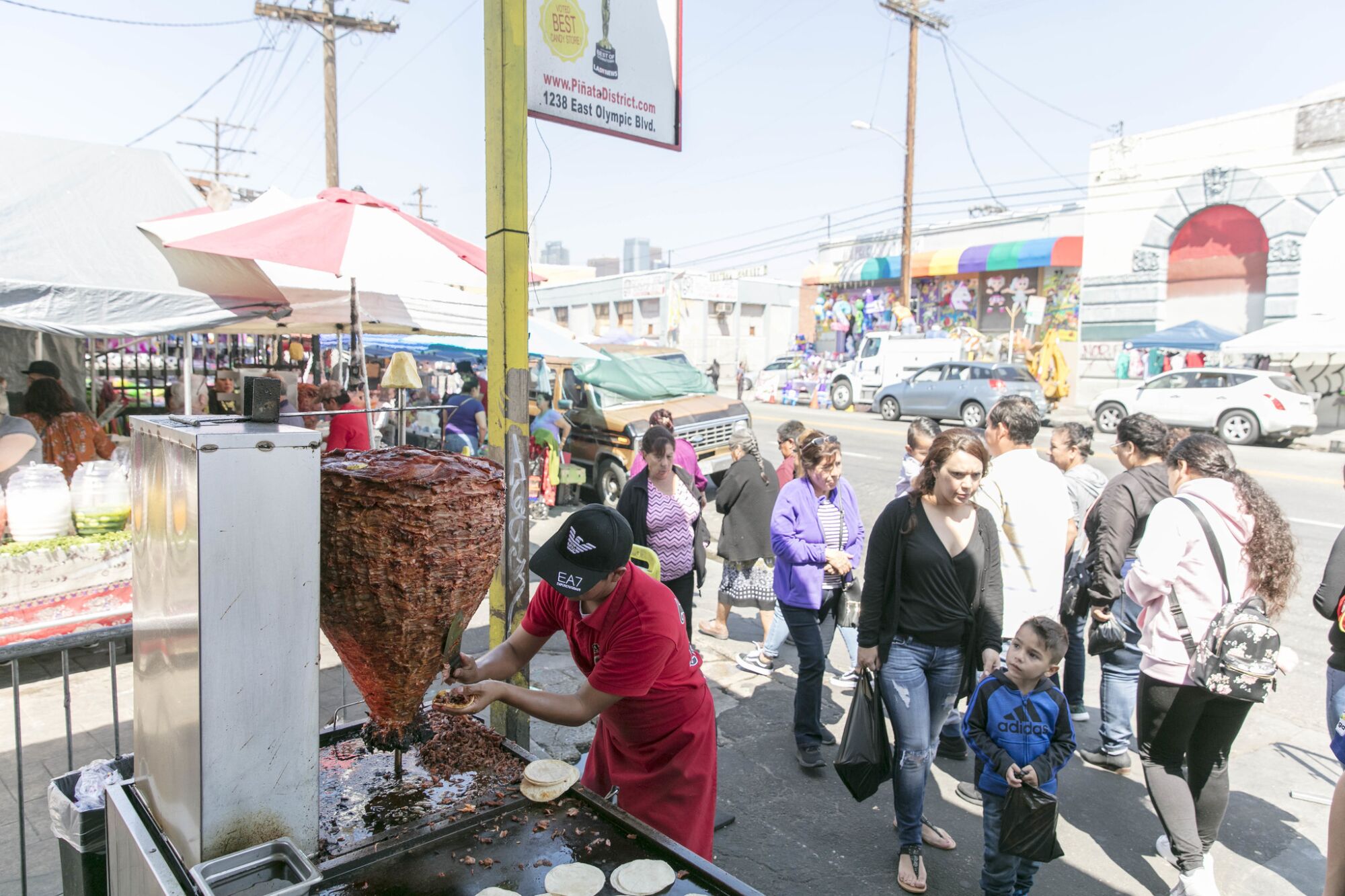 "Before enforcement takes place, we have to inform people, to do outreach in a major way so everyone understands what's expected of them," said Rick Coca, spokesman for Councilman Jose Huizar, whose district includes the Piñata District.
El Chapo is not sure he'll be able to meet the city's standards. With the $80 to $90 he makes each day, he says he can't afford much of the equipment health inspectors require from fruit and drink vendors.
"Next year, we could be facing dark days if we don't make changes," he says, as he chops slices of mango for a customer.
He's known many of his patrons nearly a decade. He calls them primo, hija, hijo (cousin, daughter, son). He's meticulous about pleasing them — especially the picky ones.
Like Antonio, who always asks for watermelon, but only the reddest flesh, without a single hint of white rind. Or Maggie, who loves El Chapo's Mexican horchata, but she prefers to serve herself to avoid all the ice.
"Whatever you like, just say so," he likes to tell them. "El Chapo's here for you."
Production by Denise Florez and Vanessa Martínez. Video by Jackeline Luna.
The stories shaping California
Get up to speed with our Essential California newsletter, sent six days a week.
You may occasionally receive promotional content from the Los Angeles Times.