Disgruntled cook with high-powered guns threatened mass shooting at Long Beach hotel, police say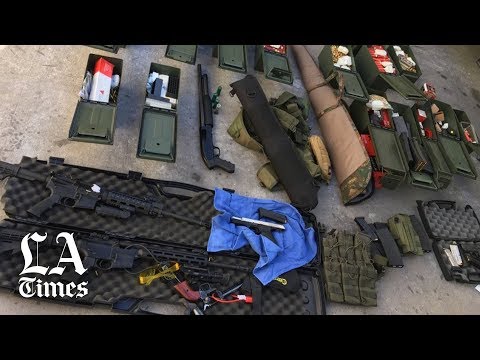 Police in Long Beach thwarted a possible mass shooting this week when they arrested a disgruntled hotel cook they said had threatened to carry out violence at his workplace.
Rodolfo Montoya, 37, who worked at the Long Beach Marriott, was taken into custody Tuesday at his home in Huntington Beach. Officers seized multiple high-powered firearms, including an assault rifle, 38 high-capacity magazines, and hundreds of rounds of ammunition, according to investigators.
Police said Montoya told a coworker Monday that he planned to come into work and shoot everybody he saw at the hotel. Montoya was angry about a human resources issue, according to investigators.
The coworker notified the hotel's management team, who contacted police. Officers located Montoya and took him into custody the following day.
"I believe the Police Department has worked to avert what could have been a real tragedy in this community," Long Beach Mayor Robert Garcia said Wednesday at a news conference announcing the arrest.
Investigators said the specificity of the plan that Montoya described to his coworker as well as his access to firearms were sources of particular concern.
"Suspect Montoya had clear plans, intent and the means to carry out an act of violence that may have resulted in a mass casualty incident," Long Beach Police Chief Robert Luna said.
Investigators weren't sure how Montoya obtained the weapons. They said a preliminary investigation indicated he did not have a criminal history that would prevent him from legally owning firearms, but added that, in most cases, assault rifles and high-capacity magazines were illegal for anyone to possess in California.
Detectives were looking into every possibility, Luna said, including whether Montoya purchased the assault rifle from out of state or bought the weapon legally and modified it.
"We know that there is a serious conversation happening across the country … around who has access to dangerous weapons, who has access to illegal guns and magazines," Garcia said. "And there is no question that, as a country and as a community, we are having a conversation about that and need to do more, and we should be doing more."
Montoya was arrested on suspicion of manufacturing and distributing assault weapons, possession of an assault weapon and making a criminal threat.
He is being held at the Long Beach City Jail in lieu of $500,000 bail. Detectives were continuing to interview him Wednesday afternoon.
Investigators credited the hotel worker and his managers with bringing the incident to their attention.
"Because this was reported, I firmly believe that many lives were saved," Luna said.
Sign up for Essential California for news, features and recommendations from the L.A. Times and beyond in your inbox six days a week.
You may occasionally receive promotional content from the Los Angeles Times.