(Christina House / Los Angeles Times)
OAKLAND —
Stuffed animals are forbidden at Coachella, and the Electric Daisy Carnival prohibits pacifiers. But the WubbaNub — a mashup of the two comfort objects — is the hot dance party accessory among the newest club kids in the Bay Area.
Teal pacifiers festooned with tiny elephants, whales and unicorns were conspicuous in the crowd of 150-plus revelers who filled a commercial building in the rapidly gentrifying Temescal neighborhood of North Oakland on a summer Sunday. Attendees were jumping, twirling, and throwing the occasional tantrum in the fenced-off "rolling zone," where fellow partyers lie on their backs, staring at the lights in the dark.
Anything goes at Baby Rave, the Bay Area's wildly popular daytime dance party for children under 4. Although it's never advertised, the monthly soiree sells out in minutes. Now in its third year, the ball is older than most of its tiny dancers.
"I had no idea what I was walking into," said Oakland native Edward Hazzard III, aka DJ E.T., who has hosted Baby Rave for the Bay Area Children's Theatre since it launched in 2016. "My first few years of deejaying was always for adults. There was an occasional middle school dance, because my wife was a middle school teacher, a few proms here and there — but never for babies."
The gatherings share DNA with kids' raves in the United Kingdom and a smattering of parties for older children in U.S. cities such as New York and Atlanta — where glow sticks and strobe lights are de rigueur.
In Oakland, the events are a lower, slower, shorter version of a grown-up rave, with moms in lieu of MDMA.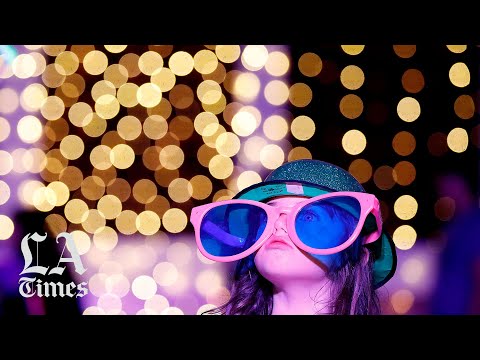 Edward Hazzard III, a.k.a. DJ E.T., hosts Baby Rave, the monthly soiree put on by the Bay Area Children's Theatre in Oakland. The daytime dance party for children under 4 sells out in minutes.
With its playful environment and irreverent name, Baby Rave has quickly become a magnet for Bay Area families, both newcomers and natives like Hazzard who are striving to raise their children in a region where blue-collar workers are increasingly rare and Berkeley professors can scarcely afford to remain.
"We only do one a month, but they sell out instantly," said Nina Meehan, the theater's executive artistic director, who tapped Hazzard to produce the first rave. "It's become by far the most popular thing that we do."
Many of the parents in attendance that Sunday were tech-sector workers, but others were artists, academics and Oakland public school teachers.
While a few were ex-ravers, the majority were simply searching for something to do between breakfast and nap time. Amid skyrocketing rents and dizzying displacement, kids — and kids' activities — are disappearing from the Bay Area.
At local libraries, toddler story time competes for space with tenants rights workshops, adult coloring clubs and "yoga for success." Infant language classes and postpartum boot camps have replaced traditional playgroups for new parents with only a few weeks of leave after childbirth.
"We changed all the facts around family economic life — how much college is going to cost, how much housing costs where upward mobility is possible — and then we're shocked that people parent differently," said Conor P. Williams, a fellow at the progressive Century Foundation in Washington, D.C. "It's hard, if you're [both] working 50 or 60 hours a week, to pull it together on a weekend to offer 12 hours of entertainment. Structured activities give parents a moment to wipe their brow and catch their breath."
Column One
Column One is a showcase for compelling storytelling from the Los Angeles Times.
Local parents flock to Family Laundry in Fruitvale for "Wash and Read" storytime, an hour and a half of free toddler entertainment put on by the Oakland Public Library for those with little time for either enrichment or chores.
"Women are working now, and it's a juggle trying to figure out what fits into your budget and your time," said owner Laura Guevara. "This frees them up to say, 'I'm engaging my child in this very educational activity and I'm getting this really important thing done for my family too.'"
For many, such activities are an opportunity to meet like-minded parents in an era when neighborhoods seem to change overnight, young professionals are increasingly transient and 64% of mothers of preschool-age children work.
"It's hard to build a 'Mommy and me' playgroup when nobody's home for more than three months," Williams said. "If you haven't been in the community and already built a social group, you actually have to buy it."
Yet offerings for the very young in the Bay Area often cost more than twice what they do in Los Angeles or New York.
"The Bay Area is an expensive place to live, and it's a very expensive place to run a nonprofit," Meehan said. "Oakland is going through seismic shifts on practically a daily basis, and those seismic shifts are a reaction to the Bay Area as a whole."
Oakland's beloved Children's Fairyland, a homespun, 69-year-old amusement park for kids under 8, has started to promote private events such as weddings and grown-up birthday parties to help keep admission at $12 — roughly the price of a child's ticket to the American Museum of Natural History in Manhattan or the Bronx Zoo.
'We only do one a month, but they sell out instantly. It's become by far the most popular thing that we do.'
— Nina Meehan, Bay Area Children's Theatre executive artistic director
The Bay Area Discovery Museum in Sausalito charges about $16, compared with $14 at the new Cayton Children's Museum in Santa Monica and $7 at the historic Brooklyn Children's Museum. An hour or two at the popular California Academy of Sciences museum in Golden Gate Park costs up to $28.
At $7, the rave is a steal.
Some of the people involved in local children's activities say the regional demand for high-quality, educationally enriching programs justifies and even commands a higher price of admission — with annual family memberships going for $250 at the Academy of Sciences, $149 at the San Francisco Zoo or the Exploratorium and $115 at UC Berkeley's Lawrence Hall of Science.
"All of our programs are based in early childhood research," which makes them worth more, said Joanna Kauffmann, a spokeswoman for the Discovery Museum, where science, technology, engineering and math programming is designed for children as young as 6 months. "With the rise in the focus on STEM learning and 21st century skills and preparing children for a tech-based future, we're starting to see that as more of a priority from our visitors."
But for parents like Carol Danoff, who attended her fourth Baby Rave three days after her second baby was due, the event's lack of educational enrichment is its charm.
"A lot of parents over-program their kids and make them do STEM and academic stuff too early," the recent Oakland transplant said as her 2 ½-year-old daughter, Jordan, shimmied to Justin Timberlake. "Here, she can just play."
The opportunity to "just be" with their children draws attendees from distances that would disqualify most adult relationships, organizers said.
"We have people coming from Concord, Hayward, San Jose, Fremont," cities that can be hours from Oakland in traffic, Hazzard said. "People say [Baby Rave] should be [offered] in the North Bay, the South Bay, San Francisco."
During the August Baby Rave, Hazzard's daughter Daphne danced alongside Tasi Umagat of Richmond, Anya Gabula of Larkspur and Juniper Jude of San Francisco, sharing juice boxes, germs and glowing accessories, in a childish echo of the raver ethos of "peace, love, unity, respect."
"We're very about the PLUR lifestyle," Hazzard said. "A lot of the parents who used to be ravers are like, OK, we're going to instill this upon the next generation."
Those who did dance said they were elated to find a safe environment to share that part of themselves with their kids.
"It's an actual deejay — that makes it for me," said Juniper's mother Simone Jude, who dances every Sunday with other adherents of 5Rhythms "dynamic movement practice" in San Francisco. "I would come to this by myself."
Other parents said they relished the opportunity to let their kids play in public for an hour and a half without having to police their behavior as they would at a museum or even a playground, where small children pose a near-constant danger to themselves. Almost all of them expressed optimism that their charges would dance till they dropped.
"Enjoy the rest of your day," DJ E.T. told the crowd just before 11:30 a.m. as he cued up the morning's last song, De Hofnar and Elior's "Little Love." "I hope your kids nap!"
Sign up for Essential California for news, features and recommendations from the L.A. Times and beyond in your inbox six days a week.
You may occasionally receive promotional content from the Los Angeles Times.