The Cayton rethinks what a children's museum can be in 2019
It's unclear whom the new Cayton Children's Museum in Santa Monica is designed to please more: the kids who will roam its 21,000 square feet of colorful interactive exhibits or the parents who will not have to hiss, "I told you to please stop touching that" for the seven-millionth time.
Because unlike traditional museums, children's museums are meant to be "played with, broken, destroyed, replaced and revised," says Cayton CEO and founder Esther Netter.
Netter, an enthusiastic grandmother of four, is standing at the entrance of the museum before the June 30 grand opening. It's on the third floor of Santa Monica Place, the open-air mall that Netter prefers to call an "urban center," which looks out over the bustling Third Street Promenade and is just a few blocks from the beach.
It's the kind of warm and fuzzy, sun-drenched morning that makes people on the East Coast curse Southern California, and Netter smiles in the golden light before stepping inside where construction is in full swing.
Tattooed fabricators in jeans and T-shirts stand on ladders weaving the museum's Courage Climber — essentially a sculpted rope mezzanine that serves as the de-facto second floor for the museum. Created by Bay Area exhibit designers Scientific Art Studio (the same people who built the popular playground climber at the San Francisco Zoo), the Courage Climber is a massive rope walk for children of various sizes and abilities. It is the museum's pièce de résistance, and it's easy to imagine a day when children go rogue and declare they're never going to leave the sky.
"A children's museum design is meant to flip the way the world works," Netter says. "You cross our threshold, and kids decide where to go. Nowhere else in the world do kids decide."
But what exactly is the mission of a modern children's museum? At a time when society feels like it's fracturing and the culture is dividing, Cayton organizers see their museum as a place for children — and their parents — to find connection.
Cayton is not only a gathering space for families of various economic backgrounds, races, religions and ethnicities. It's also meant to be a sort of children's utopia — a place to learn, explore and practice skills that could lead to success and happiness in adult life.
"This is a place," Netter says, "to practice being human."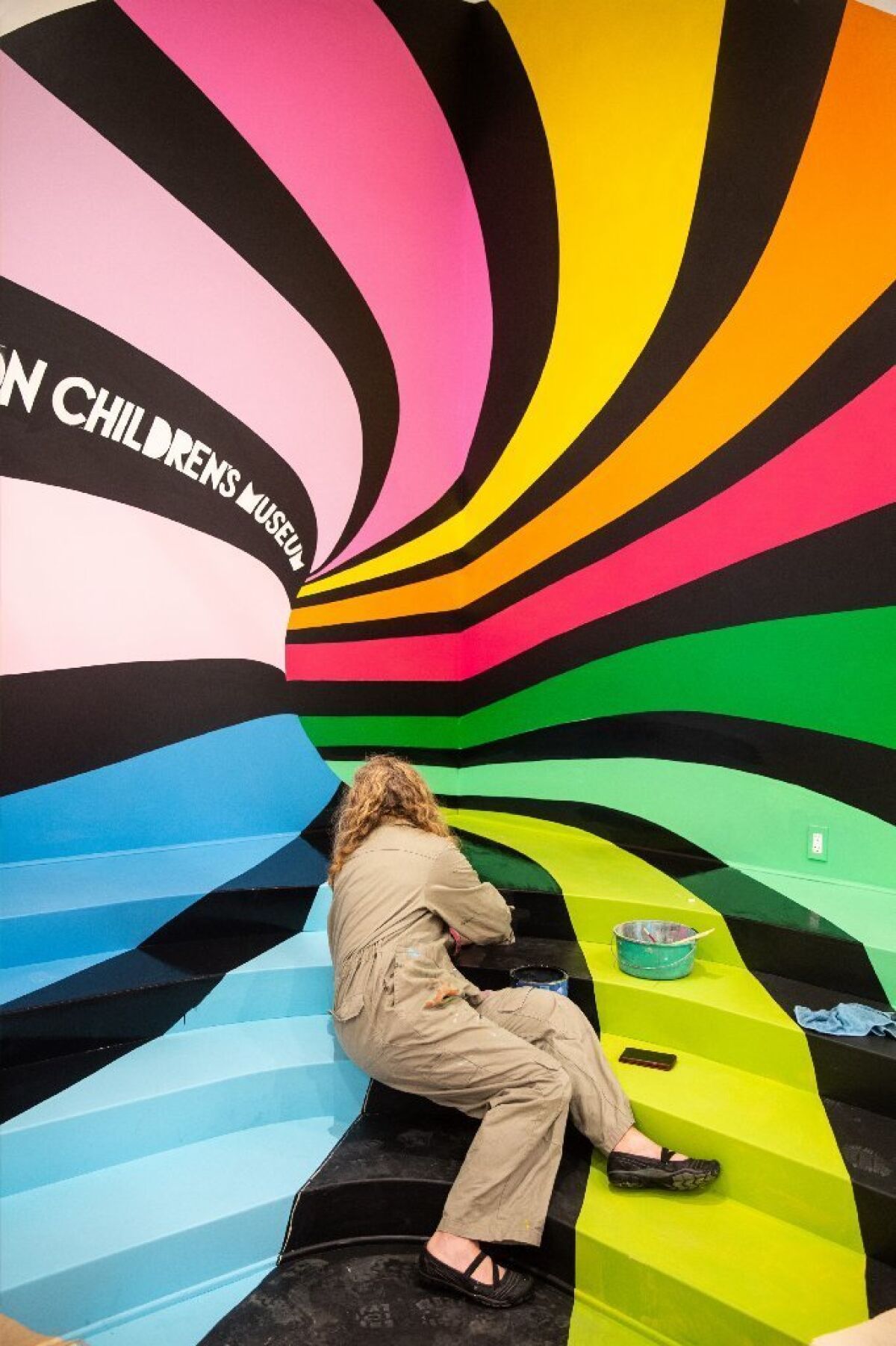 Beneath the rainbow-colored climbing nets, she says, lurks a profound environment — one where a message of tolerance, love and the art of sharing flows throughout the space, from the "nursing and nurture room" to the theater to the costume closets to the wishing wall.
Barry Cayton, the philanthropist who along with his wife, Andrea, provided an undisclosed sum of money to the museum bearing their name, said his family was attracted to Netter's vision for those reasons. He added that a children's museum can address some of the most pressing concerns of our age.
"I really think it provides impressionable young children with positive values and experiences in these divisive and confusing times of untruth and eroding morality," he says.
Despite the children's playland businesses that have popped up around the region, the Cayton aims to offer something more substantial and on a different scale. Each of the five exhibit spaces in the Cayton is designed with a particular mandate for learning and exploring. Let's Help is all about first responders and rescue, with a vintage firetruck (purchased on Craigslist for $8,000 and airlifted to the third floor of Santa Monica Place), a rescue helicopter designed so that children in wheelchairs can reach the knobs in the cockpit, plus a ball pit with a Coast Guard boat and life jackets.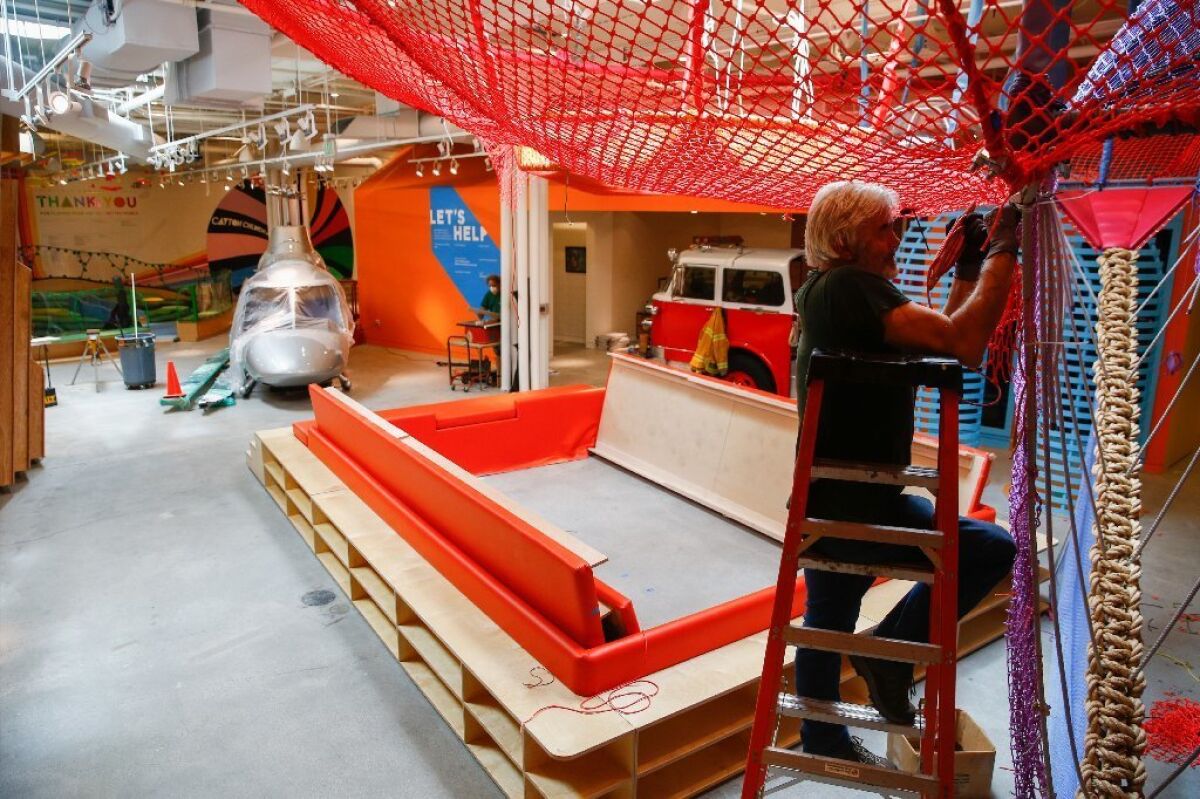 A veterinary clinic comes equipped with iPads for taking X-rays, a community market has scanners at checkout and the faux cafe's menu includes vegan tacos, avocado toast and matzo ball soup.
Kids can have birthday parties at the Cayton, and so can adults. Apparently, it doesn't take much for grown-ups to find their inner child. Netter wouldn't name names, but she said at one pre-opening party, community leaders, philanthropists and business people had a grand time after hours in the ball pit and at the bubble table. (There is one golden dome that lets you literally step inside a giant bubble.) The adults also enjoyed dancing in front of the digital art wall.
One room has been designated for "art crawls." The museum puts out vegan paint, sponges, brushes and balls, and toddlers and babies strip down to their diapers or onesies and become the masterpieces. (The room is equipped with drains and water hook-ups, so presumably some sort of clean-up is available.)
"It's the most delicious, amazing thing and you would never do it in your home," Netter says, adding that the museum might dub the space the Jackson Pollock room for adults and allow them to do the same in white T-shirts.
This is a place to practice being human.
— Esther Netter, founder and CEO, Cayton Children's Museum
Moving on, she points out a talking water fountain called Thirsty for Knowledge that recites health facts while you rehydrate. Rounding a corner, she launches into the particulars of the giant water table, a topographical sandpit and an interactive ball exhibit powered by exercise — a bike, a hand crank or what Netter calls the "tushy jump seat." She demonstrates by sitting and bouncing happily on the seat as balls begin tumbling about the installation.
Speak to almost anybody who works alongside Netter, or has given money toward her vision, and they say the same thing: She is a force of nature. Her enthusiasm is infectious, and it's impossible not to get excited. Which explains how Netter helped to raise the nearly $15 million that it took to get the nonprofit Cayton up and running.
"Esther is very passionate," Barry Cayton says.
Adds Andrea Cayton: "It comes across when you meet her. She's put her heart and soul into it."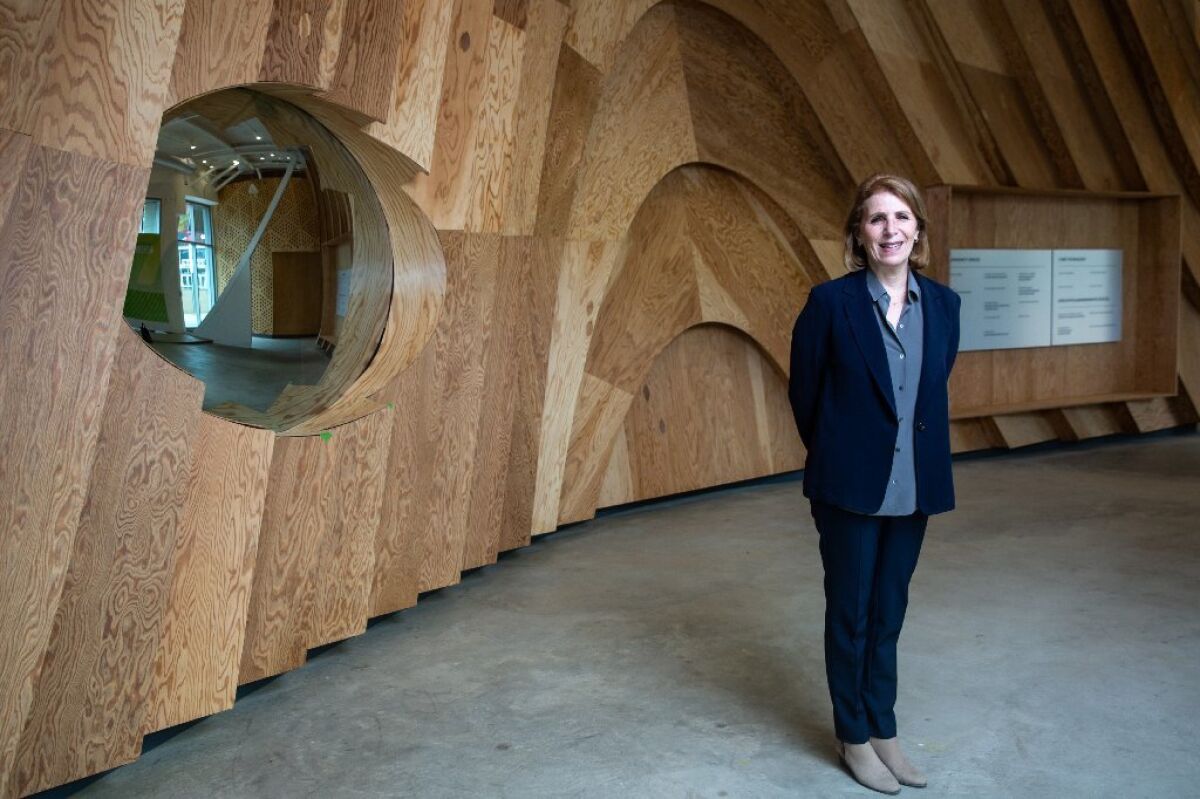 The new museum grew out of the Zimmer Children's Museum, which Netter founded 30 years ago. The Zimmer was only 5,000 square feet and could never fully offer the same kind of experience as at world-class children's museums elsewhere. When the Zimmer opened it drew 12,000 visitors annually, and when it closed in February it was drawing close to 90,000.
The Cayton has yet to receive its official capacity numbers from the city, Netter says, but she expects to accommodate hundreds of thousands of parents and children each year.
"We felt it was a moment in time to capitalize on what Esther and her team had built," Andy Kaplan, the museum's board chairman, says of the decision to rebrand and move from L.A.'s Beverly Grove neighborhood to Santa Monica, accessible from the Metro Expo Line. "We were the only children's museum in the city and our lease was up. We decided we should think of this as a bigger mission."
The Cayton also teaches children to get physical in a world that increasingly asks them to focus on screens, Netter says.
"This doesn't help us practice interaction," she says, waving her phone in the air. "Don't dress your avatar in costume. Put on a costume yourself."
Netter has had plenty of time to observe children in her long career. Infants, she says, know how to swipe a screen. She'd rather they learn how to return a smile.
=====
Cayton Children's Museum
Where: 395 Santa Monica Place, Suite 374, Santa Monica
When: Grand opening June 30. Open 10 a.m.-7 p.m. Mondays-Saturdays, noon-7 p.m. Sundays
Admission: $14 per person; free for low-income EBT or WIC families in the museum's first year of operation (subsidized admission after that)
Info: caytonmuseum.org
Get our L.A. Goes Out newsletter, with the week's best events, to help you explore and experience our city.
You may occasionally receive promotional content from the Los Angeles Times.