Judicial leaders amend coronavirus order on bail, postpone vote on evictions, foreclosures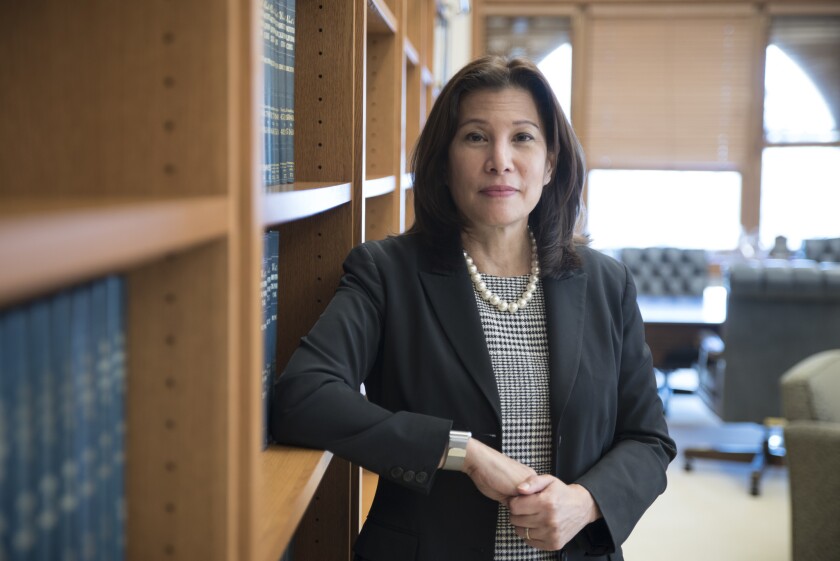 California's judicial leaders on Wednesday rescinded an emergency coronavirus order that set bail at zero for defendants accused of low-level crimes.
But a vote on whether to resume eviction and foreclosure court proceedings was suspended after Chief Justice Tani Cantil-Sakauye spoke with Gov. Gavin Newsom, legislators and other judicial leaders.
The Judicial Council, which Canti-Sakauye heads, voted 17-2 by email to rescind an emergency order on June 20 that required bail be set at zero for people accused of lower-level crimes. Judges will still have the flexibility to grant zero bail, however.
"The Judicial Council's action better reflects the current needs of our state, which has different health concerns and restrictions county-to-county based on the threat posed by COVID-19," said Court of Appeal Justice Marsha Slough, a member of the council. "We urge local courts to continue to use the emergency COVID-19 bail schedule where necessary to protect the health of the community, the courts, and the incarcerated."
The council, the rule-making body for the California court system, had also been scheduled to vote on a proposal to allow eviction and foreclosure proceedings to resume on August 4. The proposal had been criticized by a San Francisco state legislator and a poverty law group.
Assemblyman David Chiu (D-San Francisco) announced legislation Wednesday to bar evictions for nonpayment of rent for 90 days after state and local coronavirus emergency orders end. The bill would give renters an additional year before landlords could file civil suits to collect unpaid rent. Tenants would have to pay rent during that year, however.
Chiu had criticized the council for planning to restart eviction and foreclosure proceedings before the Legislature had time to pass new rules.
Cantil-Sakauye said her conversations with lawmakers and other judges persuaded her that it was too soon to resume the court proceedings.
"I believe the executive and legislative branches will need more time to sort through various policy proposals," she said.
Cantil-Sakauye also decided Wednesday to rescind an emergency order that gave courts up to seven days to arraign a defendant after an arrest. Once again, arrestees will have to be arraigned within 48 hours.
The Judicial Council passed the emergency rules early in the pandemic to try to reduce jail populations, keep the coronavirus from spreading in courtrooms and spare courts from having to hear non-urgent civil cases during the pandemic.
Now that the state is reopening, the courts are following suit, though often by remote appearances.
The need to reduce jail populations is no longer as urgent. Prisons are expected to allow convicted inmates to move from jails to prisons in all 58 countries by June 19, a move that will lower the number of people in county jails.
More than 20,000 defendants facing trials for lower-level offenses already have been released from California's jails since the start of the pandemic.
---
Get breaking news, investigations, analysis and more signature journalism from the Los Angeles Times in your inbox.
You may occasionally receive promotional content from the Los Angeles Times.