Police say CHP killed Oakland man who rammed their vehicles; neighbors dispute that version
OAKLAND —
Oakland police say California Highway Patrol officers shot and killed a man and wounded his girlfriend Saturday night after the man rammed CHP vehicles with a stolen Dodge Challenger Hellcat.
Yet some neighbors and at least one witness dispute that version of events, saying that 23-year old Eric Salgado was boxed in by CHP officers and had not taken actions that posed a threat to them.

For the record:
12:18 p.m. June 11, 2020An earlier version of this article said that Oakland police had stated that the wounded female passenger is pregnant. That information came from the woman's father, not the police.
According to some witnesses, CHP officers fired dozens of bullets into the body of Salgado and his girlfriend, Brianna Colombo. Colombo is pregnant, according to her father.
The killing has prompted protests and a makeshift memorial for Salgado at the shooting scene, a palm-lined street in a multiethnic neighborhood in East Oakland.
"Nobody deserves that," said one of Salgado's friends, Andres Franco. "I don't care if he took a car or stole money. Nobody deserves to die like that."
Video from the immediate aftermath of the incident was released Monday to Shane Bauer, an independent journalist, while security footage of the event was given to KTVU, the Bay Area's Fox channel.
The videos show a chaotic scene in which CHP officials are heard firing dozens of shots, then demanding that Salgado, likely dead at this point, raise his hands and turn off the engine.
Officers are heard demanding that Colombo, Salgado's girlfriend, and mother of a 3-year-old child, exit the car as the woman wails in the background. (The child was not with them.) According to the video footage, nobody checked on her condition until roughly five minutes after the event.
Her father, Gary Colombo, said he has been unable to visit his daughter because of coronavirus restrictions. He said she is still in the hospital, after suffering multiple gunshot wounds. And he talks to her on the phone but has not brought up the incident because he doesn't want to upset her.
"She cries a lot," he said. "There's no reason they had to shoot so many times. No reason."
The CHP redirected questions to the Oakland Police Department, which is investigating. On Tuesday night, the department released a statement alleging Salgado had rammed into several CHP cars before the shooting began.
According to Bauer, the independent journalist, neighbors and witnesses reported Salgado drove onto the block and was boxed in by "undercover police trucks. Salgado then revved the engine and began spinning the tires, burning rubber." His engine popped, and it was at that point that two officers "unloaded on him."
Gabriel Rojas, who lives across the street from where Salgado was killed and witnessed the event, said police blocked the car from exiting the street. He said Salgado was shot with a 9-milimeter pistol, which killed him. And it was as he was dying, or after he died, that his foot hit the pedal, accelerating the car into a parked, white Lincoln on the east side of the block.
Skid marks are visible on the street, as are two holes where the wheels spun into the pavement. The rear driver's side bumper of the Lincoln, which is still parked on the street, is completely crumpled in.
"That's what he hit," said Rojas, pointing at the Lincoln, adding that it was only after Salgado was incapacitated, or dead, that the police shot the 40 rounds.
He said that neither Salgado nor Colombo were armed. No mention was made about whether they were carrying weapons in the Oakland Police report.
Neighbors, friends and family of Salgado have been holding regular memorials and protests at the site, with some questioning why officers had to open fire.
On Wednesday, several family members arrived at the site with flowers to pay their respects. They asked to be left alone while they lit votive candles, burned incense and prayed.
Along the sidewalk, a makeshift shrine has been built over the last few days. Dozens of candles, left by friends and family, burned alongside empty bottles of Remy Martin 1738 Royal Cognac. Flags and signs hung from a fence, with enlarged photos of Salgado, remembrances, and calls for action — including one brought by Franco, which said "Abolish the KKKops."
Ed Obayashi, a national use-of-force expert and Plumas County deputy sheriff and legal advisor, said that after reviewing videos, it was hard to tell exactly what happened.
But if Salgado was ramming CHP vehicles, as the Oakland police have reported, his actions would be considered assault with a deadly weapon, and the officers' response was appropriate, said Obayashi.
Ramming vehicles showed a "total disregard for public safety" and endangered not just the officers, but in a residential neighborhood, the public as well, he added.
According to the Oakland Police Department, at roughly 10:46 p.m. Saturday, CHP officers were in East Oakland investigating a shooting that had taken place the night before on Interstate 580. While there, officers noted a 2018 red Dodge Challenger SRT Hellcat driving recklessly.
A plate check indicated the car had been stolen; the plate did not match the vehicle.
According to a news report from Berkeleyside, Lt. Ted Henderson of the San Leandro Police Department said the Hellcat was one of 80 vehicles stolen on May 31 from a San Leandro dealership.
San Leandro police were 'overwhelmed' by looters Sunday night, who made off with more than 70 vehicles valued at over $2.7 million.
He said he did not know whether Salgado stole the vehicle.
The CHP "conducted a traffic enforcement stop" after identifying the vehicle, according to Oakland police, "at which time the driver of the Dodge Hellcat began ramming CHP vehicles."
Three CHP officers started shooting. Audio from video released by neighbors at the incident confirm dozens of shots were fired.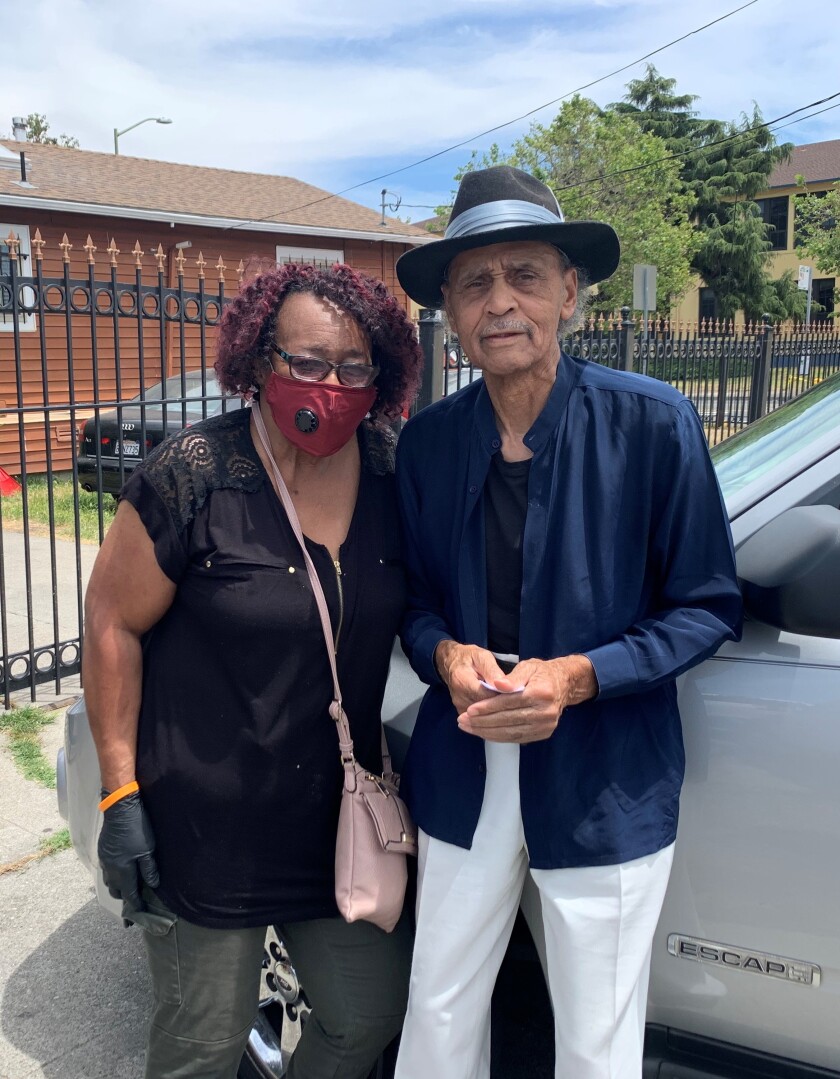 Roger and Minnie Lafleur, who also live on the block, were shocked by the amount of gunfire.
"It's not like he could have gone anywhere," said Roger Lafleur, 81. "He was totally blocked in."
"It's just not OK," said Minnie Lafleur, who said her nephew was fatally shot four years ago by police in San Francisco, and that her grandson was stabbed through the heart by his girlfriend. "But the police never investigated. They didn't do a thing."
"It's not about racism, really," said Roger Lafleur. He said he and his neighbors, who are white, Latino and Asian, all get along. "It's about the cops. This is a police thing. They kill these young men like they are dogs. They shoot them like animals."
Berkeleyside reports that court records show Salgado was arrested in 2018 for three separate vehicle thefts, and as recently as April 18, he'd been jailed after being arrested in San Leandro for vehicle theft. He also had "several" outstanding warrants for receiving stolen property, driving on a suspended license, and fleeing from police in Contra Costa County.

---
The stories shaping California
Get up to speed with our Essential California newsletter, sent six days a week.
You may occasionally receive promotional content from the Los Angeles Times.