School police should stop pepper spraying students, L.A. Unified superintendent says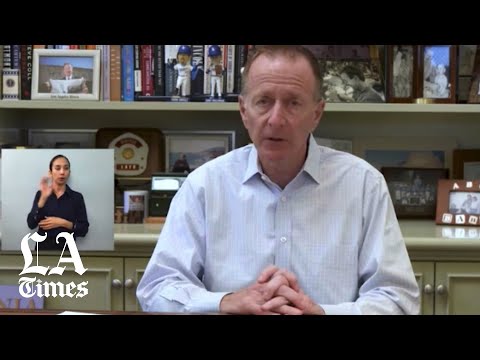 Los Angeles school police should be banned from using pepper spray and carotid holds, L.A. Unified Supt. Austin Beutner said Monday in the wake of calls to disband the district's 470-member campus police force.
"I will be recommending to the board to eliminate the use of pepper spray and the policy allowing carotid holds before students return to schools in August," he said. The carotid holds, also known as a sleeper hold or a blood choke, have been banned by law enforcement agencies across the country since George Floyd's killing by police in Minneapolis.
The $70 million in annual school police funding will be examined during budget discussions, and a task force that includes community members and L.A. Unified staff will query families and school employees to come up with "concrete recommendations" about what changes may be needed in the department, Beutner said.
He did not say who would serve on the committee or when they would present their findings, beyond "as soon as possible."
Beutner's statement comes after more than a decade of teen activism to disband the school police force, recent calls from advocacy groups to end pepper spray use, and a leadership vote from the teachers union last week to eliminate the police department.
L.A. school police used pepper spray on at least five students during the 2018 calendar year, seven in 2019 and one thus far in 2020, L.A. Unified spokeswoman Shannon Haber said Sunday.
The district did not release the names of the school or schools where the incidents took place or the number of instances in which police used pepper spray, except for Hollywood High School in March. School officials are looking through police reports for potential additional incidents, Haber said.
Multiple youth justice advocates said they believe that number is an undercount. Initially, L.A. Unified officials told The Times there were no uses of pepper spray in 2020 but revised their number once asked specifically about the March 2 incident at Hollywood High.
"I think, historically, task forces have been used to slow down movements," said Black Lives Matter Los Angeles organizer Joseph Williams.
As the school board discusses budget cuts across the board, "they have to be willing to defund the school police department and re-imagine what school safety looks like," said Williams, who also works with student activists.
Though student activists have been calling on police to stop pepper spraying students for more than a year, organizers said Beutner's announcement does not go far enough. Students plan to march Tuesday morning, just west of Downtown L.A., to push officials to eliminate the school police department.
Banning pepper spray use would be "a step in the right direction," said Asia Bryant, a recent Hamilton High School graduate and organizer with Students Deserve. "What our movement is really calling for is defunding L.A. school police department" so that Black children are no longer targeted and arrested at higher rates than their peers on school campuses, she said.
In addition to Students Deserve, L.A.-based groups including the Students not Suspects Coalition, the parent organizing group CADRE, Youth Justice Coalition, InnerCity Struggle and others have long advocated to reduce police presence in schools. In Oakland Unified, the Black Organizing Project succeeded after a decade of advocacy in getting a resolution before the school district to eliminate the school police department. The board is scheduled to vote later this month.
L.A. school board members will likely discuss the issues around school police use of force and the school police budget at a meeting later this month. Board member Nick Melvoin said he supports ending pepper spray use.
Board member Jackie Goldberg said she supports halting the use of pepper spray until there is a thorough review of police practices and protocols but does not yet support a permanent ban. She plans to introduce a motion on June 23 to that effect.
"I've asked that we freeze hiring of police while we do this review, that we end the practice of hiring people for school police from other police departments," she said.
Many of her constituents are happy to have school police on campuses, she said, but there have also been complaints districtwide about use of force against students.
"Maybe pepper spray is not a bad thing to have. But maybe when you get to use it has got to be clearer, and under what circumstances and what is the follow up once it's used?" she said.
Maybe the solution is that officers who come to campuses are not armed, she said, or that there should be a greater reliance on others to respond during some crises.
"What we don't know is when a principal says ... 'I need help,' who should they call and what should they come with? That's really the question," Goldberg said. The answer could be police. It could be unarmed police, or it could be more mental health workers, for example. "What do we do to make sure that schools are safe and how do we do that in a way that doesn't have the downsides that basically institutional racism carries with police?"
Sign up for Essential California for news, features and recommendations from the L.A. Times and beyond in your inbox six days a week.
You may occasionally receive promotional content from the Los Angeles Times.