Former DWP chief cyber risk officer agrees to plead guilty to lying to authorities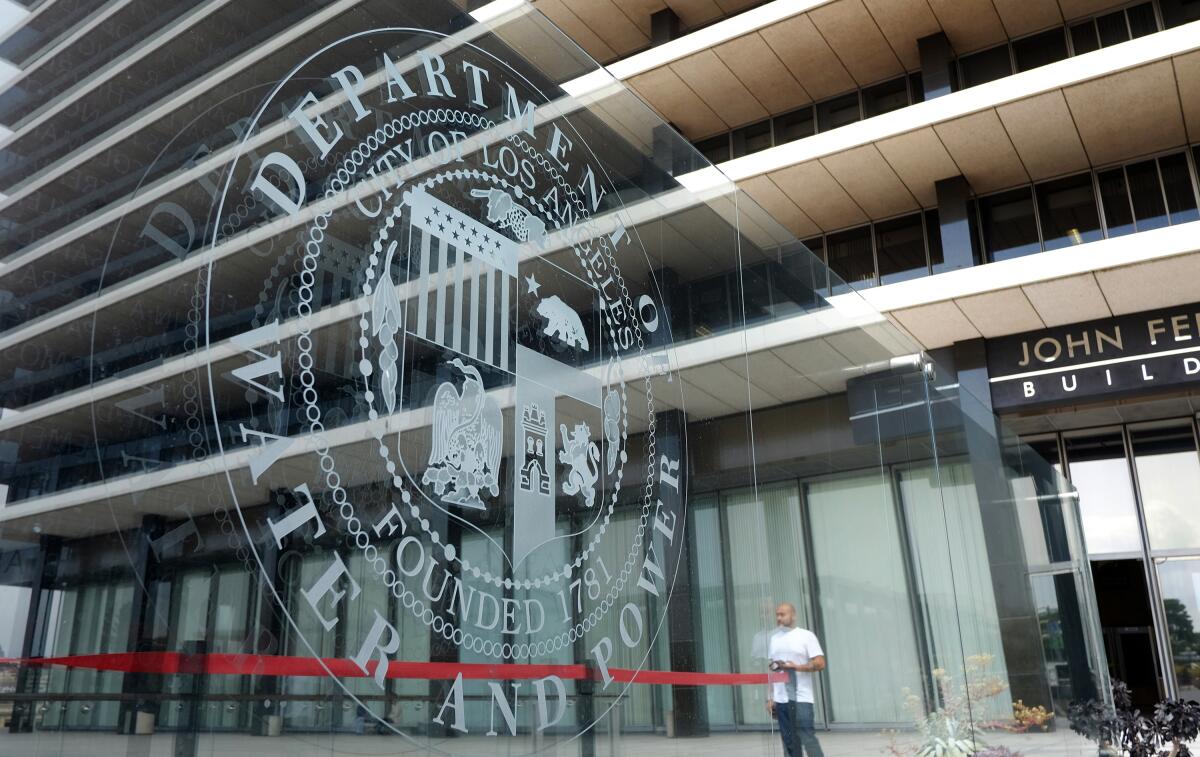 A top executive who worked on cyber risks at the Los Angeles Department of Water and Power has agreed to plead guilty to one felony charge of making false statements, prosecutors said Monday.
Former Chief Cyber Risk Officer David F. Alexander, 54, of Arcadia lied to the FBI about a job offer that he "secretly solicited" in return for helping pass contract money to a lawyer, prosecutors said.
Prosecutors said Alexander lied to the FBI about his conversations and agreements with Paul Paradis, a New York attorney hired by City Atty. Mike Feuer's office.
Former Department of Water and Power official David Wright has agreed to plead guilty to a bribery charge, the U.S. attorney's office said Monday.
Alexander's attorney, Nina Marino, declined to comment.
Monday's announcement marks the third tentative plea agreement in the DWP scandal.
Former DWP General Manager David Wright has agreed to plead guilty to a bribery charge, admitting that he took bribes in exchange for supporting a $30-million, no-bid DWP contract to Paradis' company, prosecutors said. Wright also admitted in the plea agreement that he participated in several other corrupt schemes while leading the utility.
Paradis also has agreed to plead guilty to one count of bribery and is cooperating with the ongoing federal criminal investigation, prosecutors said last month.
The scandal, which involves both Feuer's office and the utility, stems from litigation over DWP billing errors. Paradis was hired by the city attorney's office to sue PricewaterhouseCoopers, the consulting firm that the city blamed for the faulty DWP billing system that overcharged a wide swath of customers.
At the same time, DWP customers filed a class-action lawsuit against the city.
While PricewaterhouseCoopers was defending itself in the lawsuit brought by the city, its lawyers uncovered evidence showing that Paradis at one point represented the lead plaintiff in the class-action lawsuit against the city.
Paradis, who agreed to plead guilty last month, helped arrange for another lawyer to "play the role of the attorney" representing the plaintiff in the class-action case, prosecutors said. Paradis also told the attorney that the city wanted the class-action lawsuit "pre-settled," according to his plea agreement.
Paradis ultimately collected a $2.175-million kickback from the attorney. Paradis' company, Aventador, also went on to secure a $30-million contract from the utility to fix the billing problems. The company's name was later changed to Ardent.
Prosecutors said Monday that Paradis developed a professional relationship with Alexander while he worked at the DWP.
Alexander worked as the DWP's chief information security officer from May 2017 to February 2019 and as the DWP's chief cyber risk officer from February 2019 to August 2019, according to the plea agreement.
Alexander used his role at Southern California Public Power Authority, a group of several utilities, including the DWP, to help give a $17-million contract focused on cybersecurity work to three vendors, including the one associated with Paradis.
Months later, Alexander also worked "to manipulate" the DWP contract process as the utility sought to award an $82.5-million, three-year contract for cybersecurity work. He helped draft the "request for proposals" document with Paradis and solicited Paradis' edits, the plea agreement states.
The attorney for Bill Funderburk, a former DWP board member linked to a bribery scheme, said his client "always acted honorably."
More than a dozen vendors submitted contract proposals, but Alexander undertook efforts to influence the other members of the evaluation committee to rate Paradis' company favorably, the agreement states.
At the same time, Alexander solicited and agreed to accept from Paradis a future job as the chief administrative officer of the company with an executive-level salary, a sign-on bonus and $60,000 a year for 30 years for his early retirement penalty from DWP, prosecutors said.
At a July 2019 meeting at a coffee shop, Alexander told Paradis that he could guarantee $10.5 million to $11.5 million in DWP "task orders" for Paradis' company, according to the agreement. The pair also discussed a "signing bonus" for Alexander when he joined the firm.
"Near the end of their meeting, defendant Alexander confided that he would tell no one about his corrupt arrangement with Paradis, stating that "[a]s far as what I do and when I can execute against that contract is between you, me, and the wall," according to the agreement.
The FBI raided the DWP on July 22. Two days later, Alexander participated in a voluntary interview with the FBI, where he falsely stated that he had declined any employment opportunity with Paradis' company and that he had not expected any compensation from Paradis, the agreement states.
He made similar remarks in another interview on July 26 with the FBI, the agreement states.
The charge Alexander faces carries a maximum sentence of five years in federal prison, prosecutors said.
Sign up for Essential California for news, features and recommendations from the L.A. Times and beyond in your inbox six days a week.
You may occasionally receive promotional content from the Los Angeles Times.