Nineteen months have passed since Los Angeles police blew up a South L.A. neighborhood while detonating a cache of fireworks, but many of the displaced families still haven't returned. For them, "home" is 20 rooms in a luxury hotel paid for by the city.
City officials blame unresponsive residents and their foot-dragging legal counsel for delays in getting the families relocated or back into their houses. Attorneys fault insurance companies and L.A. officials. Residents point the finger at the city. And homes along the street remain boarded up. Empty.
But with a hotel bill that has run to $2.1 million, city officials say it's time for the holdouts to check out.
"Folks have got legal counsel and have decided not to accept our help. I think others are kind of gaming the system a little bit," said City Councilman Curren Price, who represents the neighborhood. "They've had it good living in the hotel rent-free for several months. They want that to last as long as it can."
Frustrated residents and their lawyers paint a far different portrait. Families are trying to repair properties, but because the damage is so extensive, the process has taken longer and has cost more than expected, said Andrew Jacobson, who represents about a dozen people affected by the blast.
Jacobson blames insurance companies and the city for not providing compensation to assist the remaining families and causing the process to lag.
With a March 31 move-out date looming, residents say the city has abandoned them.
"We're exactly how we started," said Hilario Velasquez, who paid off his home 10 years ago but cannot return to it. "Without a place to go."
The community's anger boiled over at a Wednesday evening meeting on the troubled street. About 30 people, including homeowners and renters, turned out in the bitter cold to vent their frustrations.
Rosalba Beltran, 67, paid off her home about a decade ago. It's still not habitable, and she said she doesn't know how she'll afford rent elsewhere on a Social Security income of $1,100 a month. Renters said they hadn't heard from a relocation consultant whose job it is to help them find a new place to live.
Cindy Reyes' father died after the blast. She's helping her mom pay the mortgage and said they've taken steps to fix their home. The family submitted plans to the city and is waiting for the proper permits to begin construction, according to their lawyer.
"Why should they be paying rent if they have their house paid off?" Reyes asked, as she gestured to the homeowners around her. "Why do I have to pay two rents — a mortgage and a rent? Why do I have to go through this struggle? You guys blew up my home. Why do I have to do all this?"
On June 30, 2021, the LAPD bomb squad botched the detonation of a fireworks cache discovered in the backyard of a home on 27th Street. The resulting blast injured 17 people and badly damaged homes. More than 80 residents were displaced.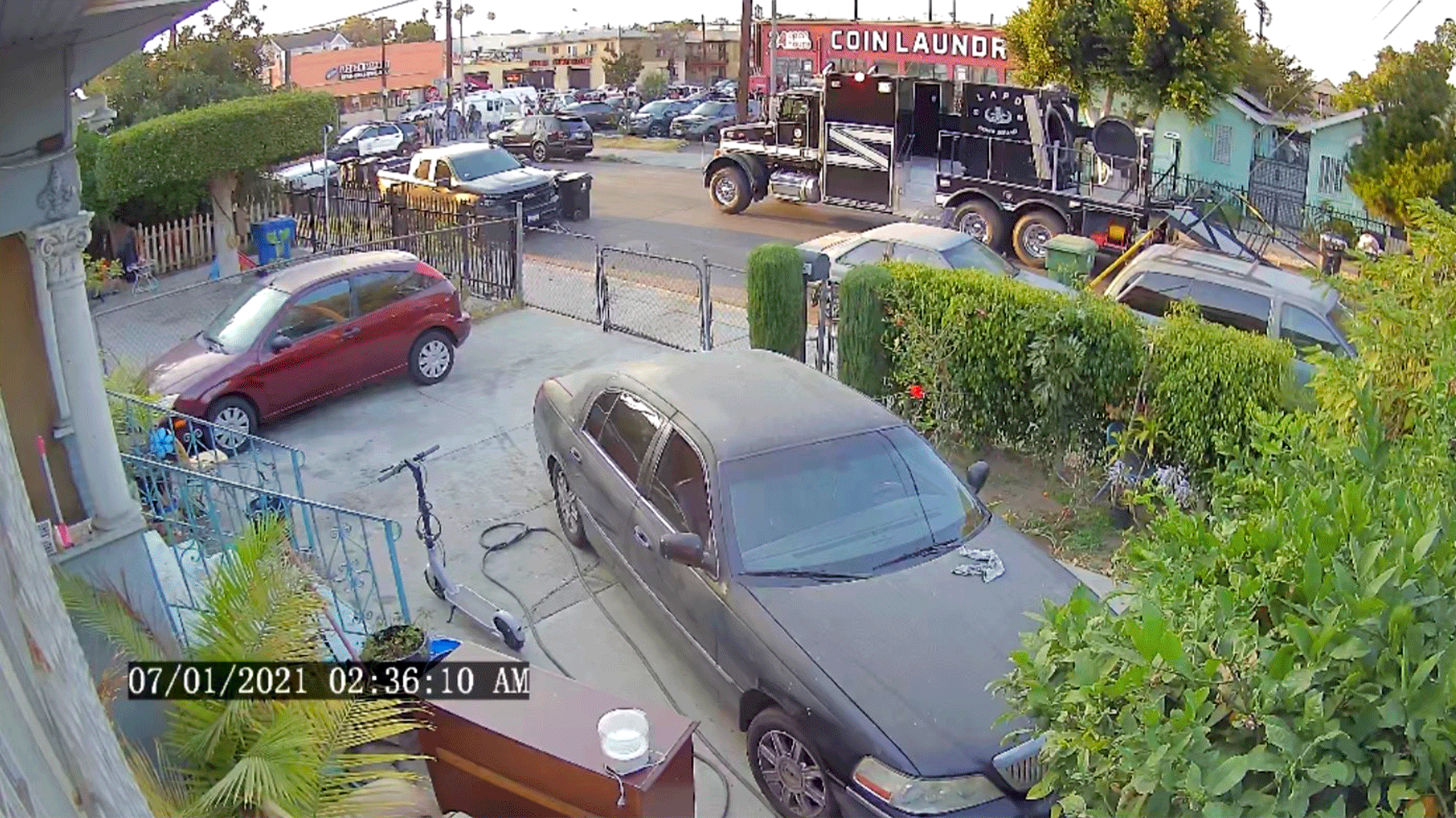 Along with input collected by The Times from local residents, a report by the LAPD's inspector general helps paint a picture of how guesswork and a laissez-faire management style led to what it calls a "catastrophic failure."
The illegal fireworks were found at the home of Arturo Ceja III, who pleaded guilty in federal court to unlicensed transport of explosives from Nevada to California. In October, he was sentenced to five months in prison and two years of supervised release. Ceja was not fined and will pay no restitution, the U.S. attorney's office said.
After the blast, 89 people were moved into the luxury Level Hotel in downtown Los Angeles.
The explosion exposed how overcrowded some homes are and the difficulties residents, the city, contractors and providers have faced trying to deal with the combined issues of inadequate housing and man-made disaster.
On Tuesday afternoon, Candido Juarez stood outside the home where he's lived for 22 years. U.S. and Mexican flags hung side by side. Before the blast, 10 people squeezed into four bedrooms and a garage in back.
After the homeowner agreed to allow the city to fix the house, which had been red-tagged, the renovation was finished late last year. Construction workers put in structural support in the foundation, redid the electrical system and the roof structure and added heat and air conditioning systems, among other things, according to the contractor.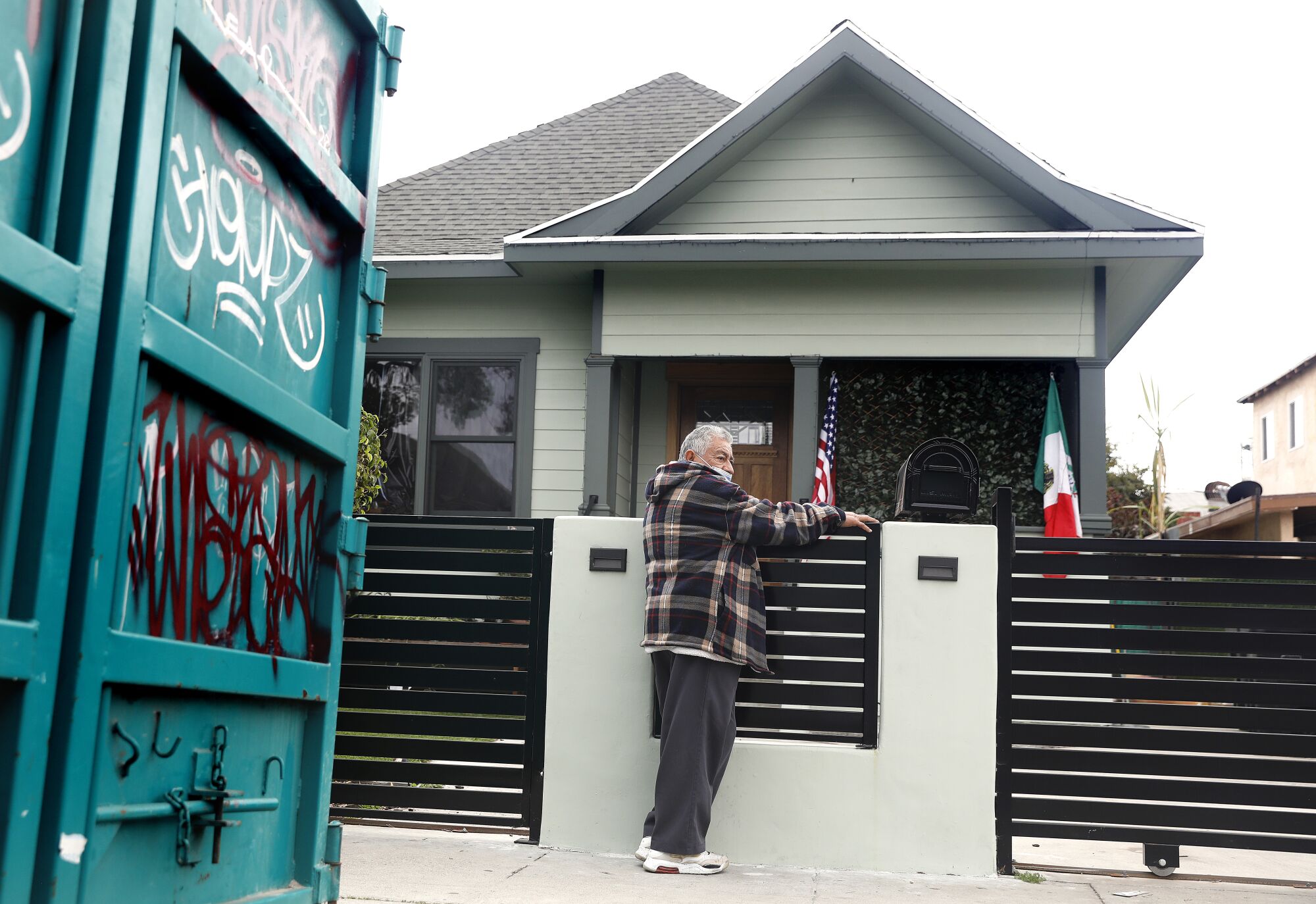 But only a few family members have left the hotel and moved back in, Juarez said.
That's because after the remodel, there were only three bedrooms instead of four. The homeowner now sleeps in the living room. The garage, where another couple slept, was not repaired.
City officials said the home had an unpermitted bedroom in the main house and an illegal structure in the back of the property that had been used as living space.
"It is an unfortunate situation, but the city's concern is for this family potentially occupying an unsafe, unpermitted dwelling," Price spokesperson Angelina Dumarot said in a statement.
Juarez said he and his wife plan to move back into the house in the next two weeks.
"For us, thank God, we have a place to live," the 74-year-old said. "But the poor neighbors. Where will they go?"
City officials say other property owners have not allowed work to be done. Some residents "refuse to cooperate because they have a lawyer," Price said.
"Folks are entitled to their own legal counsel, and in many cases legal counsel has advised them not to do anything, not to communicate with the city, not to accept any assistance from the city, and so they are in a state of limbo," Price said.
Several residents said they didn't trust that the city was going to fully repair their homes. They preferred to bring in their own engineers to assess the damage and figure out next steps.
The Velasquez family said the initial offer they had from the city was only to fix their windows and paint the house.
"If my house would have been fixed, believe me, we would have been in our house," said Hilario Velasquez's daughter, Maria. "But all they wanted to do was put windows on our house and have us move in. That's not going to work, because our house is broken."
Jacobson, the Velasquezes' lawyer, said families have found themselves "stuck between the city and their insurance companies."
"It's not that they're just sitting idle and not doing anything until they get the money. That's not true. They've been working with their insurance, they've been starting the repairs that they can," Jacobson said. "The whole process has been very difficult, very time-consuming, at no fault of the victims or their lawyers. ... No one is here trying to game the system or get anything more than they had before."
A year after the LAPD blew up a South L.A. block with fireworks, 18 families are still living in a hotel, symbolizing failed city attempts to make them whole.
The city has received 414 claims related to the fireworks blast and has reached settlements in 129. Payouts have totaled $474,709.
City officials said every family living in the hotel has been connected with service providers to assist them with resources and relocation. But not all have been responsive.
Fifty-seven people are still occupying 20 rooms at the hotel. City officials believe some individuals moved in well after the blast.
"The story should not be that families are on their own trying to make do after this terrible situation. We have insisted that they have a variety of services available to assist them," Price said. "We want to be sensitive to the needs that these families have, but we also have to be sensitive to the fact that this is not an open-ended project where people can just stay at a hotel free of charge until they are ready to leave."
The Homeless Outreach Program Integrated Care System has been working with a few families since October 2021, said Vianey Perez, program manager for housing stabilization.
Last March, the agency helped persuade three of their four families to apply for Section 8 housing. They received vouchers the following month. However, there have been challenges since.
One family recently lost its voucher. Another family has refused available units and is waiting for a specific unit to become available in March, Perez said. In another case, the agency struggled to find the best unit for a family that relies on public transportation to get to work and take children to school.
In December, the city contracted with Overland, Pacific & Cutler to assist the displaced renters with locating replacement units, helping with transportation to view them and assisting with application fees, credit check fees and moving costs.
Households that don't already have a rental voucher may qualify for a lump sum "rent differential" to meet any gaps between the previous rent and the new rent for up to 30 months, according to city officials. That will be provided once they find housing comparable to their previous living situation and once they and their attorneys agree, enter into a lease and vacate the hotel.
Overland is specifically working with renters. Of those staying at the hotel, 13 households are renters, according to the L.A. Housing Department.
That has left homeowners worried about what will happen to them.
Velasquez purchased a three-unit building on 27th Street in 1994, after living there for nearly a decade. He and his wife lived in one unit. His daughter Maria rented another unit from him. Another daughter rented the third.
"We've looked elsewhere, but the rent is so expensive," Hilario said. "Where are they going to send us?"
Maria said she and her sister are fine with moving out but are concerned for their parents.
"They already lost their house," Maria said. "What else are they going to lose?"
The stories shaping California
Get up to speed with our Essential California newsletter, sent six days a week.
You may occasionally receive promotional content from the Los Angeles Times.