Historic snowfall means Yosemite will remain closed through weekend, perhaps longer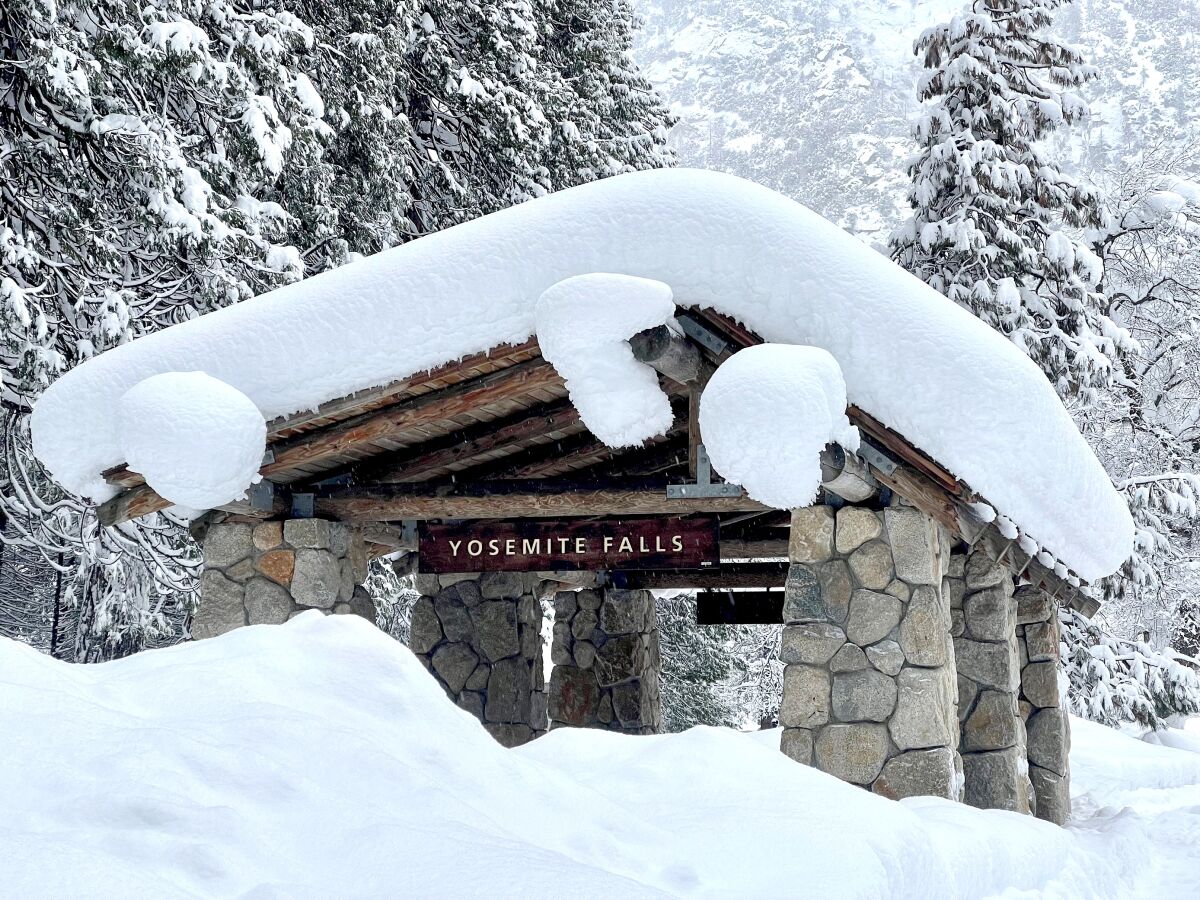 Yosemite National Park will remain closed through at least early next week — if not longer — as park officials continue to respond to historic snowfall that buried cabins and blocked roads, according to national park officials.
Officials said the park, which has been closed to the public since Feb. 25, could reopen as early as March 13, but called that a "best-case scenario" in a tweet, especially with another storm forecast to bring even more precipitation later this week.
The park saw record-breaking snowfall last week in the Yosemite Valley, with photos from across the park showing cabins buried by snow and doorways almost completely blocked by snowbanks.
But after the second of the back-to-back snowstorms ended mid-week last week, the park got even more snow in the following days — up to 2 feet in some areas, said Scott Gediman, a spokesperson for Yosemite National Park.
"This is literally on top of the snowfall we've already gotten," he said. "We've had off and on some nice weather the last few days, but we still have a lot of work to do to ready the park for reopening."
The park thankfully hasn't suffered major damage or serious injuries from the weather, Gediman said, but some tent cabins collapsed, roofs need repairs and many roads are blocked to allow only single lanes. Of the park's 55 parking lots, only three had been cleared as of Tuesday, he said, while crews continue to work to widen roadways, dig out fire hydrants and refill fuel.
"We want to open and we love the visitors, but safety is a top priority," Gediman said. "And with the current conditions compounded with the incoming system, we felt it was prudent to announce we would be closed through the weekend."
Park teams have made significant progress, he said, but it's hard to know exactly what this next wet storm could bring this week.
'A potentially significant and very likely warm atmospheric river event' is set to hit California later this week, forecasters say.
"It's a warmer storm system, but there's a potential of a lot of things," Gediman said. Flooding, rock slides and avalanches could become issues for the park, depending on how the forecast plays out, he said.
This next storm is forecast to bring heavy rains and some snowfall across the Sierra Nevada and its foothills beginning Thursday, raising concerns about serious flooding, given the exceptionally deep snowpack.
There's a high probability the Yosemite Valley could get up to 3 inches of rain by Sunday, according to the National Weather Service, and higher elevations of the park and surrounding peaks could potentially see multiple additional feet of snow.
The stories shaping California
Get up to speed with our Essential California newsletter, sent six days a week.
You may occasionally receive promotional content from the Los Angeles Times.