9 things you should know about the Bob Hope house in Palm Springs — and its restoration
Here are nine quick takes on Los Angeles architect John Lautner; the house he designed and built in the 1970s for comedian Bob Hope and wife Dolores in Palm Springs; the home's new owner, Ron Burkle; and architect Helena Arahuete, who worked with a talented team of artisans to restore the house in keeping with Lautner's original vision.
1. John Lautner's apprenticeship at Frank Lloyd Wright's famous architectural community, Taliesin West, in Scottsdale, Ariz., started in 1933 and lasted several years. The experience left him with an enduring affection for desert lights and shadows and long rocky vistas.
In the late 1930s, when Wright dispatched Lautner to Los Angeles to work on the George Sturges house in Brentwood, the apprentice took an instant dislike to the city. Lautner would later tell an interviewer that he became physically ill when he drove down Sunset Boulevard for the first time. "I was used to everything beautiful, and here everything is ugly," Lautner said in the documentary "Infinite Space."
"I couldn't imagine doing anything as ugly as Los Angeles."
But soon Lautner discovered the beauty within and around the city: in canyons, hillsides and beaches — areas where he would build some of his most remarkable homes.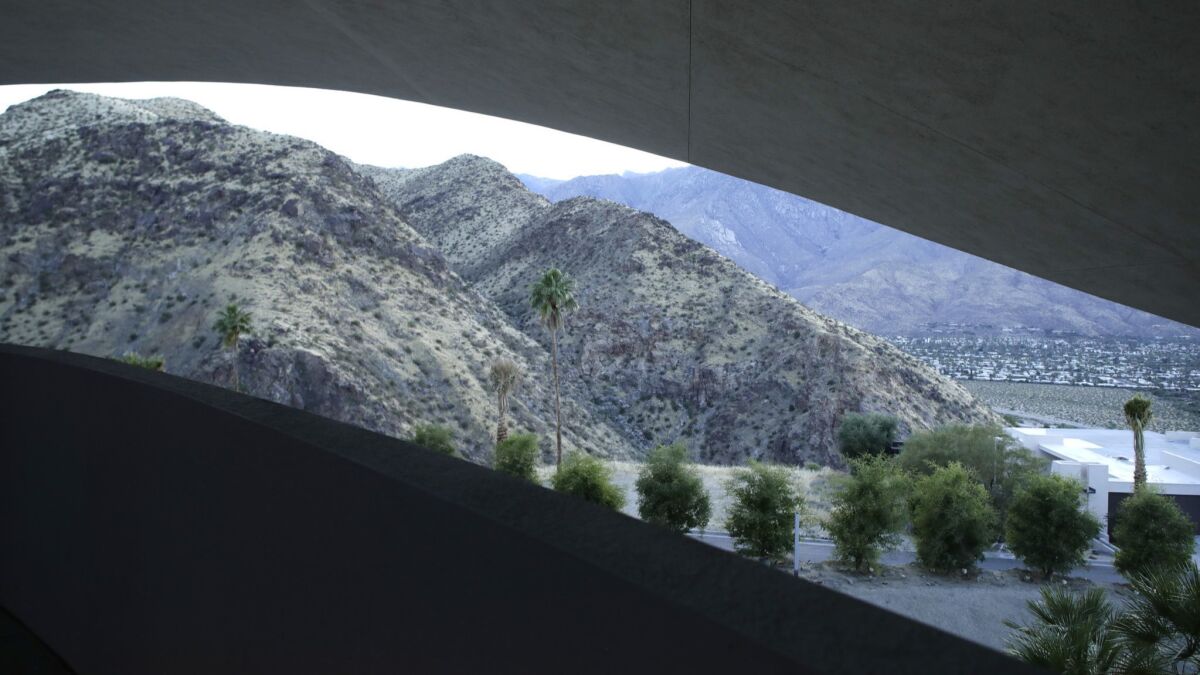 Lautner would also rediscover his appreciation for the desert when he worked on several projects in the Coachella Valley, including the celebrated home he conceived for interior designer Arthur Elrod. But the design and construction of the Bob Hope house — which started in 1969 and ended in 1980 — nearly broke his spirit and soured him on Palm Springs for the rest of his life.
Now his star student Helena Arahuete is trying to honor Lautner, who died in 1994, by recreating her mentor's vision for the hillside home.
Bob Hope house in Palm Springs, long an architectural footnote, approaches masterpiece status »
2. After moving to the United States from Argentina with her husband in 1971, Arahuete met Lautner in Los Angeles through a family connection: Her father was working with Leonard Malin, a fellow engineer — and the original owner of Lautner's Chemosphere house in the Hollywood Hills.
"I called [Lautner] and he said, 'come over,' He had a very open-door policy," Arahuete said. "His office was full of photos and models and just all kinds of things, art pieces that he collected from his travels. He had a very curious mind."
Lautner showed Arahuete some of his designs for a house he was working on in Mexico, and she told him she'd studied Wright's work as a college student in Argentina. But Lautner's designs, Arahuete said, were a step beyond, "like a fairy tale in architecture."
3. Like his mentor Frank Lloyd Wright, Lautner believed architects should "learn by doing."
Even though Arahuete had just finished six years of study for her architecture degree at Argentina's National University campus in Buenos Aires, he assigned her to oversee the construction of the Arango-Marbrisa house on a hillside in Acapulco, Mexico.
Arahuete understood the metric system for architectural concrete — in Spanish, and she was determined to show Lautner that she "could make sense of his intent" for the house.
How did the project turn out? Some architectural scholars say that Lautner's Arango-Marbrisa house is a masterpiece, one of the most beautiful residential designs in the world.
Behind the story: the Bob Hope house restoration »
4. When Arahuete returned from Acapulco in 1973, Lautner asked her to work as the site architect for the Hope house on Southridge Drive in Palm Springs.
It was a long, tedious job, but the final months were happy ones for Arahuete. As the project was wrapping up in 1979, she was pregnant with a daughter she and her husband would name Adriana.
"We tell her that she and I supervised the construction of the Hope house together because we were always together," Arahuete said.
Adriana Arahuete, now 40, went with her mother one recent evening to see the progress in Palm Springs. "This is her life's work," Adriana said proudly. "This is her legacy."
5. Following Lautner's death in 1994, Arahuete went out on her own — continuing her mentor's "organic modernist" style, based on the concept that buildings and their interiors should work in harmony with the land around them. As a result, Arahuete quickly developed a strong following among Lautner fans.
"The clients that would come to my office would be the ones who expected something that was one of a kind," she said.
But if they asked her to "do something that clearly doesn't work," Arahuete said she would tell them no.
One Hollywood actress, Arahuete recalls, wanted to consult with her about extensively remodeling a Lautner house that was newly on the market. The architect politely suggested: "Maybe you should buy another house."
6. Shortly after word got out in 2017 that Arahuete was overseeing the renovation of the Hope house for Ron Burkle, two plucky Dutch architecture buffs —attempting to document every house, pool and carport designed by Lautner — decided they needed to act fast.
Stories about the glitzy interiors, which Lautner greatly disliked, were widely circulated among modern starchitecture snobs. Everyone had heard about the blue wallpaper with yellow flowers and the pink roof. Jan-Richard Kikkert and Tycho Saariste, working on a book aptly named "Lautner A-Z," wanted to get a look inside before Arahuete renovated it.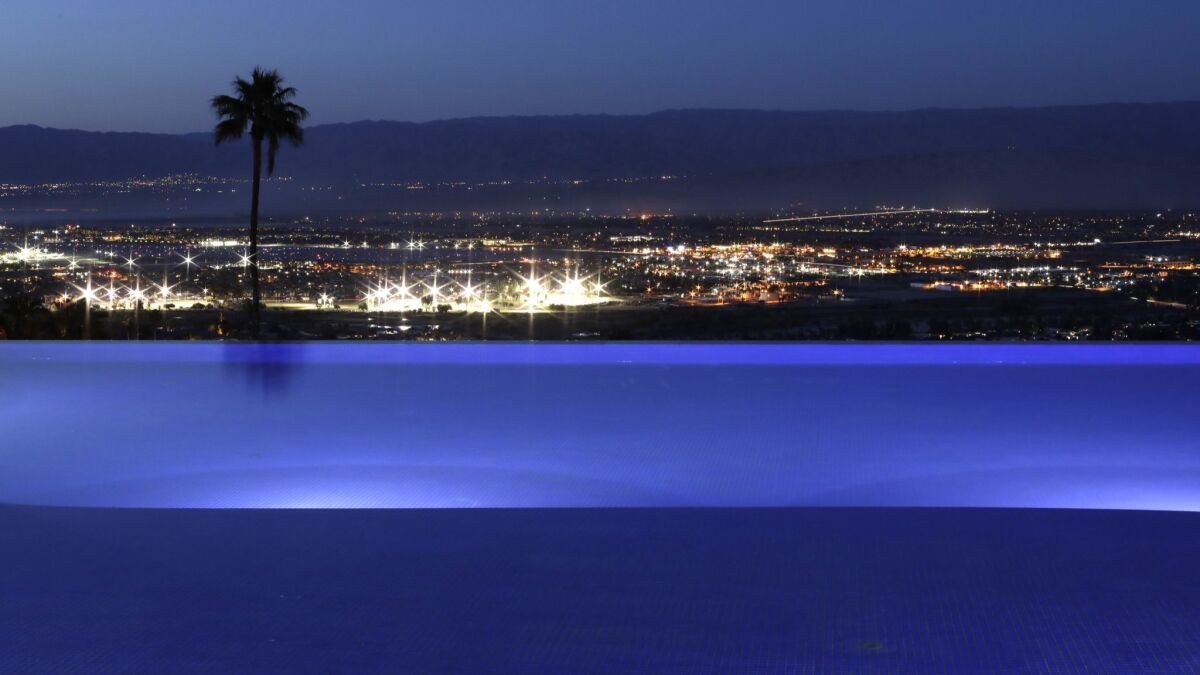 They managed to get beyond the guard station on Southridge Drive. Even before looking at the decor, Kikkert said, he thought the house was too big. After he looked inside, he said, it was apparent that Lautner had a "very difficult relationship with the client."
Kikkert and Saariste dismissed the house in their book as others have done before them. Although Kikkert now wonders whether they were too quick to judge. In a phone interview from Amsterdam, he said: "Helena is the only hope for the Hope house."
7. As Arahuete was finishing the renovation in Palm Springs, Burkle decided to organize an epic trip for the architect — a visit to the Arango-Marbrisa house that she had worked on so many years ago in Acapulco.
Burkle ordered up his private Boeing 757 airliner for the journey. It had been a while since Arahuete had seen the house, and Burkle wanted everything to be perfect for her. Hope house project manager Tim Gleason also came on the journey, along with another VIP whom Gleason had met on Southridge Drive — Moschino creative director Jeremy Scott, the current owner of the Elrod house.
Scott and Burkle bonded over their mutual love for the Elrod house, which Burkle owned from 1995 through 2003. "I didn't know Jeremy before and now we're friends," Burkle told The Times.
And the consensus on the Arango-Marbrisa House? Amazing.
8. While Arahuete and Gleason were in Mexico with Burkle, Hope house supervisor Lorenzo Jauregui and Burkle's ever-present security team kept a close watch on the Palm Springs estate.
For Jauregui, the residence is a family affair. His mother worked for the Hopes as a maid for 34 years. One of her jobs in the evening was to turn on the lights in the house, a task that would take her at least an hour. Now the lights can be turned on instantly, thanks to hundreds of yards of LED lighting inside and outside.
"We had lamps all over," Jauregui recalled. "But actually it was still pretty dark. Outside [at night] it was pitch-black except for the landscaping lights. Now it's just unbelievable. You can see the house all the way from Highway 10. It's beautiful."
9. Woodworkers Brian Cooney Sr. and son Brian Cooney Jr. were among the many artisans involved in the restoration project. They installed African mahogany on many of the home's interior walls and used Lautner's designs to build at least a dozen new doors.
Some of the Cooneys' other clients have included rock singers, movie stars and ex-presidents. Almost all of the multimillion-dollar homes the father-son team work on these days are in the gated enclaves in the eastern part of the Coachella Valley.
But the Hope house project? "This is special," Cooney Sr. said. "This is history."
---